Collaborate on Your Own Whiteboard
Plan, Organize and Share your Notes, Mind maps, Videos, Audios & also Chat with your team
Just close your eyes, and Start Visualizing everything you want to achieve in your life, business, etc.
You have thoughts approaching from all corners. Your heart races. You stay calm and it races even more.
Now, it's time to pen them all down with your own virtual whiteboard & also share it with everyone (your team, clients, family, friends)
Indulge in Creativity with Weje
Weje is a virtual whiteboard that lets you easily collaborate & brainstorm with your team.
PRODUCT HIGHLIGHTS
Collaborate easily from Freehand Mind Mapping to sticky notes, and videos
DIKW and brainstorming tool for organized workflow
Alternative to: Miro, Milanote
Best suited for: Business Owners, Bloggers, Solopreneurs & You
Weje is unlike any other virtual whiteboard tool available out there that automates your daily workflow.
With a simple whiteboard interface, you can create your notes, to-do, mood boards for much more focused and engaged work.
Once you login to your Weje account, you will find a dashboard of templates suited for common workflows.
You can also add your data using existing templates or you can create a new board and start from scratch.
Double click anywhere on the whiteboard space to create a card. You can add and format texts, embed YouTube links, add pictures and folders to your cards.
Treat Weje like your Post-It notes by adding colors to your cards and formatting them as you like.
It works the same for lists. You can create lists by tapping the list icon at the bottom of your screen.
Links, cards, images, folders – you name it. Simply drag and drop in your lists and Weje conveniently organizes them for you.
Lists can morph into colored and funky kanban boards if that's your favorite. Get things done almost instantly.
What's good if there's no collaboration, shared insights, thought mapping, brainstorming over the Starbucks counter?
Weje is perfect for anyone who has their guard down for welcoming creativity through collaboration.
Simply add your collaborators and grant them access to view and edit your work. You can add as many of them as you want by sending an invite link.
A built-in chat feature enables communication with collaborators.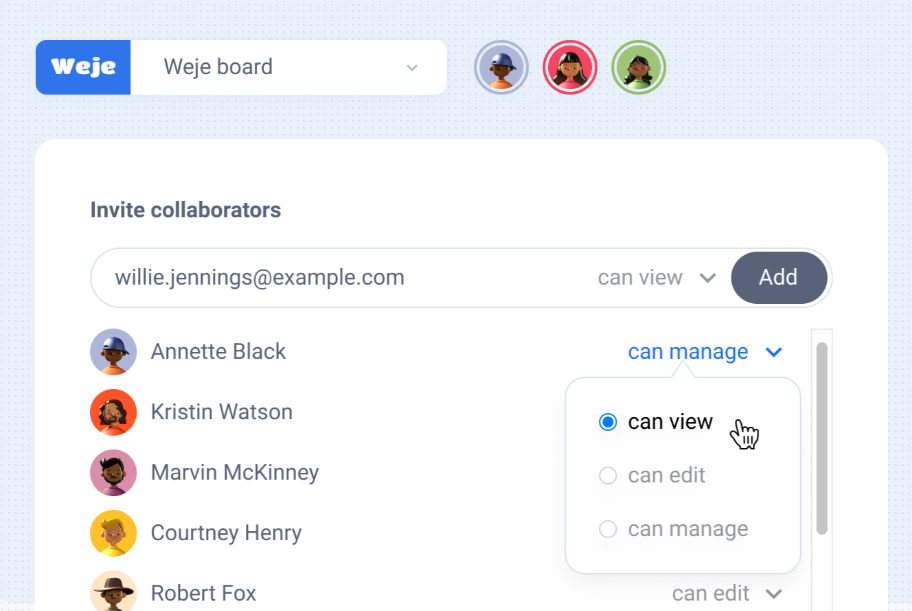 All by retaining your status as an admin and see what your team or collaborators are upto. You can add as many of them as you want by sending an invite link.
Productivity is something we cannot put a price on. It gives us the promise of results.
With Weje's $7/month per user, it can seem inexpensive on the surface (to onboard your whole team).
But a one time price of a sassy tool like Weje seems tempting, especially when it starts with 5 users for just $39/lifetime.