Perform page-by-page website audits to optimize on-page and technical SEO
Trying to climb to the top of the search results page can feel like you're just randomly appeasing the Google gods. ("But I used your favorite keywords and everything!")
Unfortunately, you don't have time to learn how to analyze and optimize your site all by yourself—and outsourcing the job is way out of your budget.
If only there was an auditing tool that made on-page SEO and technical SEO optimization a total breeze.
Meet WebSite Auditor from SEO PowerSuite.
TL;DR
Audit your site content and top-ranking competitors' and receive step-by-step instructions for optimizing on-page SEO
Evaluate your website to identify and fix technical issues affecting ranking, visibility, and conversions
Overview
WebSite Auditor is a website auditing tool that optimizes your on-page and technical SEO to rank higher in search engines.
Analyze your website's performance to detect issues affecting search engine ranking, indexing, and user experience.
Just enter your website's URL to perform a page-by-page audit, inspecting everything from content to code and images.
Whether it's a broken link, poor mobile usability, or duplicate content, WebSite Auditor will uncover every technical issue tanking your SEO performance.
Plus, you'll even get step-by-step instructions to optimize specific pages!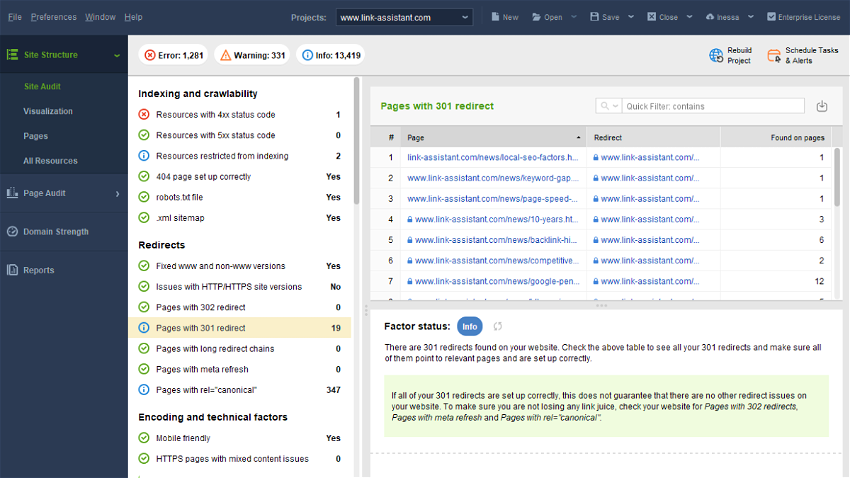 WebSite Auditor also evaluates your webpages' SEO health by comparing your on-page stats to your competitors.
Get tips for optimizing specific keywords and URLs, and uncover your competitors' strategies for ranking high on search engines.
Because this platform offers simple, step-by-step SEO advice, you can even edit webpages in-app for faster implementation.
Once you create and edit meta description tags, you'll be able to preview the Google snippet that's displayed in search results.
WebSite Auditor lets you visualize your site structure and uncover any internal linking issues, so you can improve the crawlability and discoverability of your pages.
Generate and share customized graphic reports that give you a color-coded view of orphan pages, redirects, and isolated pages.
You'll be able to optimize each internal link right from the platform and export the changes as a checklist for your developers.
Improve page speed and overall site performance using the platform's powerful Core Web Vitals module.
You'll be able to bulk-check all your pages, perform site audits, and get an in-depth overview of how users experience your website.
Best of all, WebSite Auditor analyzes elements that interfere with your page speeds, so you know exactly what to fix.
Manually sorting through your site's SEO data would take over your entire workflow. ("Please don't let me become the Pepe Silvia meme.")
Thankfully, WebSite Auditor is packed with powerful tools for on-page auditing, competitor analysis, and step-by-step guides, so you can boost your brand's visibility stress-free.
Rank at the top.