Edit, record, multistream, and host videos from a powerful all-in-one platform
The entire process of recording, editing, and livestreaming videos can throw a wrench in your plans to become the next big YouTube sensation. ("No wonder Zoella left the building.")
It's hard to produce high-quality videos that grow your brand when you have zero design skills and know nothing about video production.
If only there was a tool that could consolidate all the features you need to create awesome videos and livestreams hassle free.
Make it happen with Wave.video.
Overview
Wave.video is an all-in-one platform that lets you record, edit, stream, and host videos, so you can scale your video marketing campaigns.
Wave.video is packed with powerful features to streamline how you edit, stream, and host video content.
You'll be able to do everything, from resizing and trimming videos, to combining clips and adding text animations.
Add dynamic background music and sound effects, and easily customize the music tracks using the platform's audio-editing tools.
And thanks to the AI-powered text-to-speech feature, you can quickly generate voiceovers with multiple language and voice options.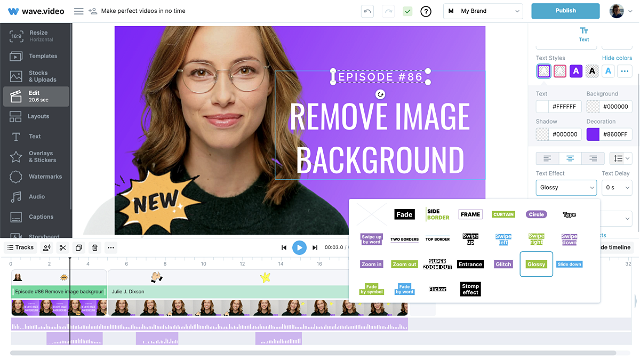 With their web-based video recorder, you can film a webcam video, capture your screen, or do both simultaneously—right from your browser.
You can even repurpose screen captures using the thumbnail maker, GIF maker, or video editor.
Wave.video makes it easy to record videos in your native language and generate subtitles in over 20 languages.
Plus, you'll be able to invite colleagues or clients to attend your streams with a simple link, making collaboration a breeze.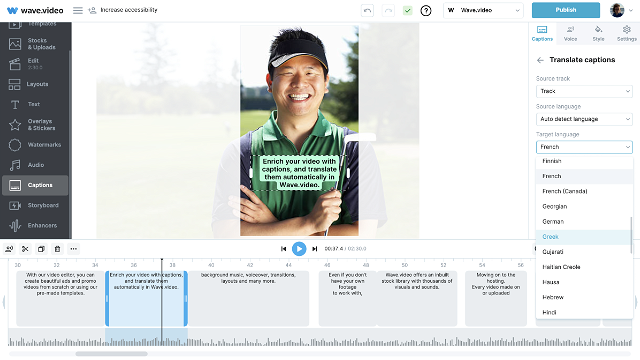 Best of all, Wave.video allows you to stream live or broadcast pre-recorded videos on multiple channels.
You can stream video content using multiple cameras, so your audience can watch you from different angles.
Connect with instant livestream chat, and get comments from other social channels to keep the conversation going across the web.
You can even customize screen layouts with countdowns, overlays, and intros to make your broadcasts stand out.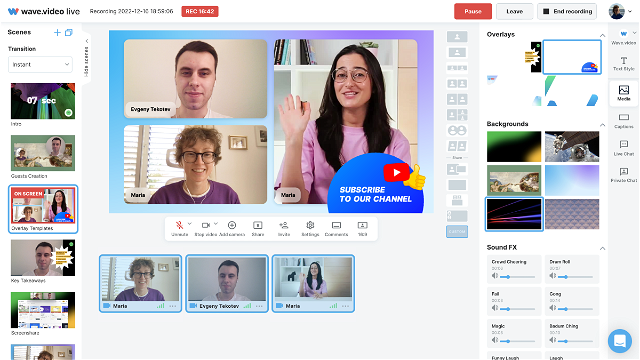 You'll be able to store all your videos safely using Wave.video's video hosting solution.
This platform automatically generates video embed codes for your website, blog, or social media accounts.
You can create landing pages with personalized video players and track performance using video analytics.
Plus, you'll be able to add or remove play controls for viewers, enable fullscreen, and control the default video quality.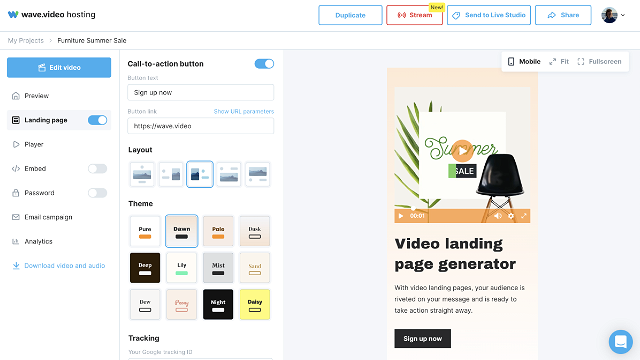 You shouldn't need to hire a professional crew just to help you create high-quality video content. ("So the shaky cam thing worked for the Blair Witch Project, but not for my campaign??")
Good news is that Wave.video gives you everything you need to record, edit, host, and track videos, so you can scale your production without breaking a sweat.
Make waves with video.