Manage your social media publishing, engagement, analytics, and more—all in one place.
Managing posts for all your social media platforms can feel like you're speaking a ton of different languages all at once. ("Hey TikTok bestie—I mean, hello my good LinkedIn fellow.")
The truth is, it takes a lot of focus to create content, engage with your audience, and then analyze metrics across every single platform.
If only there was a social media management solution that made it easy to find, schedule, and manage content for all your channels on one interface.
Say hello to Vista Social.
TL;DR
Write engaging social media captions with the help of an AI writing assistant
Schedule content across social media profiles and networks while managing messages and comments from a unified inbox
Overview
Vista Social is an all-in-one social media management platform that helps you scale and optimize your social media strategy.
Vista Social is packed with an AI assistant powered by ChatGPT, so you can generate engaging social media copy on the spot.
You can add fact-checked stats to social posts, which improves your credibility and boosts trust with your audience.
Plus, you'll be able to generate replies to questions and comments across channels, and even save replies to frequently asked questions to reuse again.
And for the crème de la crème, this AI assistant can also accurately translate content for international audiences in just a few clicks!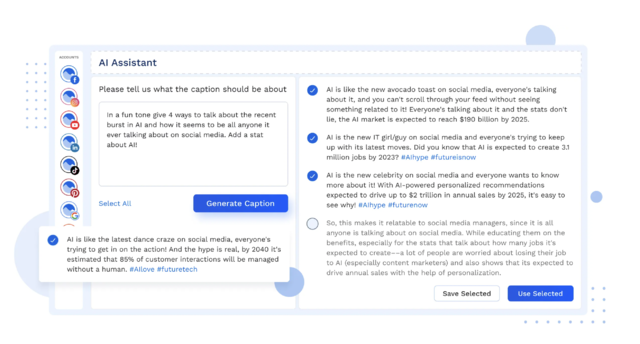 Vista Social lets you plan and publish content for Instagram, Facebook, Twitter, Pinterest, TikTok, LinkedIn, Reddit, YouTube, and more.
You'll be able to schedule posts for optimal times to maximize reach or post directly to each platform in real time.
Thanks to the Canva integration, it's easy to create your own designs right from Vista Social's platform, or bulk upload existing media.
Manage all your photos, videos, audio, and user-generated content in the media library, where you can tag individual assets with keywords.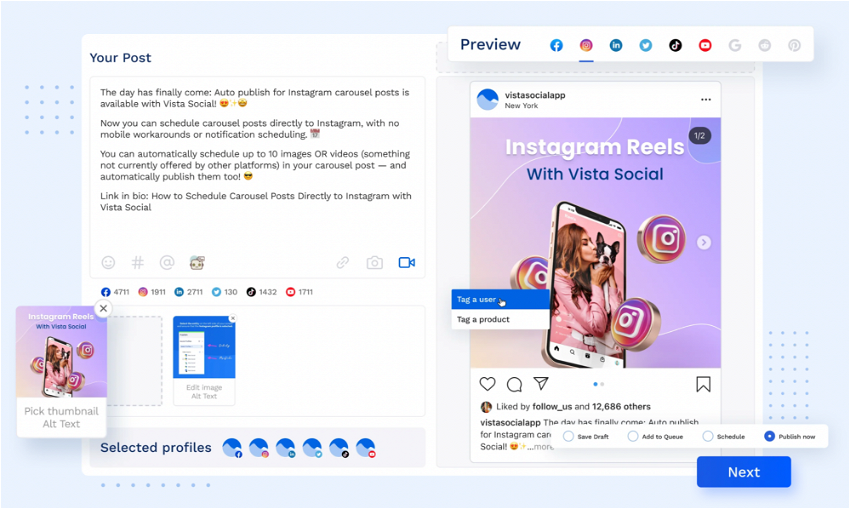 With Vista Social, you can manage all your comments, messages, and mentions from the unified inbox, making it easy to stay on top of all user interactions.
Engage with messages from the inbox with features to like and delete messages without leaving the dashboard.
You can create internal notes, mention team members within conversations, delegate messages to specific team members, and measure their task efficiency.
Want to save a message for later? You'll be able to label and sort messages for easy access, so nothing gets lost in your inbox.
Vista Social also helps you customize fully automated reports that give you data-driven insights on your social media strategy.
That means you can evaluate your social media growth with a detailed overview of performance across all connected social media profiles.
You'll be able to analyze cross-channel performance at the post level, to understand exactly what type of content is resonating with your audience.
Best of all, you can track competitor performance to benchmark against your own and identify new industry opportunities.
Some combinations just make sense. ("A Starbucks inside a Target?! What will they think of next?")
That's why Vista Social gives you everything you need to manage every single aspect of your social marketing strategy, all from one place.
Optimize your social media management.