Get Ahead With The AI-Powered Copywriting Assistant That Writes Texts Faster And Smarter.Email Me Before Deal EndsShare
Save up to 8 Hours of Writing Time with Typer AI
Write better content faster with the AI Copywriting Assistant
Do you ever feel like you need more time to write the good-quality content you need for your business or project? You take the time to craft a piece of content, but you're struggling to find the energy to power through to the end.
Or maybe you're working on a big project, and you're not sure how to make it all work when your deadlines keep moving closer and closer.
Writing content can be a tedious and overwhelming task, so what if you could get help?
ConvertDeal Presents: Typer AI
Typer AI is the perfect tool for anyone needing help with their writing tasks, no matter the writing project. It's an AI copywriting assistant that can help you write better content faster.
Whether you're a blog writer, student, copywriter, marketer, or manager, Typer AI can save you over 40 hours weekly and make your life easier with content writing.
Plus, Typer AI has some other features, such as a sentence shortener, extender, and scriptwriter, so that you can get the most out of your time and energy.
Save time and headaches, and focus on the things that matter most with the help of Typer AI.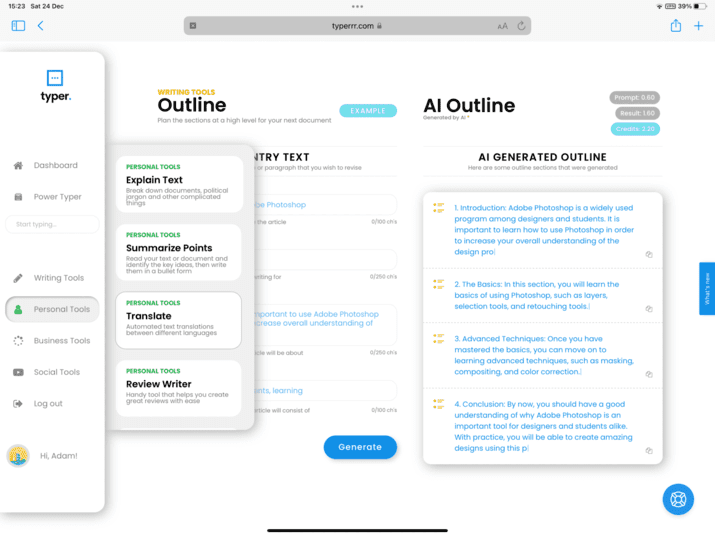 TL;DR:
Typer AI is a copywriting AI assistant that creates long-form text from short-form input quickly and easily and is especially useful for reducing the time and stress involved in writing tasks. It includes a sentence shortener and extender, scriptwriter, review writer functions, and more.
Similar to: Copyai, Jasper, Rytr, Copysmith, Anyword, Viralcopy
Intuitive UI and UX, easy-to-use platform, very stable.
Best for Solopreneurs, Freelancers, SMEs, and Agencies, including blog writers, students, copywriters, marketers, managers, and more.
Critical Stats:
The copywriting AI market is expected to reach USD 10 billion by 2025, growing at a CAGR of 37.2%. (Source: Grandviewresearch.com)
35% of marketers claim their biggest challenges have enough time to develop fresh ideas, produce high-quality content, and find writers. (Source: predicmedia.com)
The time to write a blog post has decreased by 73.64% due to the introduction of AI copywriting. (Source: Quill oracle.com)
77% of marketers reported that AI technology had created more efficiency in the content creation process. (Source: online-sciences.com)
Features:
Power Typer:
Write faster and better with Power Typer, the all-in-one freestyle writing assistant. This time-saving tool combines the most used writing tools into one convenient place. With Power Typer, you can enhance your writing with the text extender, rephrase tool, text shortener, and grammar checker.
Save time and get more content created quickly by writing much longer content with just a click. It's easy to use and fast – just provide an article subject name, select the output length, and choose input and output languages. Power Typer works in 35+ languages, making it ideal for multilingual writers.
Say goodbye to tedious writing tasks with Power Typer. Create more content in less time, write better quality content, and spend less time on edits with this powerful writing assistant. Get better writing results with Power Typer.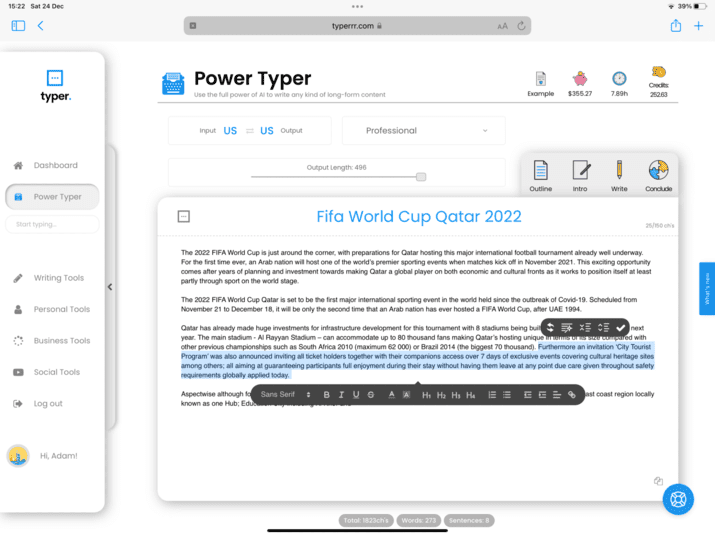 Writing Automation:
Take the hassle out of article creation with Writing Automation. Whether you're a content creator, student, or business professional, Typer has the tools to make writing easier and more efficient. It provides tools to automate specific areas of your writing. With tools like Introduction Writer, Outline Generator, and Conclusion Writer, you can quickly generate the core features of your article without worrying about manually formatting them.
Bolster your written work further by taking advantage of the Explain Text, Summarize Text, and Translate Text tools. These make complex topics easier to understand by reformatting text.
Finally, take advantage of specialized tools like Email Writer, Ad Creator, and Task Extractor. These are trained to achieve specific results and are perfect for creating anything from emails and ads to extracting tasks from your notebook.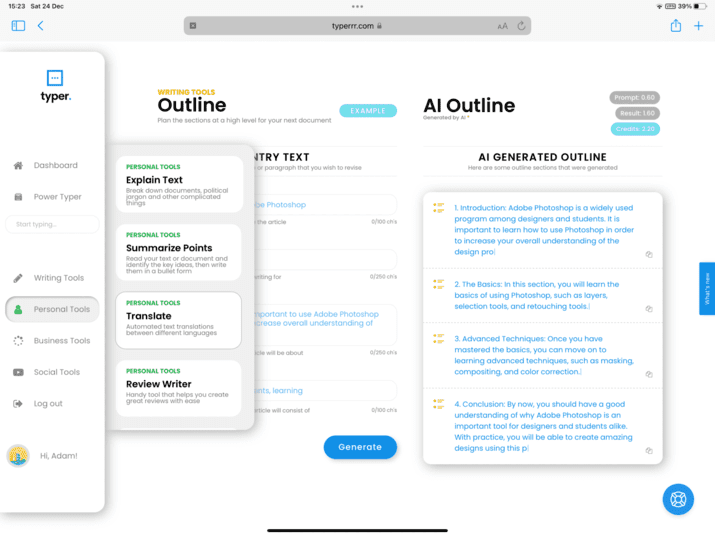 Speech Generator:
Easily create inspiring speeches for any occasion with the Speech Generator. This feature creates custom speeches for occasions such as toasts, graduations, awards ceremonies, etc.
Make your next occasion memorable with the Speech Generator feature. Easily create inspiring and heartfelt speeches that capture the mood and spirit of your event. Give your audience or users something to remember with this feature.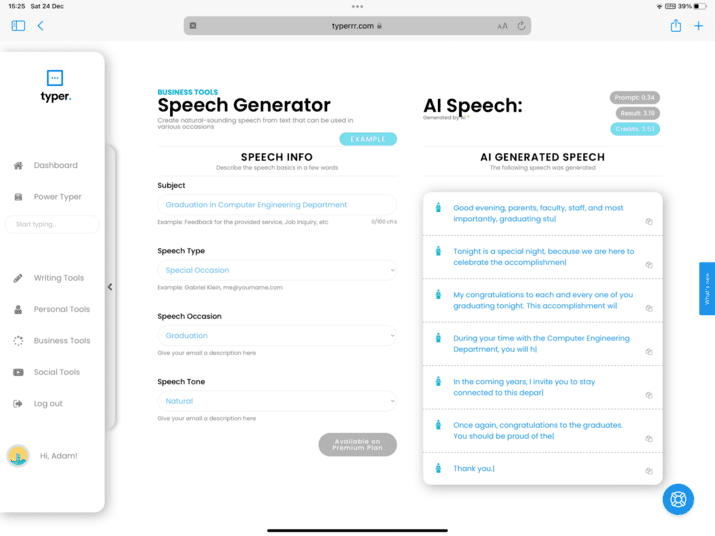 Review Writer:
Make sure everyone knows what customers think about your product with Review Writer. It will craft a review tailored to your product, featuring both the positive and negative aspects.
With the ability to quickly and accurately write your product reviews, you can give customers an accurate and unbiased representation of what they can expect when they purchase. Have confidence in your product reviews with the Review Writer feature, and ensure that customers get the complete picture when they're looking to buy.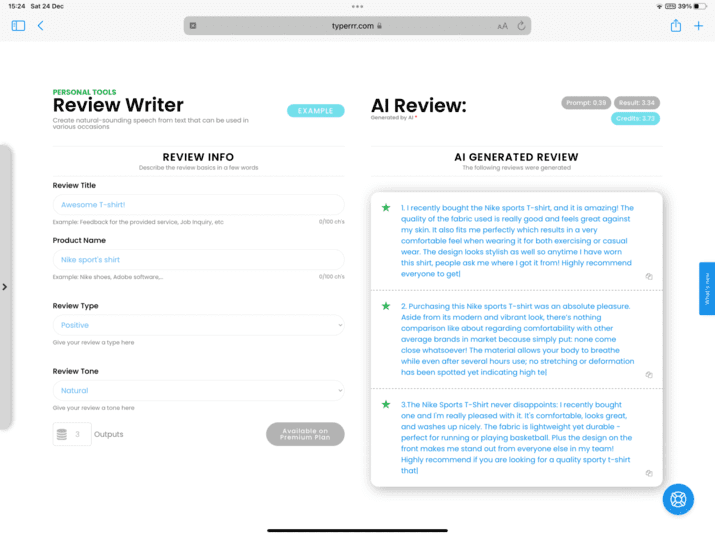 Social Responder:
Stay fully engaged in conversations with your users, even when you can't be there in person, with the Social Responder feature from Typer. It will respond to a customer's questions automatically.
Social Scripts:
It allows you to quickly and easily create engaging, captivating video scripts for all of your social channels.
Social Scripts eliminates the hassle of manually creating scripts and allows you to create compelling video scripts in minutes. This feature is perfect for anyone who wants to quickly and efficiently create video content that resonates with their audience. With Social Scripts, you can easily create engaging video content that connects with your viewers in no time.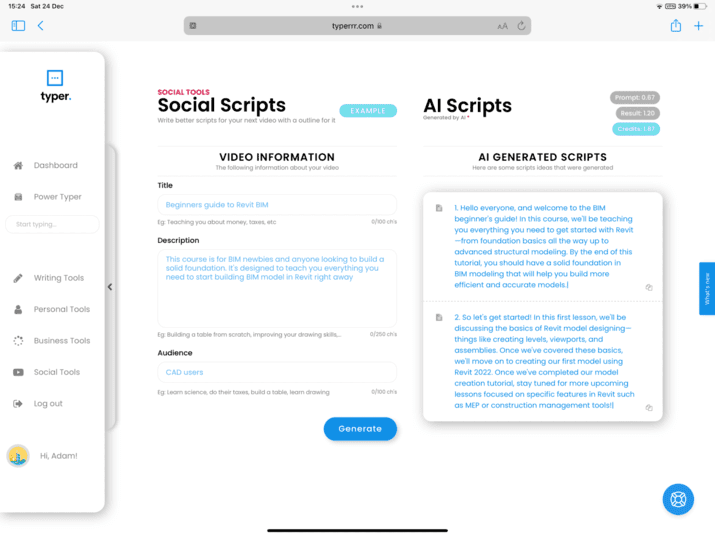 More features include:
Write Analogy, Explain Text, Summarize Points
Power Translate, Write Story, Typer Art, Extract Tasks
Employment Ad, Business Email, Raise Questions
Social Titles, Social Tags
Some Interesting Use Cases:
Long-form human-like text generation for various individuals and organizations, including businesses, researchers, developers, and anyone else who needs to process or generate large amounts of text.
Generating content for websites or social media by social influencers.
Translating the text from one language to another by translators.
Generating stories or articles for bloggers.
Why are businesses choosing Typer over the rest:
Large scale (billions of language parameters).
Versatility (translation, summarization, text qualification, originality).
Human-like text generation.
Customization to specific tasks.
Simple setup and ease of use.
All features are available.
GDPR Compliant.
Available on a lifetime deal for a limited period.
Make writing easier and more efficient with Typer. Benefit from automated tools to save time and money and get the most out of your written work.
The best part? You will pay just once and can use Typer for a lifetime; grab your lifetime deal today.