A Hawk-eye for Website Performance
Monitor Your Websites & Get Notified if/when they go down
You have a great website, and a lot of sales are coming in. And suddenly, you have zero sales.
When you are visiting your own website, you are surprised (not in a good way) to see that it's down, and you have no idea how or when.
You did everything perfectly and one thing makes all your efforts null.
StatusPing to the Rescue
StatusPing monitors your overall website health like uptime, downtime, SSL certificates expiry, Speed and performance of your site.
PRODUCT HIGHLIGHTS
Get alerts on Email, Slack & MS Teams when your websites go down & loads slowly
Invite Unlimited Team Members to work with you
Alternative to: HyperPing, Statuscake
Best suited for: anyone who owns, maintains, designs, and develops website(s).
Once you create your StatusPing account, a comprehensive dashboard of your site performance shows up according to your timelines.
So whenever your site is down or facing issues to load faster, StatusPing diagnoses the problems for you and checks them for every 30 seconds.
You can add as many sites to monitor(depending on your plan) and get direct insights about your website health.
It's your business, your site, and everything of you. You probably have too many things to handle and keeping track of your site performance may slip out of your hands.
It could cost your business and leave you in splits.
By adding team members to your account, your team is kept in the loop of the site's performance. Add unlimited members through an invitation link and your team gets to notify about site downtime.
And a fairly easy way to stay notified about your site's performance is enabling notifications for multiple channels. Receive updates on uptime monitoring, SSL expiry notifications through Email, Slack, Microsoft Teams & SMS.
You might think that uptime monitoring is something not that big a deal. It's not with StatusPing's efficient uptime monitoring system.
But security is also something you should be concerned about. SSL certificates make sites secure and robust against financial transactions, exchange of sensitive information thereby preventing data leakage.
As site owners or developers, optimising site performance is crucial. While site monitoring seems possible, getting a detailed brief on site component mishaps and tests performed can simplify our lives.
Status pages in StatusPing gives you transparency through incident reports, real-time updates, and custom domain support for public/private pages.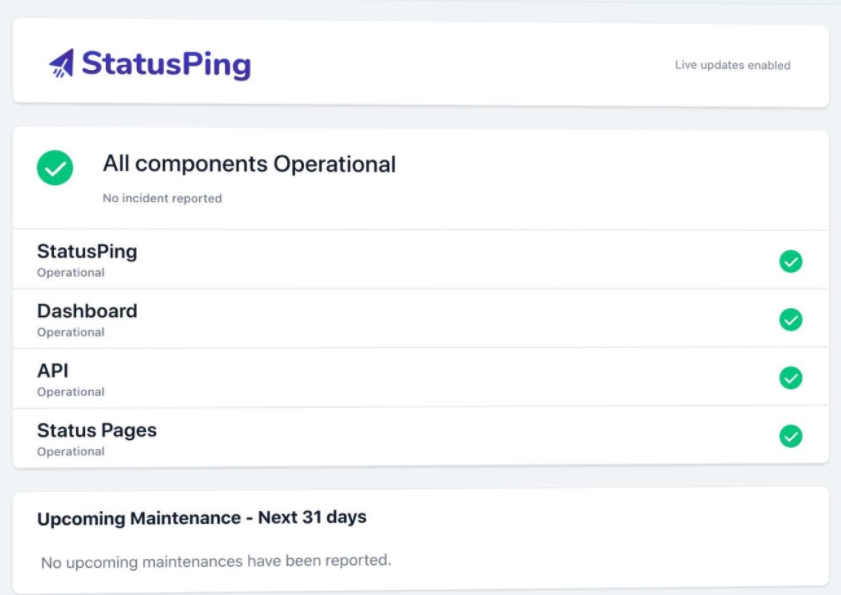 A tool that is secure and important like this can make you think it could be expensive.
You can track upto 10 websites for just $19 (one-time), and 200 websites for less than $0.50 at just $95/lifetime today.