Find unlimited leads & send unlimited email campaigns from one platform.
What's better than unlimited B2B leads? Not much if you ask us.
How many hours a week are you spending doing lead generation?
Would you like to save countless hours a week researching, working with Google sheets, or Excel, copy and pasting and everything else that takes up your time doing lead prospecting?
If the answer is a yes then you're in luck as we're proud to introduce SendVilla.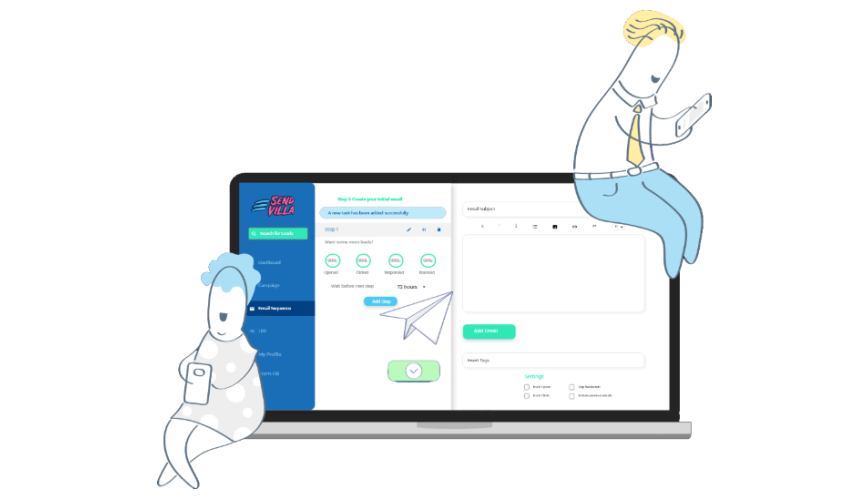 SendVilla is a B2B sales outreach tool that uses Google maps to laser target and instantly generate leads from anywhere your heart desires.
One of the easiest lead generation tools you'll ever use as all you need to do is add your lead prospecting criteria and let SendVilla's bots do the work.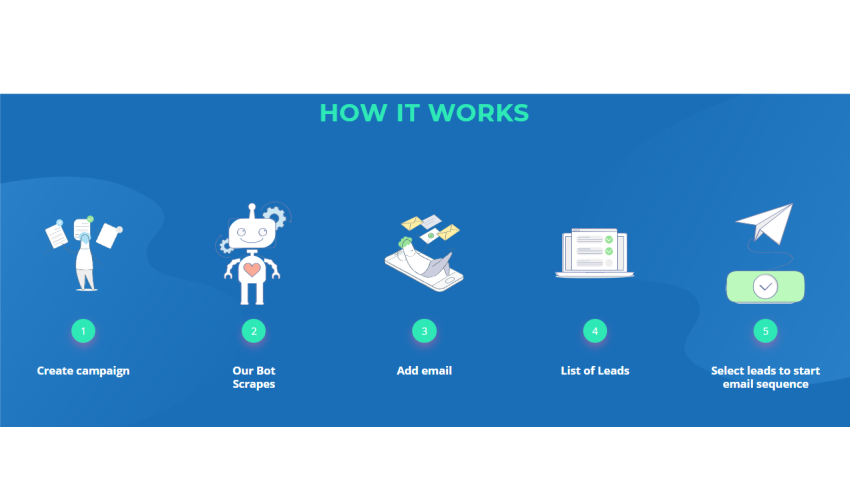 Kick back, enjoy an espresso and impress everyone how fast you're prospecting leads. Mmm… coffee!
Don't worry, your secret is safe with us, we won't tell anyone about your new secret lead generation tool.
Create your campaign
To get your superpowers started just input the type of business industry you want to target.
Next, laser focus on the gepgraphic location of where you want leads from.
Choose what criteria you want to find such as a lack of Facebook pixels if you're an agency looking to provide this service or just want an easy "foot in the door" reason to contact them.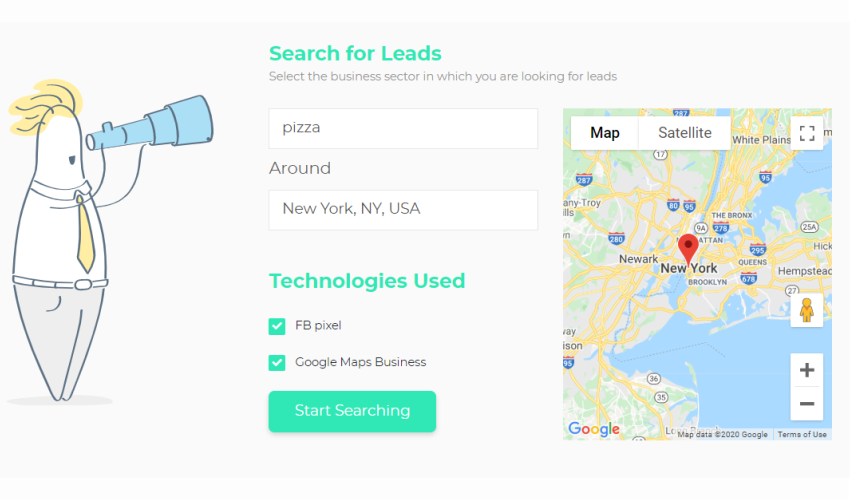 Unlimited B2B leads
We know how much you love leads so no worries, we made sure there is no restrictions on the amount of searches or leads you can find.
Create as many lead lists you want for manual or cold email outreach.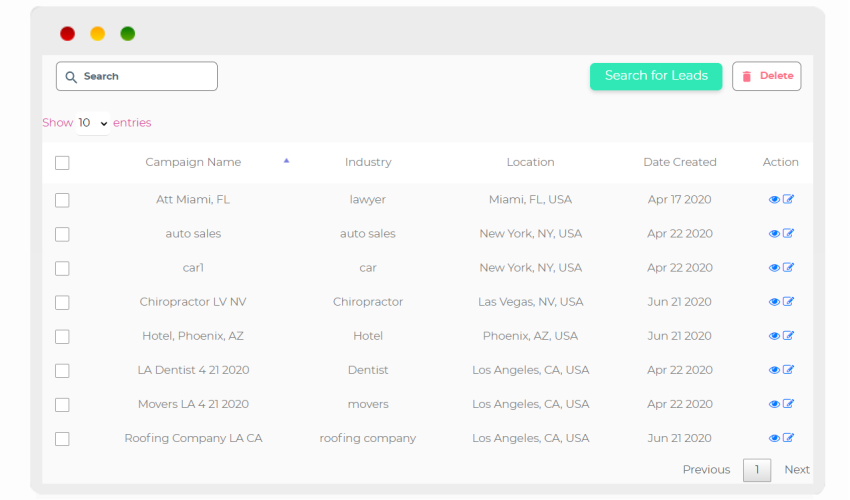 Select your leads from the information provided, such as:
Business Name
Address
Phone number
Email
Website
Facebook URL
Linkedin URL
Instagrtam URL
Twitter URL
Using a Facebbok pixel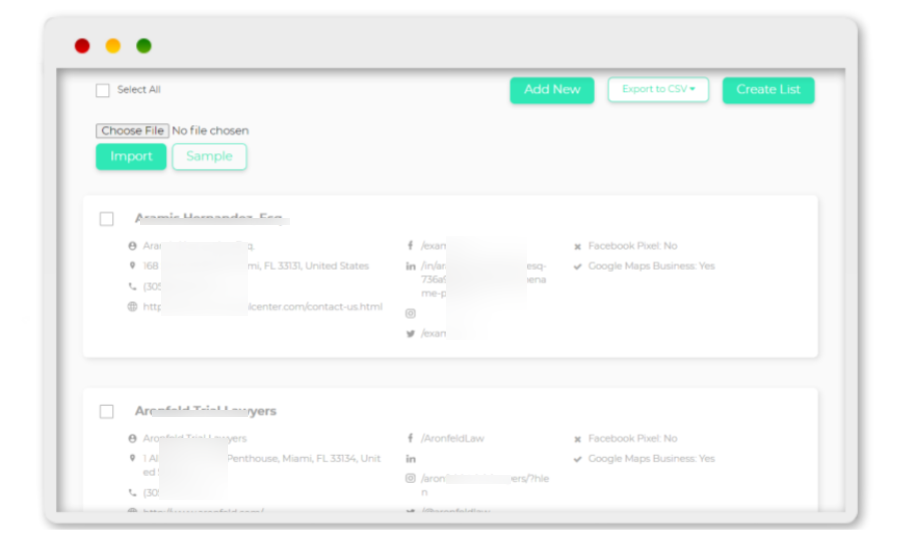 Sales Outreach
You have all the information you need to outreach and close deals!
Export your leads to your favorite tools such as your CRM or Email Marketing Platform or use SendVilla's built-in cold email tool.
Easy to use and user friendly, setting up your lead outreach campaign is perfect for anybody just starting to learn cold email marketing or vetrans.
Track Opens
Track Clicks
Decide if you want to allow to send to emails to previous contacted leads, for example sending follow up emails.
Create as many email sequences you want
Easy SMTP setup to use any of your favorite email providers like Gmail, Gsuit, Outlook, Office 365, Sendgrid and others.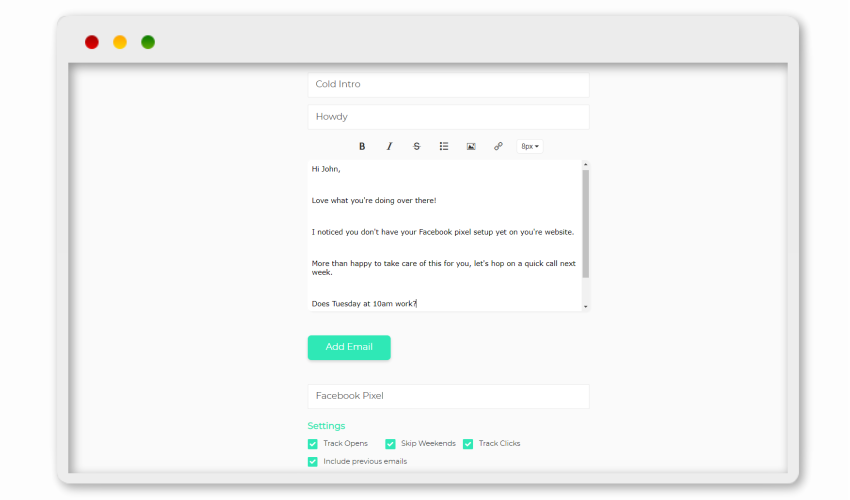 Export Your Data
Let's face it data is king!
All data can be exported and uploaded to any other tools that your prospecting heart desires.
For example, upload all the websites you collected into a tool like Hunter.io to find even more contacts and emails from the same business.
Another example is upload your data to a tool like PhantomBuster for even more tasty recipes like scraping the social profiles or websites or setup automations for Instagram or others.
These are only a couple examples out of hundreds how you can use the business information you've collected.
What's Included
You can purchase multiple license but only 1 coupon code is allowed per account.
1 Email Account (Non Stackable)
Unlimited Leads
Unlimited Campaigns
Unlimited Data Scraping
Unlimited Email lists
Unlimited Email sends
Unlimited Email campaigns
Location Based Filter
Industry Based Filter
Future Feature Updates
60 Day Refund Period
*DEAL NOTE: You will need to connect to Google Maps using their API, Google Maps does charge for data after 20k results per month. While most users will never come close to using this amount of data in searches, if you feel as though you are a heavy "searcher" for B2B leads, we then suggest you purchase more than one coupon code of SendVilla.