Creating fresh and engaging content for your social media channels is a huge part of the modern marketing strategy but it's a pain. It can take hours to get the perfect post done, even with all the tools available today.
Predis.ai has developed an AI powered tool that creates high-quality posts in just seconds! You can create posts from scratch or use our templates, customize it based on your preferences and let us do the rest. Our AI will generate unique captions along with pictures and hashtags to boost engagement of your post.
Save time creating fresh & engaging content for your social media channels using Predis.ai today!
Predis.ai generates post ideas tailored to your business and target audience. All it needs is just 1-line information about your business.
Get your posts crafted in your brand language. Also, seamlessly edit them in a Canva like editor.
Understand what kind of content themes are working best for your competitors with Predis' one of it's kind Competitor Analysis.
Designed for Social Media Agencies and Solopreneurs who want to focus more on their business rather than crafting their social media posts.
Get AI-Made Creatives In Your Brand Language
Just tell us your Brand colors and let our AI make the best creatives for you. Under the hood, our AI selects the best templates, fills in text and images and applies your brand colors and font to the creatives to make them personalized for you
Generate The Perfect Captions For Your Posts
Captions should not be written in a jiffy, especially if you've spent hours developing a beautiful creative. Leave it to us, to generate complete captions for your posts, of the appropriate length and tone.
Revamp Your Hashtags Strategy
Figuring out the right hashtags relevant to your post and audience is not easy. Our algorithms explore the social media platforms for hashtags in real-time and provide you with the most popular and trending hashtags related to your post and audience. This ensures that the post will always show up in the right places.
Creative Suggestions From The Highest-Quality Images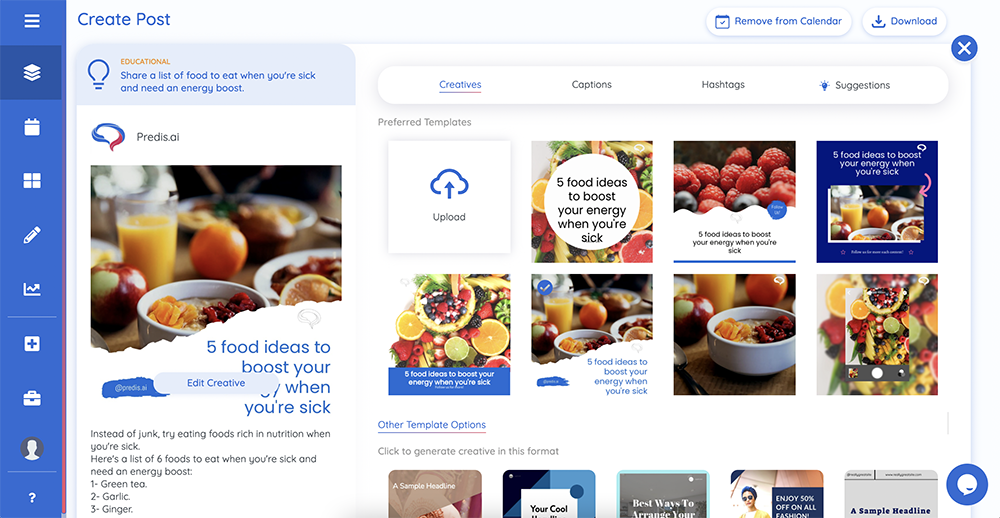 Predis.ai recommends images appropriate for your curated post ideas, from Unsplash and Pexels. Choose from the free-to-use works of accomplished photographers and artists for a rich social media feed.