Utilize pre-designed templates for all special events, producing designs at lightning speed
🎯 Here is the design beast for your social media.
The most important stage for social media management is to produce content.
But we often don't have enough time or budget for that.
Moreover, it is really difficult to follow and share special days.
But don't panic! There is no need to know how to code or design skills.
Meet Postuby.
TL;DR
Use ready-made designs for all special occasions and create designs at lightning speed
Get access to constantly updated editable designs for all special occasions and different industries
Overview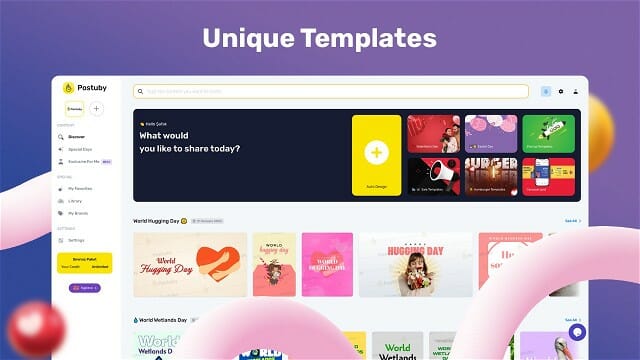 Want to design it yourself? Good news! You will no longer encounter boring blank white screens to design.
Use Postuby's automated design tool. Write something and… booom! The designs are ready.
All you have to do to prepare a social media design is to write something.
In a few seconds, your designs will be ready in different sizes.
Moreover, you can change color with one click. You can also make instant edits and develop designs.
Don't like the designs? Click again and Postuby will create new ones instantly!
Want to design something good but don't know where to start?
This is very normal because not everyone has to be a designer. But everyone should have good designs!
For this, first of all, we offer you a source of inspiration.
When you write something, different alternatives will start to emerge immediately and will guide you.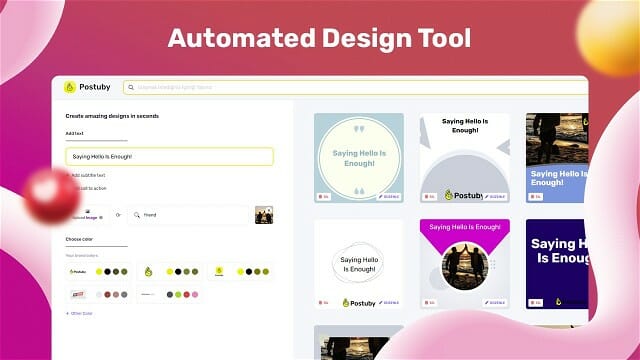 Don't waste time preparing social media designs.
Don't worry about special occasions.
Use 15,000+ designs or design from scratch with our automated design tool.
Plus, millions of backgrounds, objects, icons, gifs, and shapes are included.
With Postuby, you can create designs that will keep your social media alive with a few clicks.
Designs for all special occasions are now at your fingertips!
Valentine's Day, World Cancer Day, World Nutella Day, National Pizza Day, National Deworming Day, Darwin Day, President's Day, World Thinking Day, and many more…
In Postuby, there are not only special day designs, but also ready-made designs for different sectors.
Best of all, we continue to add new ones every day.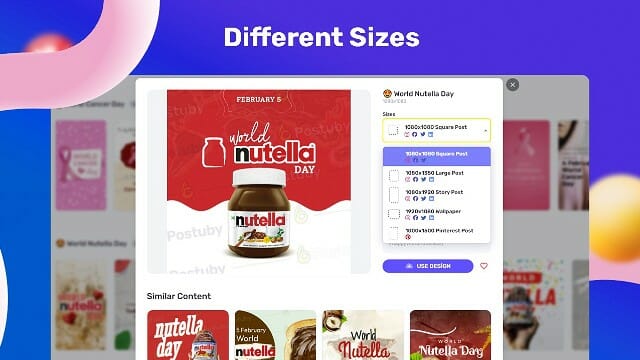 With Postuby, you will get great designs for your social media while saving time and money.
Attention please! Your close friends will wonder who made these designs for you.
Social media designs will no longer be a problem for you.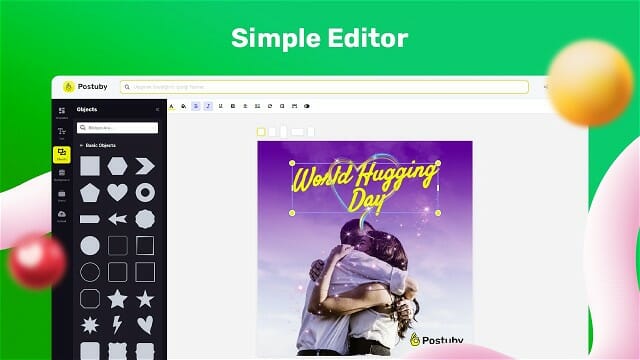 Get to know our simple but great amenities:
The logo is automatically placed on all designs. (So much fun!)
Don't waste your time resizing. All designs are available in Facebook, Instagram, Twitter, LinkedIn, and Pinterest sizes.
Edit designs with the Postuby editor. No design knowledge required.
You will be informed of upcoming special days.
We have prepared your texts to share for special occasions. Copy and use with one click.
Plan instantly on the social media you want with our RADAAR integration.
Create text in seconds with our AI writer. You can choose the punchline of the text you will create!
Don't worry about which hashtags to use, thanks to our hashtag generator. Write your text and the results will be in front of you instantly!
You can see all upcoming special days with our calendar feature. If you want, you can add small reminders to the calendar.
We add new designs every day, and it's all included in the plan!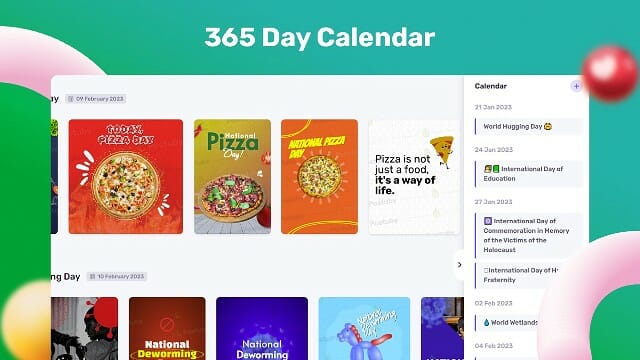 💥Unique templates, AI writer, ideas, calendar, super fast design tool, one click change, and much more…
It all comes standard with Postuby!
Postuby provides you with constantly updated editable designs for all special occasions and different industries.
Plus, it offers so much more than simple templates. (You'll feel like you're working with a great agency or designer.)
What are you still waiting for?