It's hard enough to run a successful ad campaign—let alone analyze your results. ('Let's start by getting rid of these losers…')
But with Plai, you don't have to choose between ad campaigns and results.
Advanced digital advertising software helps you launch targeted ads in just a few clicks, getting you better results than your competitors.
Plus, Plai provides several useful templates and strategies for your campaigns, giving you everything you need to launch successful ad campaigns.
Introducing Plai.
TL;DR
Upload creative assets to the app and launch targeted ads in just seconds without managing their campaign direction
Access Google Ad Analytics and get automated ad improvements
Overview
Plai is an ad tool designed for small teams and creators to launch targeted ads in just seconds—no experience required.
With Plai, your team can simply plug in creative assets, apply campaign parameters, and get a campaign running without any hands-on effort.
Since this tool has worked closely with the ad platforms used by Google and Facebook, it can handle all things campaign-related in a few steps, no matter your budget.
Automatically display ads, handle bidding and remarketing, and more for advertising that's not just easier, but also more effective.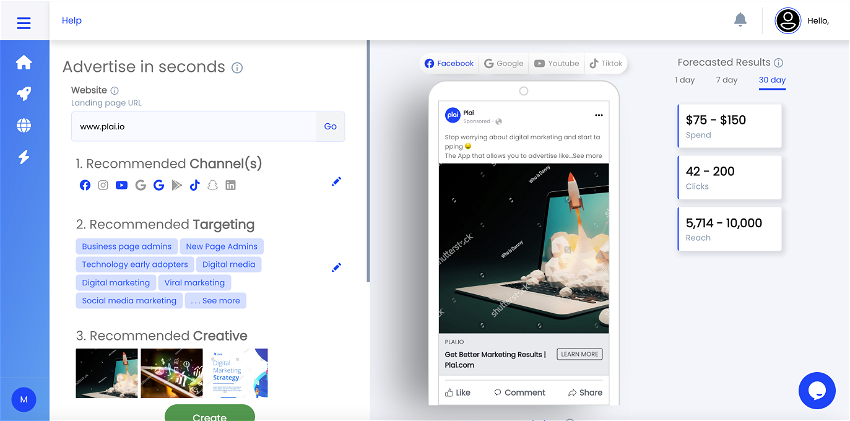 Choose as many platforms for your ad campaign as needed for your target demographics and marketing strategy.
The flexible ad options let you add text options and multiple graphics for each campaign.
Using specified targeting and ad options, Plai can also A/B test different campaign combinations for results that actually improve over time.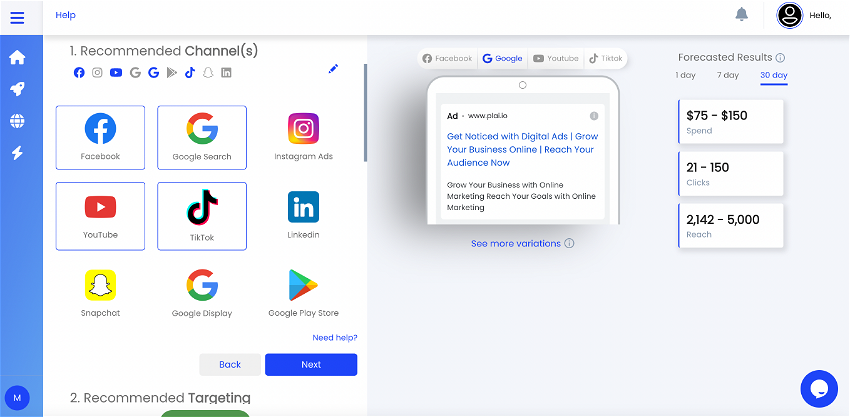 Plai makes it simple to uncover the insights buried in analytic data for better business decisions, like determining the best social channels or figuring out how customers find you.
And when you're not sure which direction to take your strategy, you can use the advertising templates to easily give your marketing efforts a strategic impact.
By handling the workload of an ad campaign manager, the AI-based ad platform saves your entire company time and money.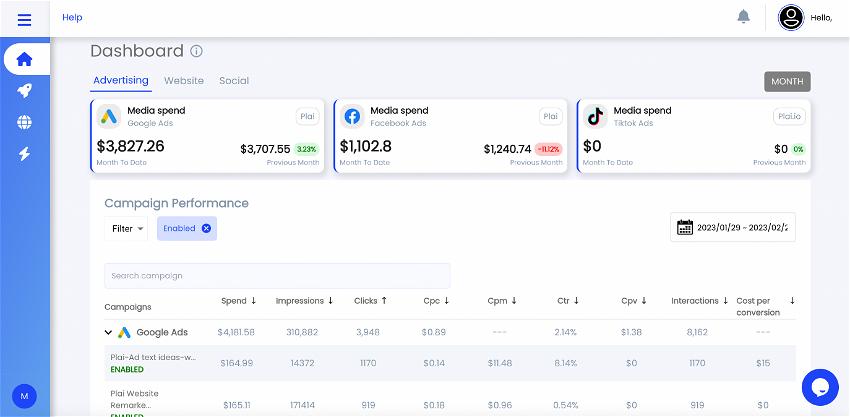 Plai lets you integrate your campaigns into Google Ads, Facebook Ads, TikTok Ads, YouTube, and more for a comprehensive marketing strategy.
You'll be able to meet key marketing milestones like reaching a target audience to increase online presence, selling more products, and advertising new store locations!
Whether you're an ecommerce-based company or an old-fashioned brick-and-mortar shop, Plai's digital strategy can help you grow.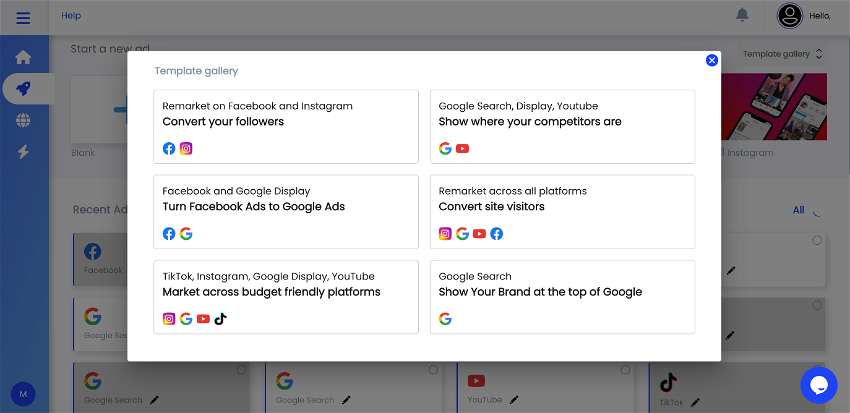 Pros and Cons
Pros
Adjust campaign specifics based on your marketing strategy to launch targeted ads.
Get better results and launch ads across multiple platforms.
Use advertising templates and analytic insights for campaigns that stay effective for a higher ROI.
Take advantage of Plaibooks for comprehensive strategy specifics.
Cons
No ability to save keyword research result page or export.
Customer service is lacking.
You can not edit existing google campaigns.
UI is not very intuitive
Conclusion
Ad campaigns are a lot like imitation meat: when it's good, you don't notice; when it's bad, it's the stuff of nightmares. ("Just give me steamed kale next time and stop pretending.")
With Plai, you can advertise like a pro and automatically run successful campaigns that drive your business.
Take the stress out of digital marketing.