Generate personalized video content using realistic AI avatars and text-to-speech
Unlike the latest TikTok trend, your global marketing outreach can't rely on the content of a single video. ("All this flossing and dabbing has done nothing for our sales.")
Whether you're prospecting or developing a course, it's time-consuming and expensive to shoot a bunch of video content.
What if you could crank out dozens of personalized videos starring multilingual AI avatars without breaking the bank?
Welcome to Pipio.
TL;DR
Generate personalized videos starring photorealistic digital actors and voiceover talent
Customize text-to-speech script, upload audio files, and create custom video content in 79 languages
Overview
Pipio is a text-to-video platform that allows users to create personalized video content featuring realistic AI avatars.
Now you can cast photorealistic virtual actors for your videos, without having to worry about casting calls and tight budgets.
Search for AI-powered avatars across different ages, ethnicities, genders, and races to find the perfect brand ambassador.
Not only can you choose from a diverse roster of actors, you can also preview dialog and vocal performance to optimize scripts.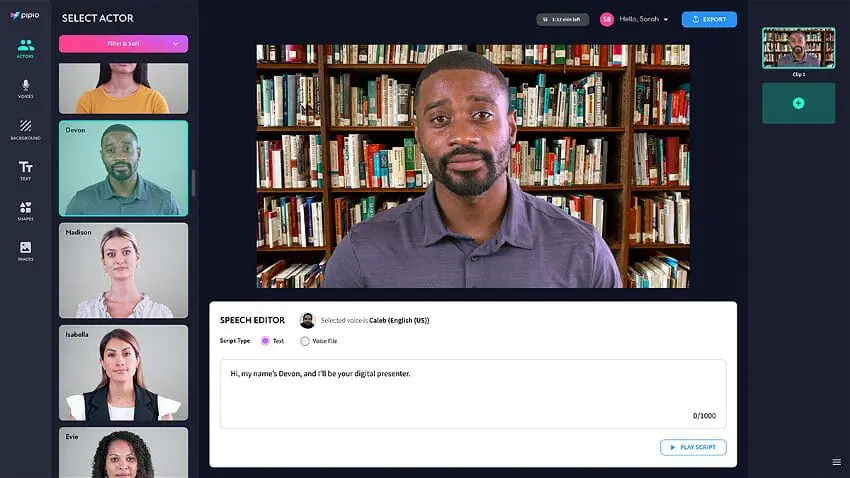 With more than 825 voice and accent options across 79 languages available, your message can reach a global audience.
If you want to speak to your audience directly, you can also voice the digital actor yourself using an audio recording.
You can even make your own avatar! Just submit video footage and Pipio will generate an avatar only available to you.
From there, you can easily submit scripts for your actor to read by entering text directly or uploading a voice file.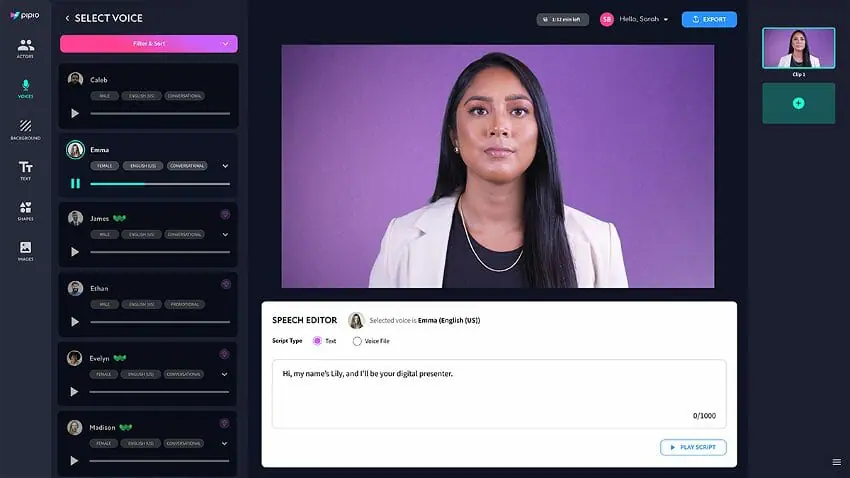 Even if you're not a video editing pro, you can whip up professional content using their video editing interface.
Pipio lets you add music and various on-screen elements, including custom text, colors, and shapes.
Plus, you'll be able to choose from thousands of stock images and backgrounds—or upload your own.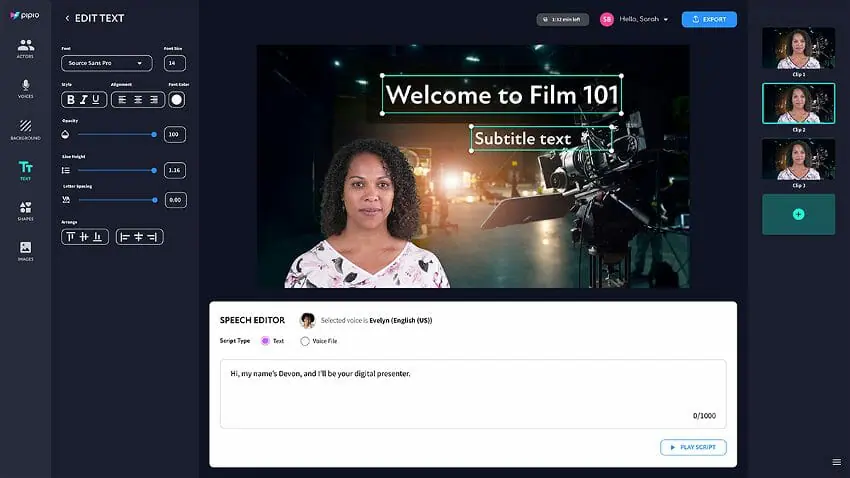 So you can be sure your videos sound natural, Pipio lets you customize the text-to-speech until it feels right.
You can adjust the pitch, speed, volume, and pronunciation to fine-tune the virtual actor's vocal performance.
Then export the final product to your favorite post-production software, finalize edits, and share it on social media in no time.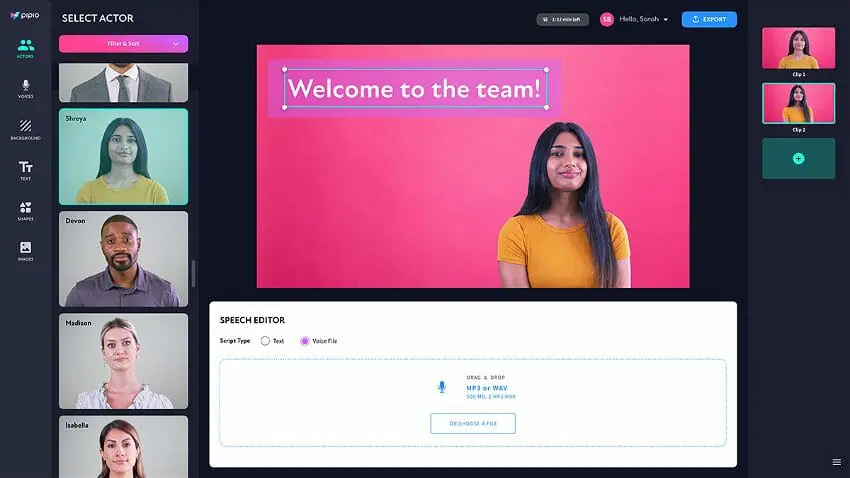 Pros and Cons
Pros
Choose from dozens of AI actors across different genders, races, ages, and ethnicities.
Choose from over 825 voices and accents across 79 languages for your digital actor.
Spice up your videos with on-screen elements like text, images, and shapes.
Upload your own audio files to pair actual human voices with the AI actors.
Cons
No option to add captions and expressions as of now
Limits are quite low; 1 video credit = 1 minute of generated video
This tool has potential but little buggy at the moment
Conclusion
If you think video content requires big bucks for casting and shooting, think again. ("Somebody tell James Cameron before Avatar 3 comes out in 2035.")
Pipio makes it easy to generate personalized video content with lifelike virtual actors to give your brand a friendly face.
Create videos the smart way.