Are you looking for automation & integration software to help you save time, connect multiple applications, and create unlimited workflows? Then Pabbly Connect is the perfect solution for you! In this review, we'll cover what makes Pabbly Connect stand out from other integration tools, its features, a comparison with Zapier, and much more. So let's dive in and discover why Pabbly Connect is the ultimate choice for your business needs.
What is Pabbly Connect?
Pabbly Connect is an automation & integration software that helps you connect multiple applications together & automate all the repetitive tasks you do daily. It offers zero charges for internal tasks, no restrictions on workflow creation, and supports 1000+ applications. With Pabbly Connect's Ultimate plan, you can create multi-step workflows, and access advanced features like Router, Filter, Schedule Trigger, Delay Step, Email Parser, and much more to help you do powerful automation.
Benefits of Pabbly Connect
The Pabbly Connect offers a range of benefits that make it an ideal choice for businesses looking to automate their tedious and repetitive tasks. With Pabbly Connect, you can:
Automate all your daily tasks easily – Save time and effort by connecting multiple applications and automating the most mundane processes.
Create unlimited workflows – The Ultimate plan gives you access to powerful features such as Router, Filter, Schedule Trigger, Delay Step, Email Parser, and more so you can create multi-step workflows quickly and easily.
Zero charges for internal tasks – Perform mathematical operations, spreadsheet functions, time zone conversions, and much more without any extra costs.
Access 1000+ Applications – Integrate to any application with an API using API modules and access popular apps for CRM, Marketing, E-Commerce, Helpdesk, Payments, Web forms, Collaboration, and more.
Avoid Manual Work & Save Time – Auto Sync Data across Apps, so there's no need to manually enter or update information between various applications.
Pabbly Connect Features:
Pabbly Connect is loaded with features that make automating and integrating multiple applications effortless. You can create advanced workflows, auto-sync data across apps, avoid manual entry of information between different applications, and much more. Here are some of the features you get when you opt for Pabbly Connect:
1. Schedule Workflows: Set up a date and time at which you want the workflow to be executed – on a specific day, once in a day, every min/hour/day/week.
2. Connect Any Application: Integrate to any application with an API using API modules and support many different API structures.
3. Advanced Workflows: Create powerful workflows with the help of routers/paths so you can execute different actions based on filter conditions set by you.
4. Email Parser: Automatically extract data from incoming emails like email name, subject, body, attachments etc. which can then be processed further.
5. Delay Workflows: Delay step allows you to delay performing the next action for a specified amount of period – mins/hours/days/weeks or any specific date & time.
6. Iterator: Divide a collection of data into numerous values, process them one by one until the last value is reached and pass each value to other action steps added after the Iterator step.
How Pabbly Connect works?
It takes less than 5minutes to configure Pabbly Connect. Just 3 simple steps and you're good to go. No installation required!
Step 1: Click on Create Workflow Button.
Step 2: Select the applications you would like to integrate.
Step 3: That's it! You can now enable your workflow and save countless hours of manual work.
Pricing plan:
Pabbly Connect offers three pricing plans – Standard for $249, Pro for $499, and Ultimate for $699. The Standard plan includes 3,000 tasks, 10 workflows, and 2-step workflows, while the Pro plan offers 6,000 tasks, 10 workflows, and 2-step workflows. The Ultimate plan gives you unlimited workflows and multi-step workflows, along with 10,000 tasks. Choose the pricing plan that fits your needs and budget best. Get more details on Pabbly Connect pricing here.
Comparison with Zapier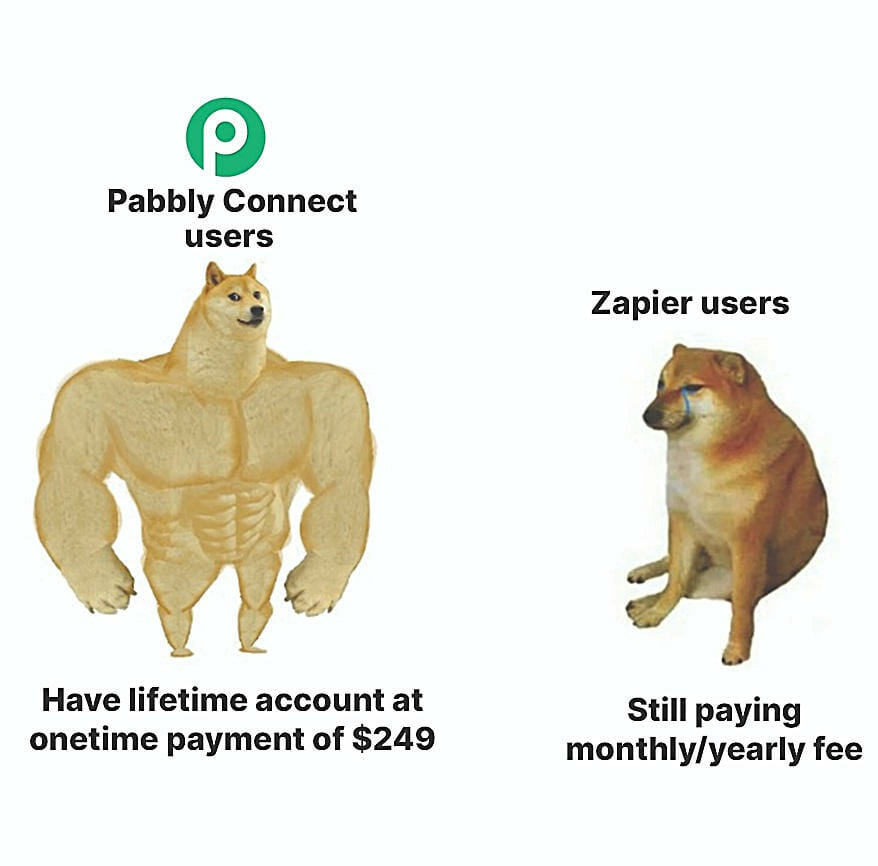 One of the drawbacks of Zapier is that it limits the number of automation workflows that you can create on the small plans. For example, the 1500 tasks plan costs $48.75/month and allows you to set up 20 Zaps or automation workflows. On the other hand, Pabbly Connect does not restrict you on the number of automation workflows that you can create on the one-time payment plans starting from $699.
Another important aspect to consider is the pricing of the plans. Zapier's 10,000 tasks plan costs $161.25/month or $129/month when paid yearly. In comparison, Pabbly Connect offers 10,000 tasks every month just by paying a one-time payment of $699. Pabbly Connect's pricing is quite competitive as compared to Zapier given that it offers a lot more advanced features and unlimited workflows.
With Pabbly Connect you don't need to worry about paying an extra charge for internal tasks as they are all free to perform. Additionally, Pabbly Connect offers advanced features like email parser, delay workflows, schedule workflows, advance workflows with routers/paths, and iterator. All these features make Pabbly Connect a more comprehensive automation and integration software as compared to Zapier.
Conclusion
In conclusion, Pabbly Connect is an excellent automation and integration tool that can help your business save time and increase productivity by automating repetitive tasks. The best part is that it comes at a one-time affordable cost, unlike other tools like Zapier that require monthly subscriptions.
So why wait? Take advantage of our exclusive lifetime deal and sign up for Pabbly Connect now! With this deal, you can get the Ultimate plan, which includes 10,000 tasks, unlimited workflows, and multi-step workflows, for just $699. Don't miss this opportunity to optimize your business and increase your revenue. Click the link now to get started!