Boost your Signups & Sales on Autopilot
Run Unlimited A/B Tests, Personalize your Web pages & Funnels with the Best CRO Tool Ever!
The world has changed a lot (No, we are not talking about covid today)
Chances of your visitors converting into sales are higher when they see things that are gonna convince them.
But how can I possibly know that, Charlie?
Good Question there. Let's say you have a hundred visitors landing on your website.
500 of them are seeing the testimonial right next to your "Buy" button
The other 500 are being greeted with their names, weather condition & an exclusive discount based on their location
Which one of these two is going to get you more sales? The answer is obvious (B)
With Omniconvert you can test hundreds, if not thousands of optimization ideas to skyrocket your Conversions without having to code anything
To get started, you only have to insert a simple Javascript code to your website(s).
Set up a simple A/B testing experiment by creating a new variation of one of your web pages. You can change the colour of the button, or a hyperlink, or any random text without having to code anything.
From the plethora of filtering options, you can specifically choose the audience who must be seeing the new variation(s) of your webpage.
Not only you can filter the location, devices of your visitors who are gonna be a part of your optimization journey, you can also limit the number of views for each of your experiment
You can then allocate the traffic between your original content (A) & the new variation (B), while setting up your goals along.
(Sounds interesting so far. Keep going…)
Your website visitors are only going to spend less than 7 seconds surfing around.
By personalizing the content for them, you can make them stay longer on your website; Plus, they are highly likely to take actions i.e., subscribe, purchase, enroll, and so on.
With Omniconvert, you can address your audience by inquiring about the weather, the device/browser they are using, even the no. of days since their last visit, etc.

Geez!! With that level of personalization, it would be a lotta fun to show them special offers to maximize the conversions. Isn't it?
Omniconvert has got that covered as well for you.
Choose the overlay from the tested & proven templates, and you can personalize your offer for every single visitor.
By the way, you can also A/B test these overlays to narrow down the ones that convert well for your traffic.
Not only that, but you can also create surveys to collect more info from your audience before showing them the offer.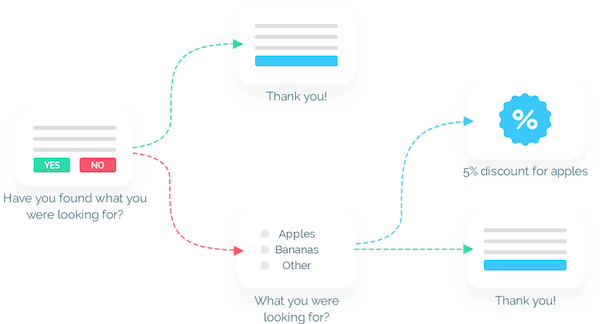 We managed to score a very, very special deal for you genie-us today.
The regular users of Omniconvert are paying$349 per month for 50,000 Unique Visitors (UVs).
But today you can get the same for $89/one-time.
Plus, as a part of the Special offer, we are also adding 1 Free code for every purchase of 5 stacks.