Plan, Automate, and Manage Your Social Media Content!
You Can Save Over 6 Hours per Week by Scheduling Your Social Media Posts
Create once, post forever!
Social media can be a huge time suck if you're trying to do it all yourself. Not only is it hard to find the time, but it's also challenging to keep up with the latest changes and trends.
Maintaining a strong social media presence takes a lot of time and effort. And if you're not doing it right, you could be wasting your time.
Imagine being able to plan, schedule, and publish content for all of your social media platforms with the click of a button. And then imagine never having to worry about scheduling again. Instead, you'll have more time to focus on your business matters the most.
ConvertDeal Presents – Nuelink
Nuelink helps people like you who are struggling to find the time to manage their social media.
They take care of all the planning, automation, and management for you so that your social media runs itself – freeing up your time to focus on your business.
Nuelink is the solution for busy business owners who want to focus on their business and leave social media management to themselves.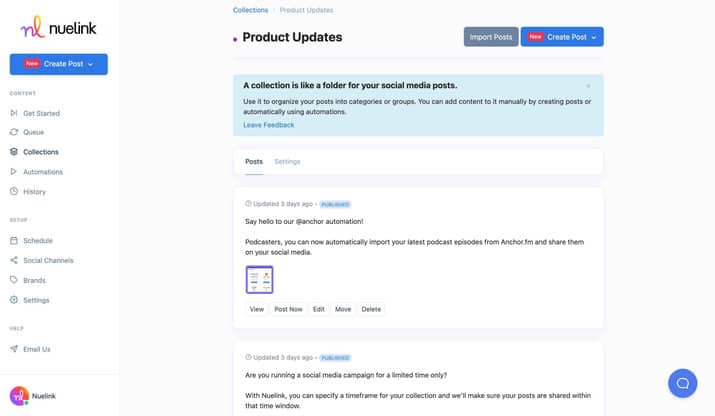 TL;DR:
Nuelink helps you plan, automate and manage your social media and saves you time to focus on your business while your social media runs itself.
Similar to – Hootsuite, Feedhive, Publer, SocialPilot, Usepostly, Contenive
Simple UI and UX, easy-to-use platform, very stable.
Best for Solopreneurs, Content creators, SMEs, and CXOs who want to automate their social media to focus on other important things.
Critical Stats:
According to Findstack, you can save over 6 hours per week by scheduling your social media posts. (Source: postplanner.com)
Marketing automation benefited businesses by enriching productivity by 20%. (Source: statusbrew.com)
Calculations show that you can spare up to 43 hours a month while automating 50% of your social media content creation. (Source: napoleoncat.com)
83% of marketers say social media post scheduling is the most suitable use of marketing automation. (Source: smallbiztrends.com)
76% of marketers witnessed positive ROI within a year after implementing automation, and 80% of marketers reported a boost in lead generation due to automation. (Source: statusbrew.com)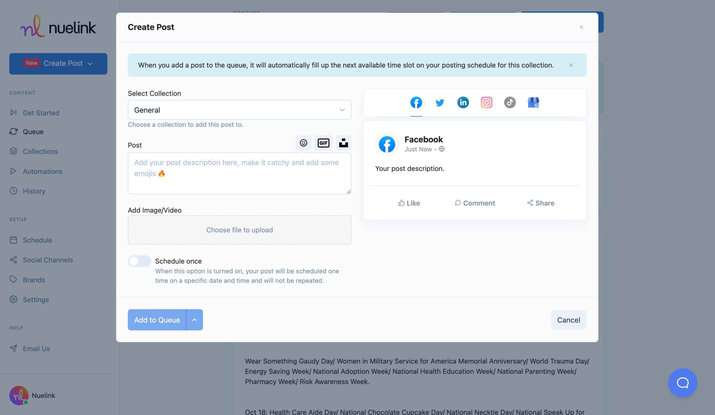 Content management with Nuelink is as easy as 1-2-3-GO!
Create content with ease:
Nuelink provides a ready-to-use content library of hundreds of social posts organized by categories and collections. From memes to quotes to videos, you can find it all here.
You can add it with just a single click!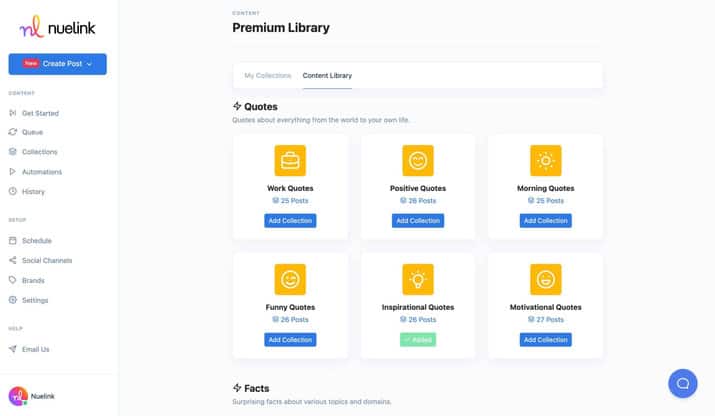 Create collection:
Organize your content by grouping similar posts into a collection. Add 30-40 posts in a few minutes.
Create, manage and publish your own social content, organize it into collections, set it to post once, recycle on the evergreen option or mark it as a draft for later.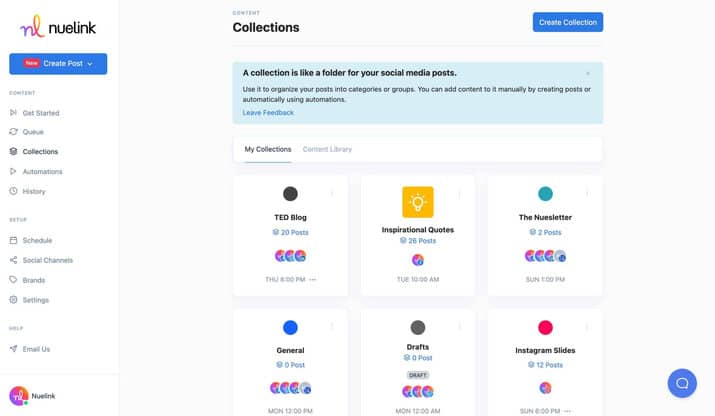 Schedule:
Now go to one to schedule your collection for a specific time every day/ week. This way, you create months' worth of content in just a few minutes!
Set it and forget it!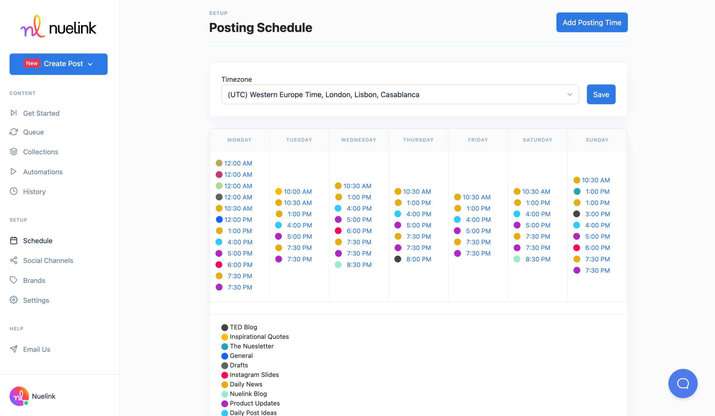 Automate:
Set up automations to create and schedule content on autopilot. You can import posts from a WordPress blog and add them to your "Blog" Collection.
Automatically import, share and recycle social media content from your blog, eCommerce store, podcast, YouTube channel, and more using automations.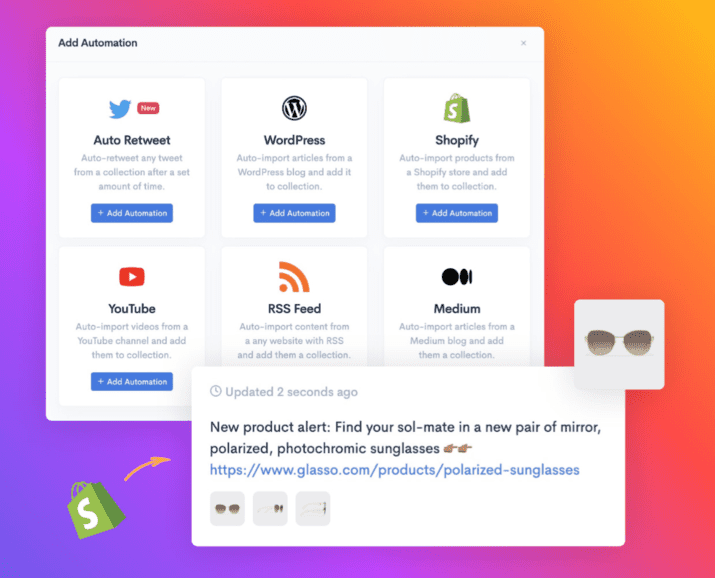 An all-in-one social media platform:
Content Library: A ready-to-use content library of hundreds of social posts designed and written by their editors. You can find all kinds of posts right, from memes to quotes to videos.
Collections: You can group similar posts into a collection, thereby organizing your content and easily categorizing and scheduling it across multiple social media platforms.
Automations: With automations, you can automatically import posts into your collections. For example, you can auto-import articles from blogs, product listings from online stores, videos from YouTube channels, and more.
Scheduling: Once your collections are ready, you can schedule them for a specific time on a particular day of the week, like Monday Motivation for 10:00 AM on Mondays.
Analytics: Get detailed analytics of your social media performance, post history, and engagements with daily, weekly, and monthly growth to understand what works best for your business and what does not.
Integrations: Integrate Neulink with your WordPress account, Shopify store, YouTube, RSS Feed, Google Podcasts, and Medium Blogs.
Social Channels: Connect with all your Social Channels like Facebook, Instagram, YouTube, TikTok, LinkedIn, Pinterest, Google Business, and more.
Some amazing features (coming soon) –
– Post Variations – Use the AI assistant to suggest post variations and generate posts 5x faster.
– Tailored Posts – Customize your social media posts for each social media network.
– Instagram Tagging – Add your location and user tags directly in Nuelink.
– Auto-retweet (live) – Automatically retweet your best-performing tweets.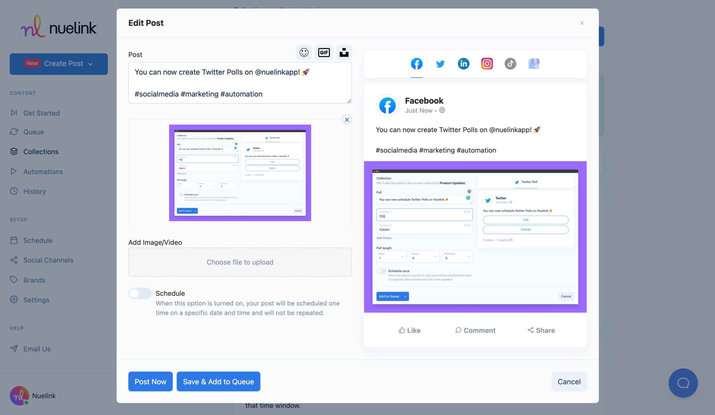 Use Cases:
Entrepreneurs: Entrepreneurs who are trying to build their social media presence can automate the content creation process and schedule months' worth of content in just a few minutes.
Your content is posted across multiple social media channels according to the schedule decided by you, allowing you to focus on more important business opportunities.
E-com Brands: E-com Brands can automate their content and grow their following across multiple social media channels in multiple time zones to attract customers worldwide.
Content Creators: Content creators with an established audience on one social media platform who want to expand their influence on other platforms can repurpose their content.
YouTubers: YouTubers who want to share their videos consistently on all the social platforms, and grow their audience beyond YouTube, can repurpose and schedule their content and lay back while Nuelink does its magic for them!
Why are businesses choosing Nuelink over the rest:
Create your content once and post forever.
Allows you to schedule posts across multiple platforms in multiple time zones.
Automate content creation by integrating with platforms like WordPress, Shopify, YouTube, etc.
Inspiration for creating content through hundreds of posts in the content library.
Simple setup and ease of use.
User-friendly interface
It helps in saving time and increases productivity.
Available on a lifetime deal for a limited period of time.
If you're still unsure, you're simply missing out on a super helpful tool that allows you to grow on social media while saving you over 6 hours weekly.
The best part? You will pay just once and can use Nuelink for a lifetime; grab your lifetime deal today.