Too many tools? Too much chaos? With Notion, all your work is in one place. Infinite flexibility. Hassle-free wiki software. All your projects tracked. Better shared docs.
Notion is a single space where you can think, write, and plan. Capture thoughts, manage projects, or even run an entire company — and do it exactly the way you want.
Notion describes itself as an "all-in-one workspace."
There are desktop apps for Mac and Windows, but you can access and use Notion through your browser too.
Notion has four membership types: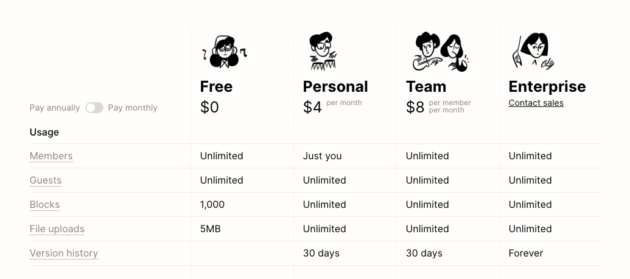 Pay monthly and the Personal plan is $5, while the Team plan is $10.
Even the Team plan is significantly cheaper than many competitors—Trello is $12.50 a month per seat, with a restricted free version; G Suite is $6 a month for the Basic plan; Evernote Premium is $7.50 a month and up. More important, Notion lets you actually integrate nearly all the functionality of these tools together.
Today you have the opportunity to use the Notion paid plan completely free for 40 years
HOW TO MAKE IT WORK?
To redeem:
Log into your account
Go to Settings & Members
Go to Billing, select Upgrade (I chose Personal Pro) and enter the code: STARTUP1000P666 (You need to enter a card to checkout.)
Once you have upgraded: Inside the workspace, go to "billing" and "Apply" the coupon code: ADALOVELACE for an EXTRA $500 CREDITS!
PS: This can be applied to every possible workspace you have in notion. Run before they remove this hack.
BONUS: Get another $250 Extra Credits using the coupon code: HAPPYHOUR (this only works if you bump your subscription up to the team, add the code, then you can downgrade your account again)
Hurry up, signup now before it's gone!
(Promotion expired)