Woocommerce Sales Funnels Made Easy
Make WooCommerce Do Things You Never Thought Possible. Works With Elementor, Gutenberg, Divi, Beaver Builder & More!
Let me ask you ask you this? Do you get frustrated with woocomerce's rigid checkout process? Do you sometimes feel that Woocommerce limits you to a "shop" grid with individual sales pages, carts, and single checkout?
If only there was a way to build sales funnels on WordPress and have beautiful checkout pages.
Introducing Launchflows
Launchflows is a wordpress plugin that makes it easy to create a powerful Sales Funnel with WooCommerce.
With launchflows, you can provide a custom user journey through your products or services in a manner that increases conversions and buyer satisfaction. Best of all, no coding or design skills are required.
You only need to create a product, a checkout and a Thank-you page to get started!
LaunchFlows amplifies the capability of WooCommerce so you can easily do things that are not otherwise possible with woocommerce.
Launchflows turns your WooCommerce website into a selling machine. We make it easy to create gorgeous sales funnels, no friction checkouts, order bumps upsells downsells and much more.
Gain full control over your buyer's Journey from the top of your woocommerce sales funnel all the way to the bottom. Best of all you can use your favorite page builder such as Elementor, Divi, Beaver Builder, Gutenberg or one of the high converting templates we have included inside.
Get rid of the clunky Woocommerce shop pages and check-out process in favor of an optimized buyer flow that instantly increases conversions and makes you more money.
Some of the features of Launchflows are
INSTANT REGISTRATION
This is a fully formatted checkout experience that displays only the minimum fields required to onboard a new user. First Name, Last Name, Email.
When To Use
Whenever you need to register and log someone in as a user following a FREE transaction, such as with a sample course or free consultation.
Typically this happens after someone has already been on your mailing list for some time and is now ready to sample your products or services.
BUMPS & VARIATIONS
These provide a way to sell any product or group of products on the checkout page by clicking a checkbox or radio button.
When to use them?
The Order Bump component can be used on any LaunchFlows checkout page or step, as a way to add products to the checkout.
Use this component instead of the normal WooCommerce single product page for choosing specific products or variations.
When using variations, it makes it easy to break out each variation option into a single radio button by using the variation ID.
UPSELLS & DOWNSELLS
These provide a way to sell an additional product AFTER the original checkout has been completed.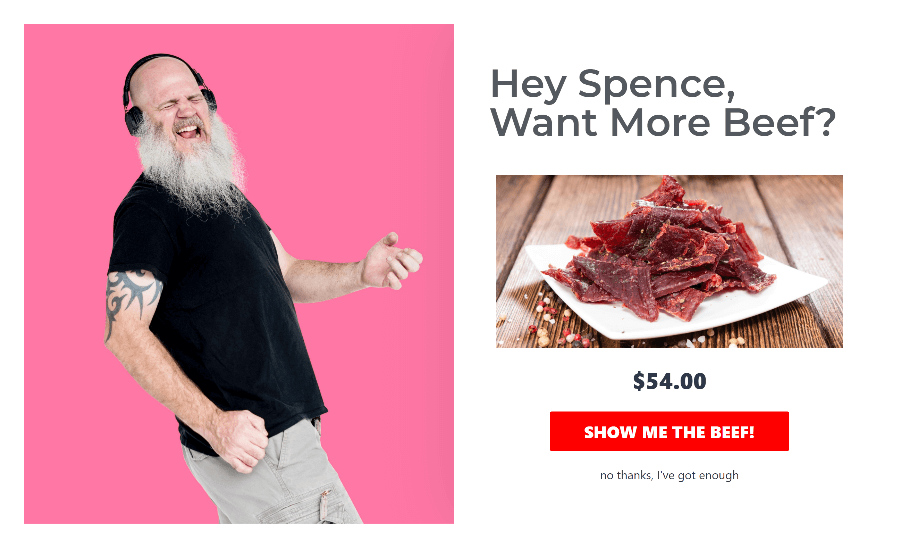 When to use
The Upsell component can be used on any page or post as a way to add a product offer. It does not require a LaunchFlows checkout.
You may also choose to daisy-chain multiple Upsell or Downsell steps together in a row.
For example, if someone declines an Upsell offer, it would be advantageous to offer them a Downsell offer (a less-expensive alternative) immediately thereafter
DONATIONS & PAY NOW
These make it easy for donors and clients to pay or donate exactly what they want with just one click, using any gateways that work with WooCommerce.
When to use
Use on any page or post where you want donors or clients to submit a unique donation or payment. A LaunchFlows checkout template is not required.
You may also daisy-chain multiple components together with this to create powerful sales funnels with conditional outcomes based on what was just purchased.
THANK YOU & NEXT STEP
These components increase buyer satisfaction following any checkout. They provide information about what was just purchased as well as guidance on where to obtain the purchased content, goods or services
When to use
Use on any page or post, a LaunchFlows checkout template is not required.
You may also daisy-chain multiple components together to create powerful sales funnels with conditional outcomes based on what was just purchased.
Launchflows provides one click order bumps that increase the total value of every sale with a 10 to 30 percent conversion rate.
This is perfect for anyone offering complimentary products, training or extended warranties.
With unlimited upsells and downsells, your buyer's Journey doesn't need to end at the Check out. Instead we make it easy to display a series of additional offers as part of the original transaction.
This is perfect for one-time offers real products, mastermind class offers, High ticket software sales or subscription supplements.
if you want to earn more money with your woocommerce online business, you owe it to yourself to try launch flows today.
So what's the deal?
LaunchFlows Lifetime ($300 value)
Bertha Ai Lifetime (10k wpm) ($180/yr value for life)
Access To "Building Modern Sales Funnels With WP" Course
LaunchFlows Pattern Library
30 Day Money Back Guarantee
Previous Buyer Protection Guarantee
Lifetime licenses start at just $300, however, if you pay with the Link from ConvertDeal, you'll get a 27% discount and pay only $219.
Get access to Launflows + Bertha Ai lifetime for life! Just $219 Now!