Create videos with this online video editor designed for content creators, marketers, and business owners
It seems like every social media algorithm prefers video content over static posts these days. ("Looks like Instagram's having an identity crisis again.")
Unfortunately, you don't have the budget to hire a full-time video editor to turn your regular video footage into eye-catching content for your socials.
Don't you wish there was an affordable way to create videos with subtitles, animations, effects, and filters for your business?
Check out illusto.
TL;DR
Clean audio by removing unwanted noise and add auto-subtitles to match your video's audio exactly
Access 122+ million stock images, videos, and audio clips, as well as AI-generated images
Overview
Illusto is an online video editor that offers video templates, voiceover capabilities, 122M+ stock assets, and an AI image generator.
To get started, you can create videos with ready-made templates designed for different industries, themes, and topics.
You'll be able to pump out YouTube Shorts, Instagram Reels, Facebook videos, and content for other social media platforms.
Need to film a "Get Ready With Me" or narrate something? This platform makes it easy to record voiceovers for any of your videos.
With illusto, you can drag-and-drop photos, clips, effects, and filters anywhere on the timeline to make videos in a snap.
And if you need assets for your videos, you've got access to over 122 million stock images, videos, and audio SFX clips.
Because illusto integrates with iStock, Unsplash, and Soundstripe, you'll have everything you need under one roof.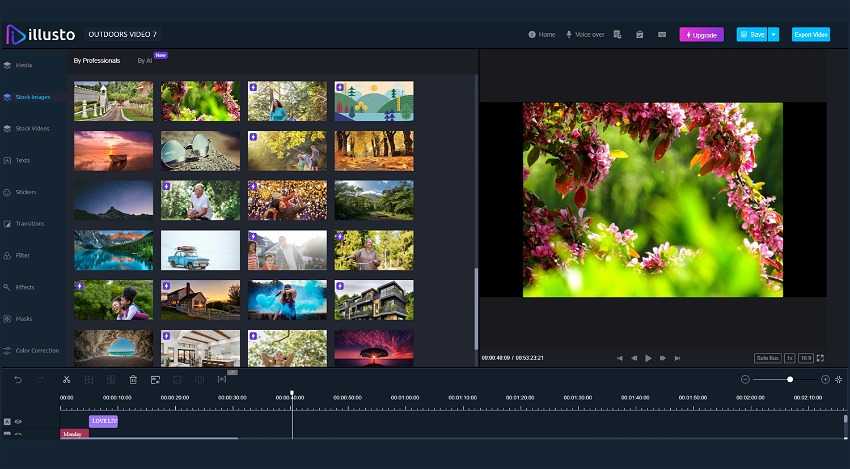 If you've got a specific vision in mind, you can add prompts in the AI image search tool to generate an image within seconds.
This platform helps you create eye-popping GIFs, add filters, and integrate effects until your new image passes the vibe check.
Plus, you can use animated and static text overlays in multiple styles, fonts, and colors to make your text pop on-screen.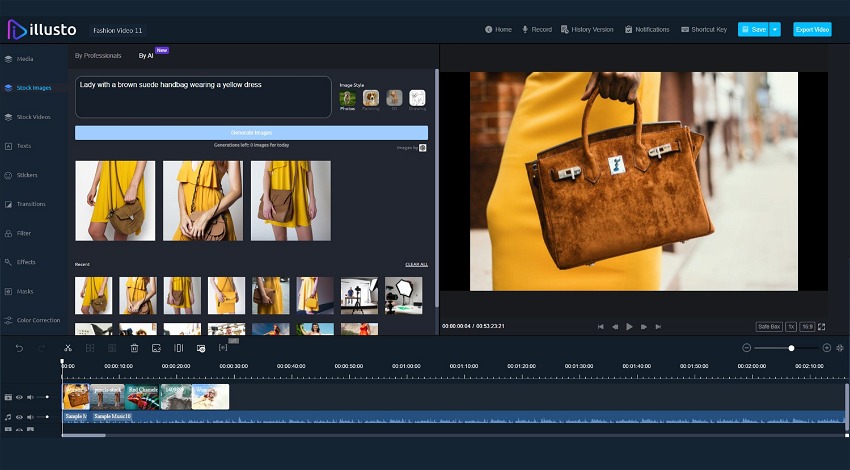 It's a breeze to clean audio and remove unwanted noise, ensuring that viewers understand your content the first time around.
You'll be able to publish directly to your social media without having to log in to your accounts one by one.
With just one platform, you can publish videos on YouTube, Facebook, Instagram, Pinterest, X (formerly Twitter), and LinkedIn.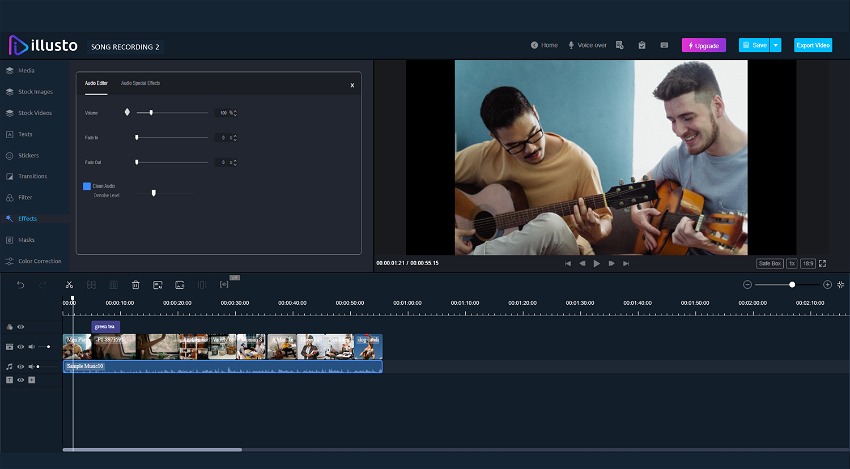 Creating social media-worthy videos shouldn't require a Hollywood-style production team. ("My mind says Oppenheimer, but my wallet says no.")
That's why illusto helps you create professional videos with all the bells and whistles you need to stand out across social media platforms.
Polish your videos on any budget.