The shared inbox solution that transforms email communication into team collaboration.
Having multiple inboxes and log-ins for your team is a recipe for disaster. (Think: two people replying to the same email with conflicting information – awkward).
Even the best teams can have trouble keeping track of who said what (and when) in an email.
If your current means of communication consists of shouting, "Did someone reply to Larry from Billing?", you may need to rethink your strategy.
Helpwise is a shared inbox solution for teams of all sizes looking to increase collaboration and deliver better customer service, faster.
As an easy-to-use shared inbox solution, Helpwise gets your team on the same page (literally) to keep track of who's tackling what.
Assign emails and follow-ups to the right team member and never send duplicate or inconsistent information to your customers again.
With the saved replies function, you can tap into the existing knowledge base to solve common queries ("No, you can't have our product for free.").
You'll be able to get back to your customers faster with the white-glove service they deserve.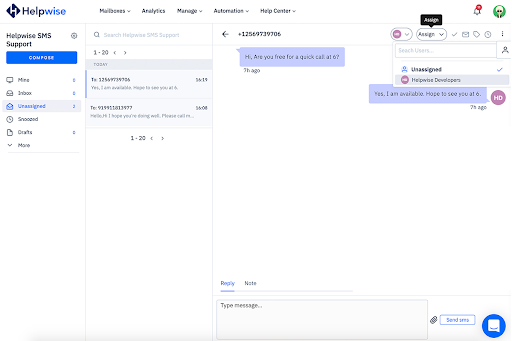 Helpwise is easy to figure out, but if you have any doubts or questions, the Help Center is packed with useful information.
View published Help Center articles, or create a new one to add your own articles and collections.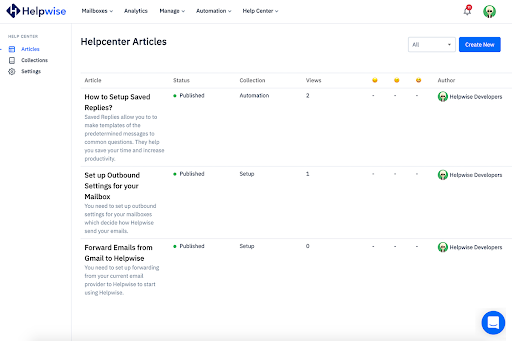 You can even set automation rules and workflows to manage email loads and save your team from mundane tasks.
Plus, Helpwise integrates with other business tools for enhanced productivity and growth — now that's a win-win.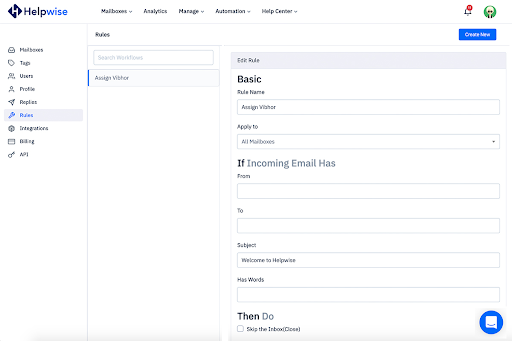 You can use Helpwise with the CRM tools you already know and love, like JustCall, Hubspot, Shopify, Slack, Zapier, Zoho, Pipedrive, Copper, and Trello. (More coming soon!)
Using another shared inbox service? Transfer your settings, teams, and data in one click with Help Desk and Front migrations.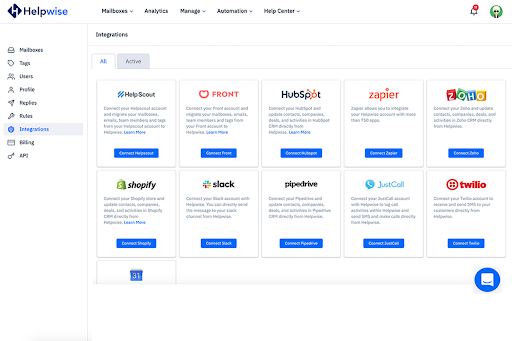 Passwords are like toothbrushes — you don't want to share them, even if you love your team.
With Helpwise, everyone gets their own separate login to access the same account.
Respond to emails right from the shared inbox, where team members can add tags, leave notes, and have real-time chats within an email thread.
Helpwise also acts as a shared inbox for SMS and WhatsApp shared accounts.
You can then track email frequency, response rates, individual performance, plus other metrics right in the dashboard.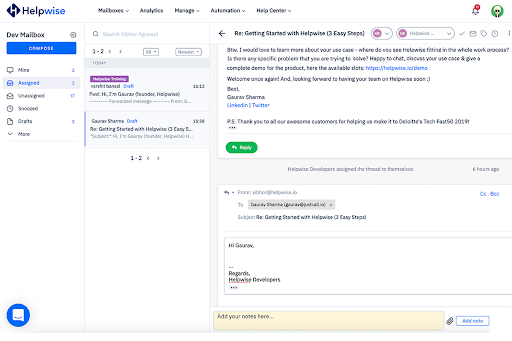 Balancing inboxes and logins turns your unified team into Lord of the Flies ("I got the conch! I get to speak!").
Looking for a fast and simple way to collaborate on your email communication and customer service?
Get by with a little help from Helpwise.