Know Exactly who wants your Products & Services
Never miss a lead who visited your website, even if they have not filled your contact form!!
Every day you are losing out hundreds (if not thousands) of potential leads to your competitor because you are not contacting them, although they have visited your website wanting your products / services.
The problem is you don't know who they are, and they have not filled your contact forms either.
What if we tell you there's an easy way to find out who visited your website, what pages & who they are?
Introducing Exact Visitor
With Exact Visitor, you get notified on every anonymous visitor to your website real-time, and reach out to them to close deals faster.
All you have to do is, copy-paste your unique tracking code in your website & the Exact Visitor will take care of the rest.
It does not matter whether your traffic is coming from desktop (or) mobile (or) tablet, the tool keeps track of everything.
You can see not only the number of visitors, their companies, but also the employee range and their engagement rate on your website.
Plus, you can keep track of the number of times they have visited your website, the pages they have visited.
Visitor Score is calculated based on their activity on your website.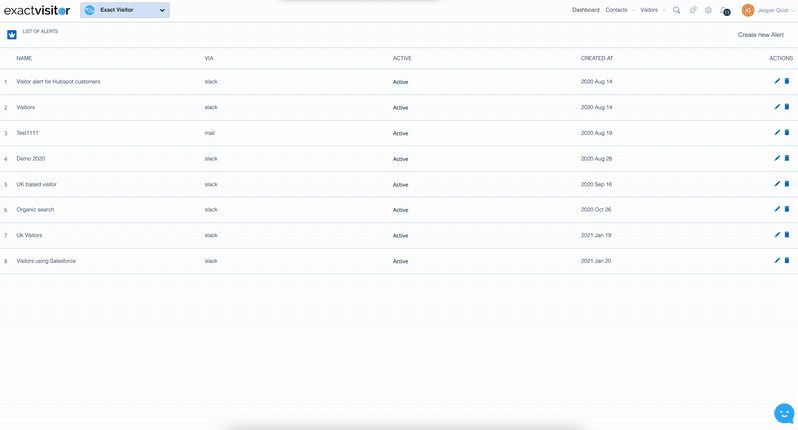 We know you've a lot of tools in your tech stack to run your business. Logging into another one everyday is gonna be a big ask.
This is why it's important to set up tracking alerts to your emails & slack. Create filters to get notified when you get visitors specific industry, location, time visited, page URLs, etc.
Normally, all their customers pay $79 per month for 10,000 Unique Visitors & 1,000 leads tracked.
Being a part of SaaS Mantra family comes with its own perks (you know that already, right?)
Today, you can get the same plan for $69/lifetime for Unlimited Visitors and 2,000 leads tracked per month.
Plus you can stack up to 5 deals per account to get up to 20,000 leads tracked every month, for life.
This deal includes everything listed below, and all the future updates as you see in the roadmap
– Malvin F
Marketing Director, Financial Services
"What i really like about Exact Visitor is the ability to learn more about the visitors that yet are to create an account. Exact Visitor provides that depth into whom they are and how to contact them for our business team."