Automatically generate emails that boost open rates, engagements, and sales
Few things offer higher ROI than email marketing and absolutely slamming an entire ice cream carton all by yourself. ("Funny how summer vibes always feels like indigestion.")
But you're probably missing out on the full potential of email if you don't know how to compose the perfect message or don't have any copywriters on your team.
Need a way to grow profits from email marketing without any copywriting experience or a team of email experts?
Meet EmailWritr.
TL;DR
Generate unlimited single emails and follow-up sequences across every industry after answering just a few questions
Get access to over 1,600+ fill-in-the-blank email templates that you can customize and use in your marketing campaigns
Overview
EmailWritr lets you create high-converting email sequences across different industries and niches just by answering a few questions.
With EmailWritr, you can create single emails and email sequences without any copywriting experience.
All you have to do to get started is select your niche or industry to see all the different types of emails that are typical for that sector.
You can also access all the different emails you need to promote your own products or other people's products as an affiliate, regardless of your industry or niche.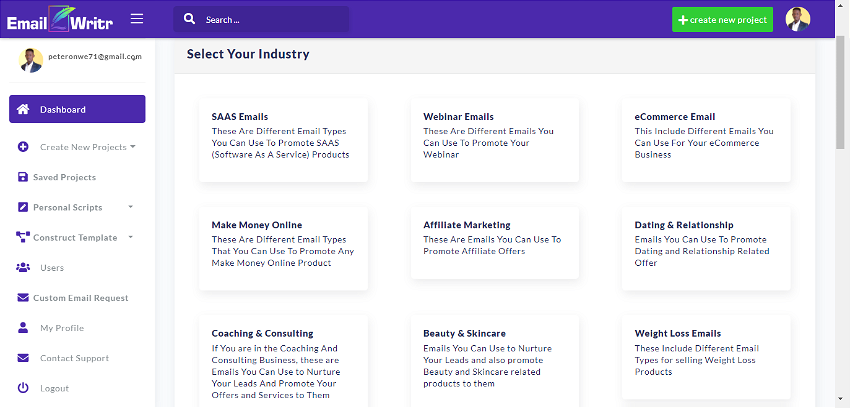 Next, you'll choose the type of email you want to create, from Black Friday and ecommerce emails to welcome sequences and re-engagement emails.
Then, you'll answer a few questions about your products, services, and target audience, and click one button to generate a single email or sequence of five-to-nine emails.
After the emails have been generated, you canlook them over and make a few tweaks before sending them to your list.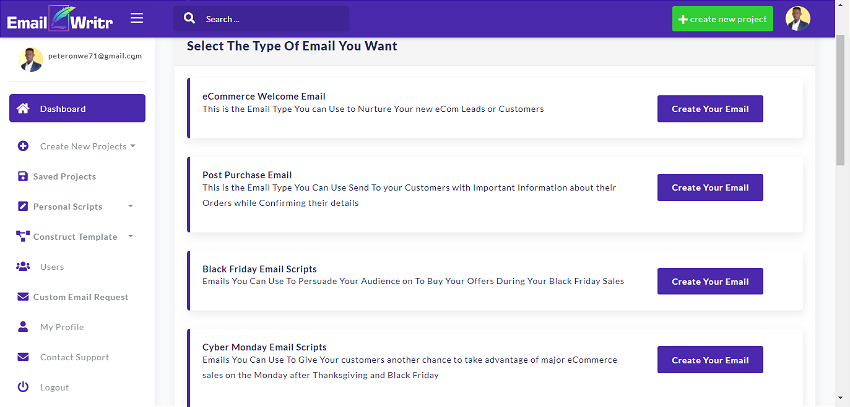 With EmailWritr, you won't need a crew of wordsmiths because you'll have access to thousands of fill-in-the-blank email templates—all written by a team of experienced copywriters.
These templates are based on emails that have been proven to convert, and you only need to tweak them to fit your industry or niche and products and services.
Using the Construct Template Feature, you'll even be able to create your own reusable templates.
Save your favorite templates and scripts to use them again and again without worrying about digging through your "sent" folder.
Plus, EmailWritr also makes it easy for you to store or save any emails for future access—like your own handy Email Bank!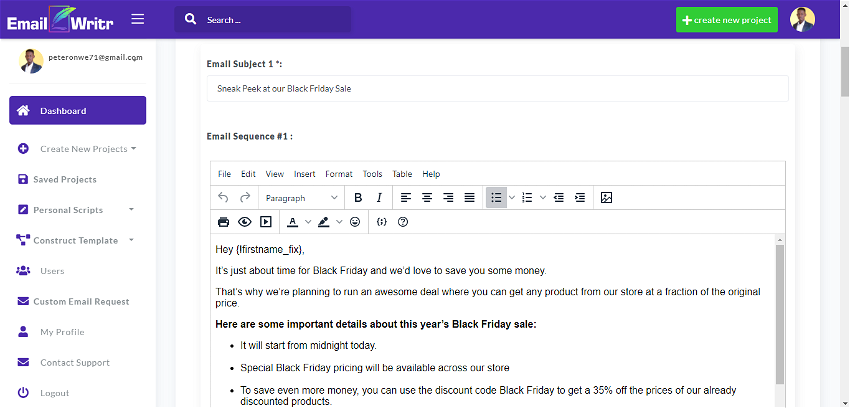 You can access all of your saved projects and personal templates right from the dashboard or quickly create a new project with just a few clicks.
Plus, EmailWritr supports over 100 languages, so you'll be ready to extend your outreach efforts to markets all over the world.
You can even send the emails you create to your autoresponder and request help via support tickets or 24/7 chat.
Whether you're an agency owner who needs to craft engaging emails for your clients or a freelancer looking to promote new services, EmailWritr makes the process easy and effective.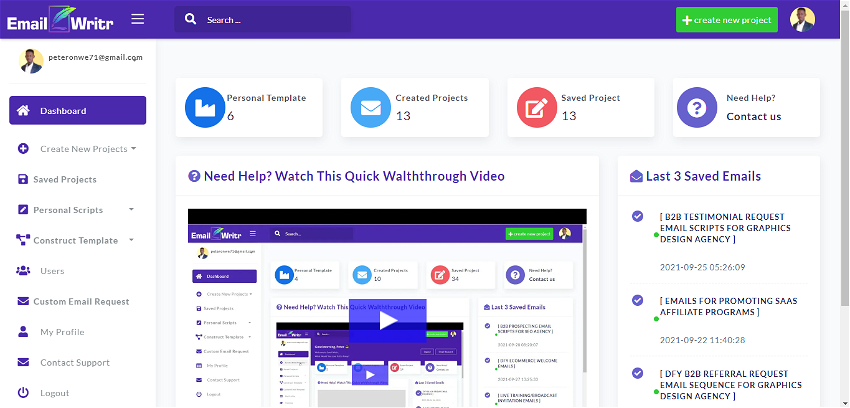 Email marketing doesn't have to be a tear-inducing process that makes you rethink everything you thought you knew about language. ("Is 'Greetings, fellow air-breather!' a human thing to say?")
With EmailWritr, you can generate emails specific to your niche and purpose in just minutes—no copywriting skills necessary!
Send high-converting emails every time.