60+ customizable, plug-and-play widgets to upgrade your website.
You've got a product customers will love, but your website says "Enter if you dare" and "You might get malware."
Building and designing a website that engages and converts seems impossible when you lack the time, budget, and coding experience.
Luckily, there's an end in sight to your homepage problems.
Elfsight is an all-in-one platform with 60+ ready-made, customizable widgets to boost your website with zero coding required.
Elfsight lets you build your perfect website, without the stress of coding and developing.
Get access to a collection of 60+ widgets and templates designed to increase user engagement, gather leads, and grow your sales.
With premium layouts and endless ways to customize, your business goals are just a few clicks away.
Add social feeds, chat, forms, and galleries to your site in seconds, and unlock your page's true potential.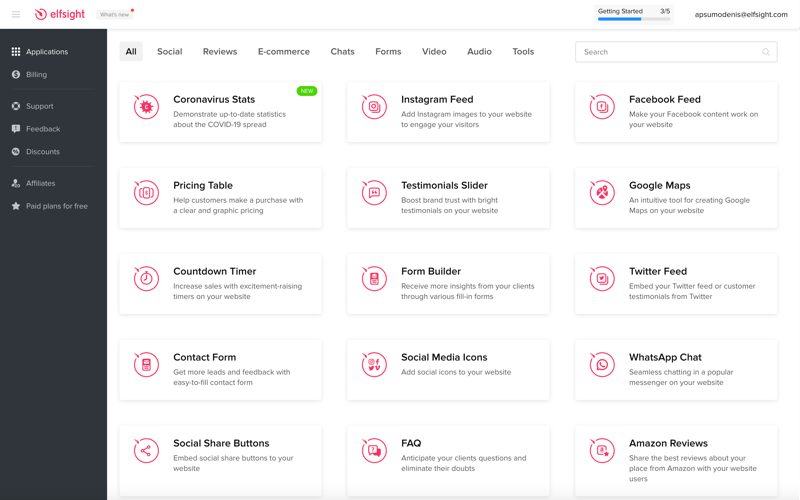 Elfsight is different from other site-building tools because it doesn't lock you down.
Sometimes you want to build your vision from scratch and, other times, you just want a shortcut. Get you a software that does both.
With Elfsight, you can choose from 300+ pre-built templates or customize to your heart's content with the intuitive configurator—design skills optional.
Picking from Elfsight's library of widgets might be tough, but adding one to your website is easy.
Just copy and paste the installation code right where you want it. That's all, folks.
Widgets are super responsive and designed to work across all desktop and mobile devices.
You can monitor your widget's most important metrics and track its performance right from the dashboard.
Elfsight widgets work on any website platform, including WordPress, Shopify, Facebook, Weebly, Wix, and so much more.
You will also enjoy Elfsight's lifetime automatic updates and high-performance cloud service.
Plus, if you ever need help, Elfsight's support team will happily assist you in customizing or adding widgets to your website.
If learning French is higher on your list than learning HTML, then voilà! Your solution has arrived.
With over 60 incredible widgets, seamless integrations, and a dedicated Support Team, Elfsight helps your site deliver the best browsing experience for potential customers.
Now that's out-of-sight.