Take Team Chat And Collaboration To The Next Level! Email Me Before Deal EndsShare
Real-time Collaboration Software Streamlines Your Business with Increased Productivity by up to 30%.
Your chat assistant for better team collaboration.
Team collaboration can be a challenge. Different time zones, work schedules, and distractions can get in the way of productive communication. You need to stay in touch with your team and find time for your work.
You know that daily standups, team check-ins, and 1:1 introductions are essential for your team's success, but it's hard to find the time to do them.
Even if you manage to find the time for these activities, keeping everyone on track and motivated can be difficult. This easy-to-use bot helps you stay connected with your team in fun and flexible ways.
ConvertDeal Presents DailyBot
Your new best friend in team collaboration.
DailyBot's chat-based collaboration tool makes it easy for your team to stay connected and accountable. And, it offers fun and motivating features like virtual watercooler chats, kudos tracking, and more.
DailyBot makes it easy for your team to connect and collaborate every day. The chatbot integrates with your favorite messaging apps (Slack, Microsoft Teams, WhatsApp, and more) and lets you choose the best features that fit your team.
Plus, DailyBot keeps track of everyone's progress so you can see how your team is doing.
TL;DR:
DailyBot's automated check-ins stop the meeting madness by allowing remote teams to create virtual standups so teams can work async.
Similar to: Geekbot, Standuply, Range.co, StandupAlice, Donut
Intuitive UI and UX, easy-to-use platform, stable, & help with more personalized content.
Best for Company teams, SMEs, HODs, Founders, and anyone with their team or who work in the team using collaboration tools for communication.
Integrates with Slack, Microsoft Teams, Google Chat, Discord, Telegram, Whatsapp, Zapier, API + Webhooks, & Native Integrations.
Critical Stats:
According to a Gartner Inc. survey, nearly 80% of workers have used collaboration tools for work in 2021. (Source: Microsoft.com)
Real-time collaboration software streamlines your business tools into one centralized spot, so you can get the most out of your tech stack and help increase productivity by up to 30%.
As per a survey by Statista, 53% of businesses worldwide had adopted collaboration tools by 2016, and the number is consistently increasing.
70% of respondents from a study say that the most significant benefit of active collaboration team chats helps with faster responses and increased productivity.
Use Standups to stay in sync with your team:
Run agile workflows, automate team updates, retrospectives, or any kind of periodic check-in like 1:1 meetings or team feedback.
DailyBot's chatbot connects with every team member to get updates, then shares reports automatically in chat or email.
Get periodic updates from every team member to see what everyone is up to or if there are any blockers—no need for calls or unproductive meetings.
Efficient stand-ups and team check-ins: Identify bottlenecks and help blocked teammates. DailyBot connects with each member to run in-chat check-ins and then shares reports with your team.
Contribute to building a not-too-many meetings culture: Many of the regular updates you run with your team don't deserve a meeting. DailyBot is here to help you automate those with in-chat updates moderated by a friendly chatbot.
Keep it asynchronous and productive: The Check-ins are customizable, whether you want to run daily updates, weekly follow-ups, or monthly surveys.
Analyze and get useful reports: Analyze reports, measure team engagement and identify critical action points by checking out the reports.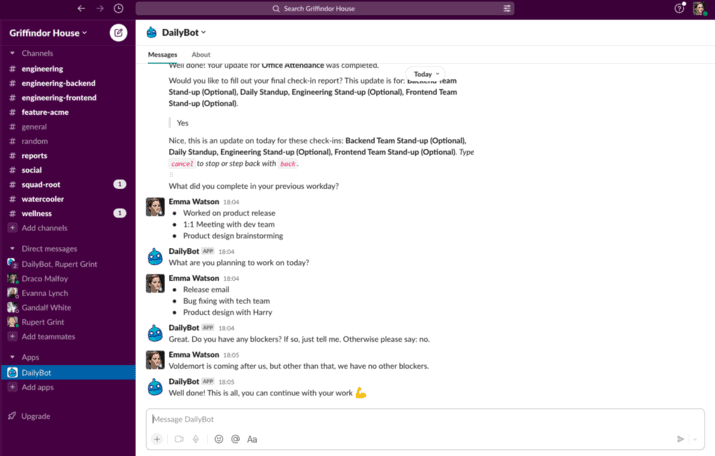 Give Kudos and create a great company culture:
Promote a new standard of appreciation and recognition with Kudos. Give positive feedback while aligning your goals with team values.
Kudos is 100% integrated into your chat and web experiences, where you can show appreciation, share positive feedback, and review your team's metrics.
Give meaningful feedback: Creating a team culture of continuous recognition and positive feedback leads to higher motivation. Give kudos easily from the chat or web app, and use company values to help your team align with the big picture.
Involve everyone for everyone's sake: Promoting a culture where everyone can participate is a powerful way of fostering a sense of belonging, equity, and psychological safety.
Use team values to work towards the same vision: Show your team how all feedback is rooted in a set of meaningful common goals. Set up your team values (or use our predefined ones), and ensure you're promoting work habits that help the bigger picture.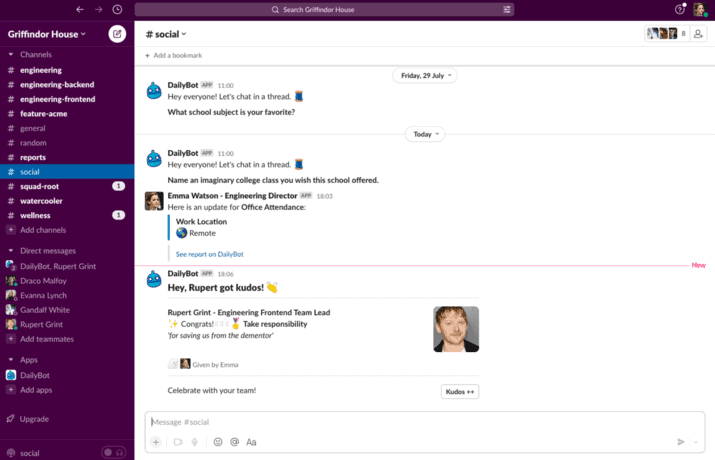 Improve mood and mental health:
The bot tracks team mood weekly and helps you identify when to have team activities and get some virtual coffee or a pizza together.
Weekly in-chat question: A tracking mechanism with a simple question that, together with other wellness follow-ups, give the insights you need—no need for long surveys.
Mood tracking is anonymous, so let your team be sincere.
Trends analysis: See a chart on the web app and get tips or hints while you use the product.
Take action with Kudos: Easily promote using Kudos across your organization, so the team starts celebrating wins, expressing gratitude, and recognizing others.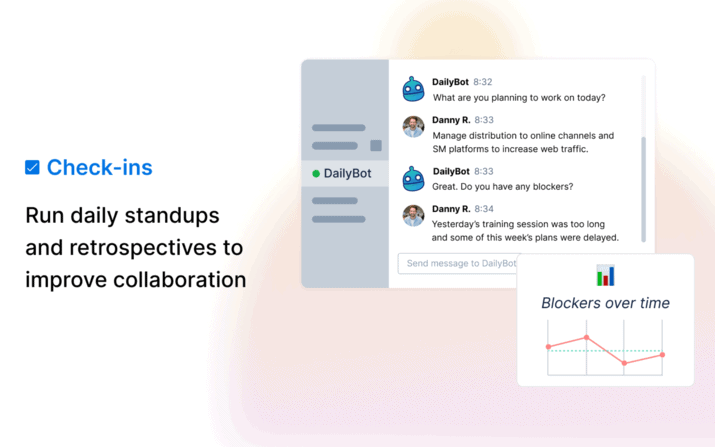 Create all-purpose Forms that people can respond to in chat or on the web:
DailyBot helps you build the forms, collect the data, manage the alerts, and provide timely reports without extra hassle, all in chat.
DailyBot's easy-to-use form builder makes an excellent choice in rapid environments where collecting, assessing, and distributing insights in a timely manner makes all the difference.
DailyBot provides easy commands or shortcuts you can use to access and interact with your forms wherever you are in the chat.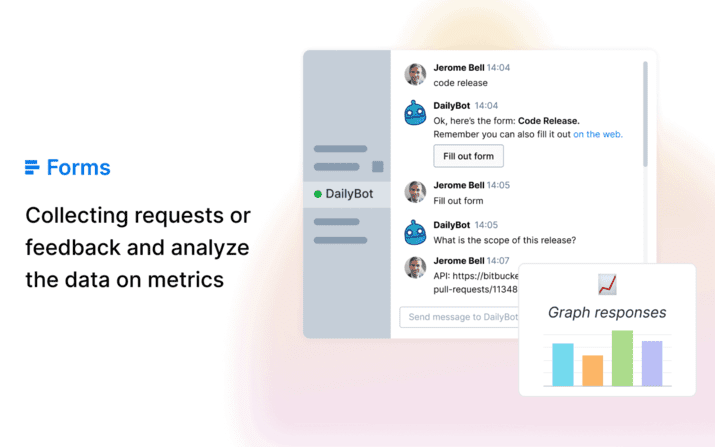 Watercooler, virtual coffees, & more ☕
Get thoughtful watercooler prompts in your chat channels and promote serendipitous conversations. Run it on a daily or weekly basis.
Use the 1:1 virtual coffee feature to connect co-workers for random coffees each week.
DailyBot helps you strengthen your team's relationships by connecting co-workers to have a coffee or tea; you name it.
Align everyone with a goal using a simple chat countdown. DailyBot will post a daily in-channel reminder of an important milestone or event.
Celebrate birthdays at work with in-chat reminders.

ChatOps: Run operations and workflows with your chat commands
Get direct access to the information and resources you need by setting up your chat shortcuts. It's hassle-free and open to everyone.
Command: Add in the basic details and permissions, and your command will be available within DailyBot's chatbot immediately.
Collaboration: Collaborate with your team and find ways to help each other out with commands. You can share the commands you create across your company or team.
Other than work: Commands don't have to be all about work. Use them to generate fun activities for your team to enjoy, and instantly pull out jokes or GIFs to add some light-hearted fun to your workday.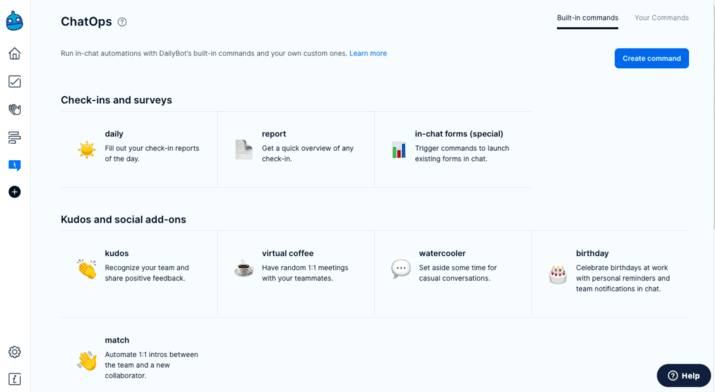 Some Interesting Use Cases:
Remote team management: DailyBot keeps your team aligned and facilitates deep work. It tracks mood and daily tasks, ensuring everyone is in the loop and feels appreciated. They are designed and built for remote teams.
Agile Toolkit for modern teams: Automate daily standups, retros, pre-planning check-ins, feedback, and more. DailyBot gives agile teams all they need to support their Agile Development flow.
Improving Company Culture: Learn interesting facts about your team to improve the workplace, and use mood tracking and kudos to celebrate wins. Smile with icebreakers, promote gratitude, and positive reinforcement.
In addition, teams can use anonymous check-ins and privacy settings to gather actionable insights on performance, behavior, and work experience from a level playing field.
Security: DailyBot was also created for teams to achieve and maintain their SOC2 TYPE 2 compliance. With DailyBot, teams can keep up with security tasks, audit their current practices, and make sure all employees adhere to the highest security standards.
Why are businesses choosing DailyBot over the rest:
DailyBot is the only bot in this space with SOC2 Type2 compliance, making it stand out to companies focused on security.
DailyBot is an all-in-one tool with standups, kudos, donut meetings, commands, and chat ops under one roof.
Integrates easily with your collaboration tool
Simple setup and ease of use.
Available on a lifetime deal for a limited period of time.
Sounds fun? Because you will pay for DailyBot just once and can use it for a lifetime.