Know Your Customers, and Sell when they are ready to Buy
The 360 degrees Marketing Automation tool built to enhance your Shopify Store Experiences
Let's not forget this. We love 1 on 1s. Not in the way you mean (LOL!!). But we all love someone who gives us a little more of what they have.
More of their time, support, extra salted fries and the list is practically endless. They convey that they can guide towards making smart decisions.
But, as a business owner, how much do you know what your customer wants? Like really? Like "Hey John, would you like a box of sugar glazed doughnuts?" when John was searching for doughnut stores near him?
Not many times, right? By now, you might have an itch for getting to know them more?
Say Hi to CustomerVox
CustomerVox enhances your customer touch points through Personalized Landing pages, Pop-ups, SMS & Email Marketing Automation for your Shopify Store(s)
Simply put, bring your shy customers out of hiding by surprising them with personalisations.
PRODUCT HIGHLIGHTS
Send personalized email, SMS, pop-ups & landing pages
Create & Send transactional emails, and offers based on the customer insights
Alternative to: Klaviyo, Privy
Suited for: Shopify Store Owners, Ecommerce Managers
From your CustomerVox dashboard, you get a 360 degree view of your customer performances, Average Order value (AOV), and Customer lifetime value (CLV) metrics, etc.
Customer analytics data shows the number of visitors to your store, your active customers, customers at risk, users whom you have lost can enable you to send customised campaigns.
Some of your customers would show great affinity towards certain products of your store.
CustomerVox creates clusters for the products engaged the most and the least and helps in creating campaigns.
Bet you're familiar with Marvel's wonder child Tony Stark playing with JARVIS in the air – The blue hologram stuff?
Creating personalized campaigns works in a similar fashion (holographically, not yet).
CustomerVox has a built-in drag and drop feature that adds structure and customizations to multi-channel campaigns to precisely target your customers.
Add products that interests your customers the most and create CTA's at the bottom of them. Remember. DRAG AND DROP.
Nothing beats a visual cue. With CustomerVox giving additional data about your customers' action, you can create custom triggers to make your customers convert through multiple channels — email, text, pop-ups etc.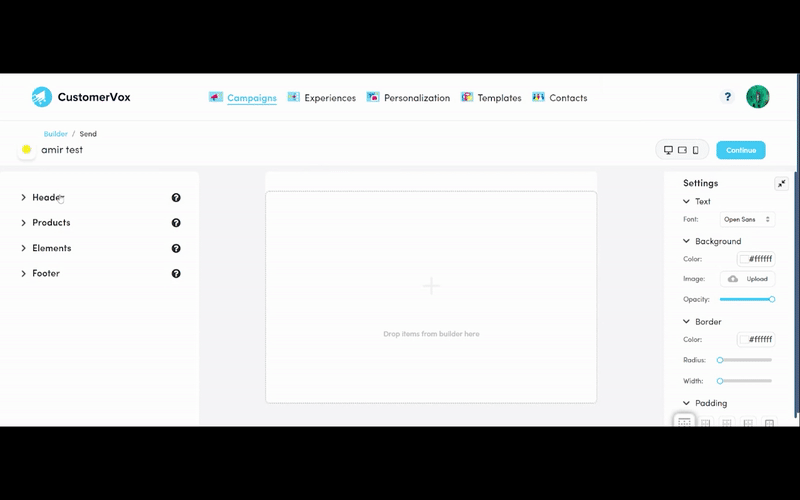 How would you like it if your customers found it easy to make a quick buying decision?
CustomerVox helps you categorize your storefront for customers based on their interactions. You can do more by reminding them of what they viewed last or what interested them the most.
Touchpoints like these can guarantee increase in sales for your business also by giving more data about customer interests and preferences.
You can also insert templates of your choice for communication or create custom templates to give a splash of your taste.
To track the performance of your campaigns, go to the contact section and tap a customer address. You can find a detailed view of each of your customer engagement metrics.
For a one-time purchase of the product for $49, you can grab all features of CustomerVox and maximize your revenue by knowing your customers better.