Curate and share engaging content across your social media without doing any research
Constantly coming up with new ideas for social media is exhausting. ("Suddenly those weird Tasty recipe videos make sense.")
You can't afford to waste time brainstorming content ideas, and outsourcing the task to a creative agency would eat up your entire budget.
If only there was a platform that made it easy to curate and share engaging content across all your social media accounts.
Make way for Curatora.
TL;DR
Collaborate with your team and manage all your content for social media from one user-friendly platform
Discover and schedule a week's worth of social media content in just minutes
Overview
Curatora is a content curation platform that lets you discover and share highly-relevant content across your social media accounts.
Curatora is packed with more than 50,000 high-quality sources in 6,000 niche categories, so it can curate content ideas that fit your brand's vibe.
Getting started is a breeze—just choose your topics and the platform will tailor content suggestions for you.
You'll even be able to customize content sources, or easily add your own with just one click.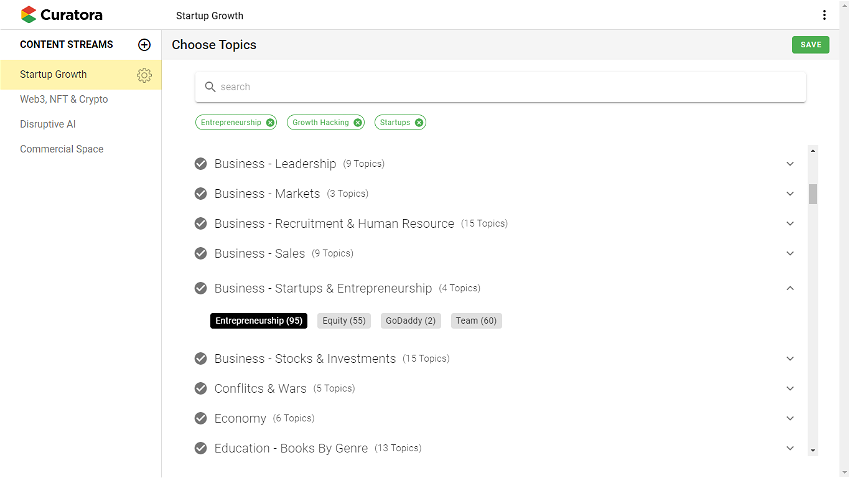 Curatora makes it a cinch to select the best articles to share with your target audience.
Use the distraction-free readable view to read and evaluate dozens of posts, without ever jumping between tabs,
And because this platform has AI that can learn your references and make relevant suggestions, you'll be able to curate content super fast.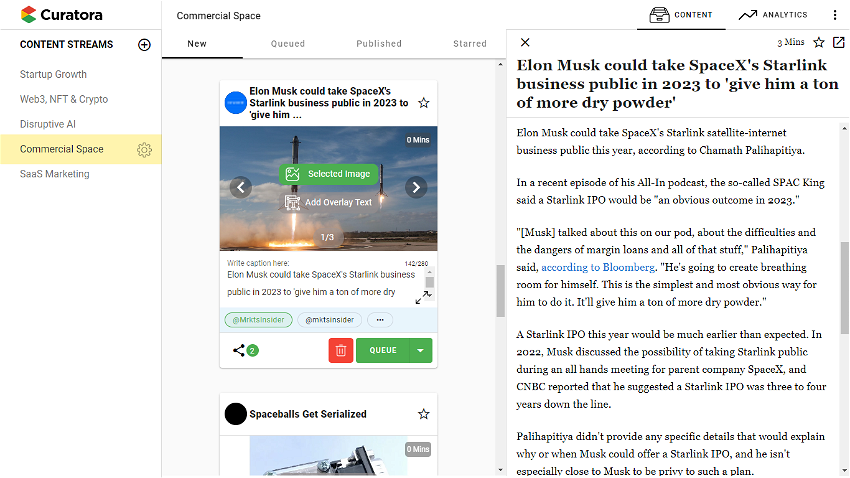 Best of all, Curatora lets you add captions, hashtags, and images to take your content to the next level.
Customize posts for your audience before sharing, so you can highlight key points, add a call-to-action, or include your opinions.
Plus, you'll be able to boost your engagement by tagging trending influencers in your content.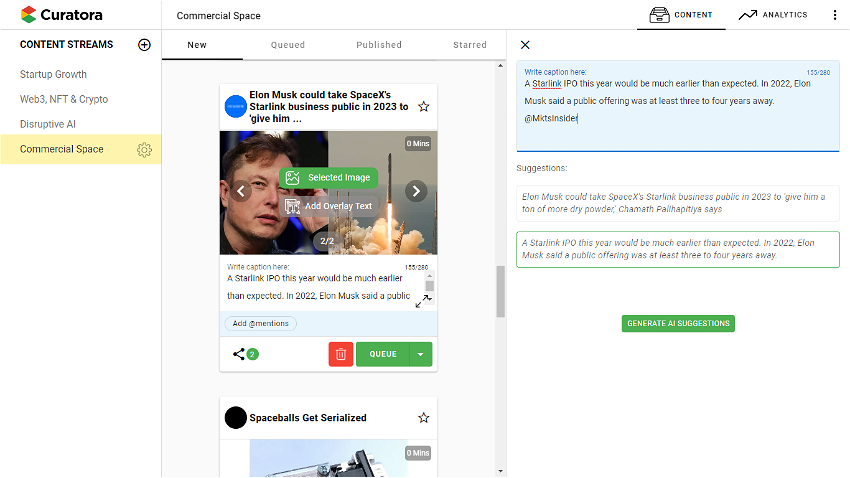 When you're ready to post, Curatora lets you publish your posts directly to Facebook, Twitter, LinkedIn, Instagram, or WordPress.
Schedule up to a week's worth of content to post across multiple social media accounts at once.
Plus, you can collaborate with your team right from the platform to streamline your entire creative process.
Trying to keep your finger on the pulse of every internet trend is exhausting. ("I don't want to BeReal. I want to BeAsleep.")
That's why Curatora gives you everything you need to find, share, and schedule awesome content across different social media accounts.
Curate content automatically.