Managing your social media accounts shouldn't feel like a weird spin on that iconic Jay-Z lyric. ("I got 99 tools but I just want one. Help me.")
When you're using so many different single-use tools to create, schedule, optimize, and manage your posts, stuff is bound to fall through the cracks.
If only there was one comprehensive tool that made it easy to take care of all your social media content needs, on a single browser tab.
Introducing Creatosaurus.
TL;DR
Create professional visuals from 2,000+ templates using a robust graphics editor
Research hashtags, write content with AI, and schedule posts to all your social media accounts
Overview
Creatosaurus is an all-in-one social media toolkit that lets you curate ideas, design graphics, write AI content, schedule posts, and more.
Creatosaurus is packed with over 2,000 ready-made templates and more than 6,000 original assets, so you can create professional-looking designs in minutes.
You can integrate over 20 third-party apps, and tap into in-app integrations for social media sites, stock asset platforms, and online storage tools.
Because you can create multiple workspaces and add team members with various permission levels, you'll be able to collaborate on projects using the same app.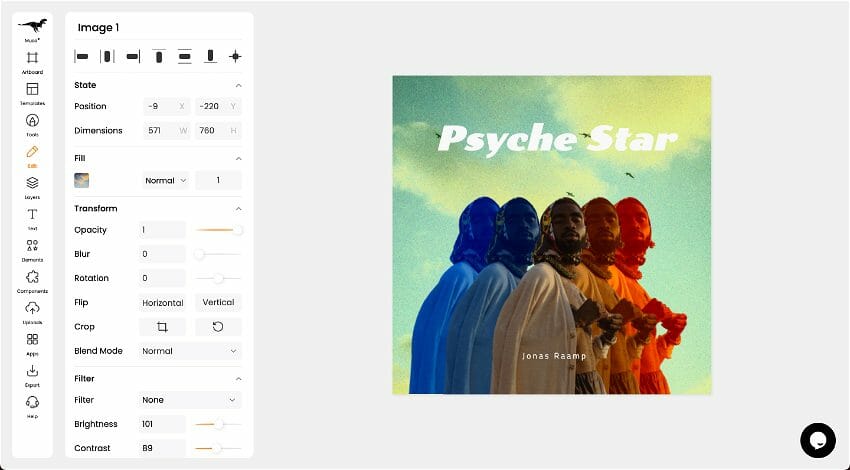 Creatosaurus' AI content writer can generate all kinds of copy in seconds, so you'll never have to fight off writer's block again!
Filling out the writing prompts is a cinch—just submit the name and description of your product, and let the AI handle the rest.
Since the AI writer and graphics editor are well integrated, you'll be able to view your designs as you write copy in the same browser tab.
Not sure where to start? Browse the built-in quotes library for inspiration on what your next post should be.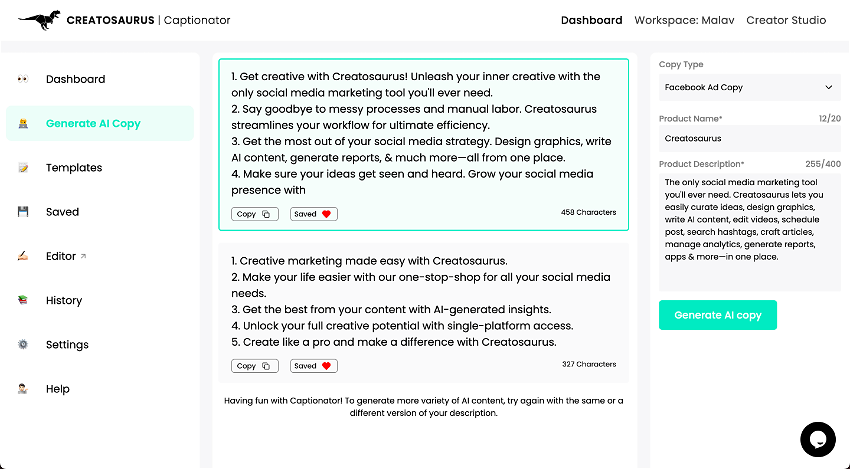 With Creatosaurus, you can view trending hashtags and topics in different regions to find out what's hot across the globe.
Create groups of up to 30 hashtags for Instagram that you can easily add to future campaigns, and even find related hashtags to maximize your posts' reach.
Plus, you can analyze competition, average likes, and average comment stats, so you're only using hashtags that the algorithms love.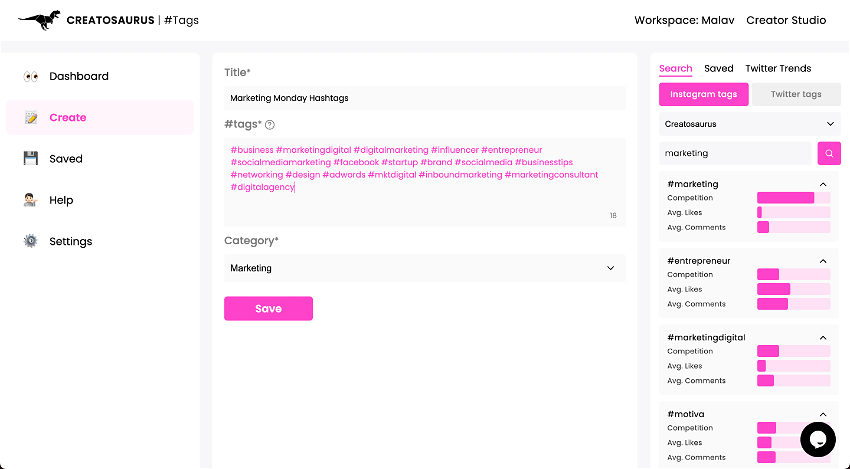 Best of all, Creatosaurus lets you schedule posts for different social media accounts from a single dashboard.
The platform supports video content, including Instagram reels, YouTube videos, and video posts on Facebook pages.
And unlike content creation platforms, this tool is scalable and simple to use. No need to be an expert designer or writer!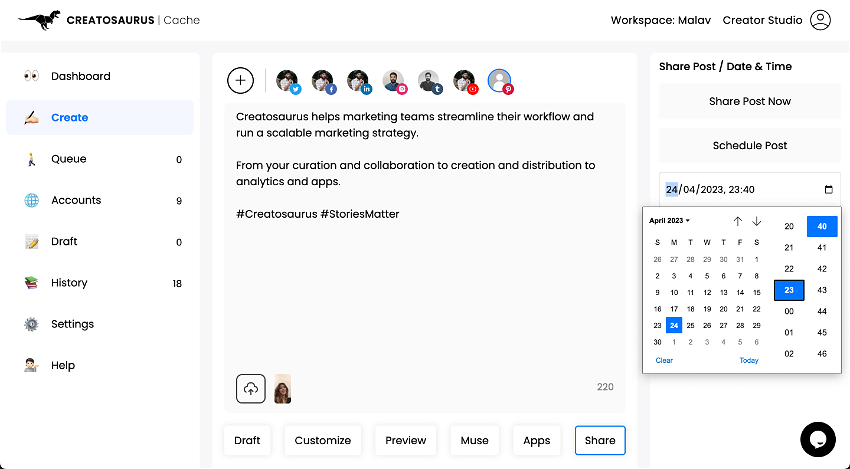 Unlike those infomercial products, the right social media marketing tool will actually live up to the hype. ("It dices, it slices, it even makes nice on Twitter.")
Creatosaurus is packed with everything you need to design graphics, generate copy, optimize your hashtags, and schedule posts across platforms.
Streamline your social media marketing.