It's hard to write witty Instagram captions when you can barely keep up with trends and pop culture references. ("Who is Hailey Bieber, and why is everyone talking about her?")
Even when you do strike gold, you can't celebrate because you're still stuck on the hamster wheel of content creation.
What if there was an AI-powered platform that could create content, generate captions and hashtags, and schedule posts on all your social media accounts?
Meet Creasquare.
TL;DR
Create stunning designs and videos with access to millions of royalty-free assets, templates, illustrations, and music
Generate engaging captions with an AI writing tool and schedule social media posts on multiple social media platforms
Overview
Creasquare is an AI-powered software that makes it easy to create and schedule content across all your social media platforms.
Creasquare has a huge library of design elements, fonts, colors, backgrounds, and layouts, so you get everything you need to create stunning content.
Access over 100,000 colorful and polished templates that you can modify to match your brand's vibe.
There's no need to start from scratch—just choose from over a million free images and videos to make content in a snap.
Need to make edits? You can remove the background of any image, or resize your assets in one click!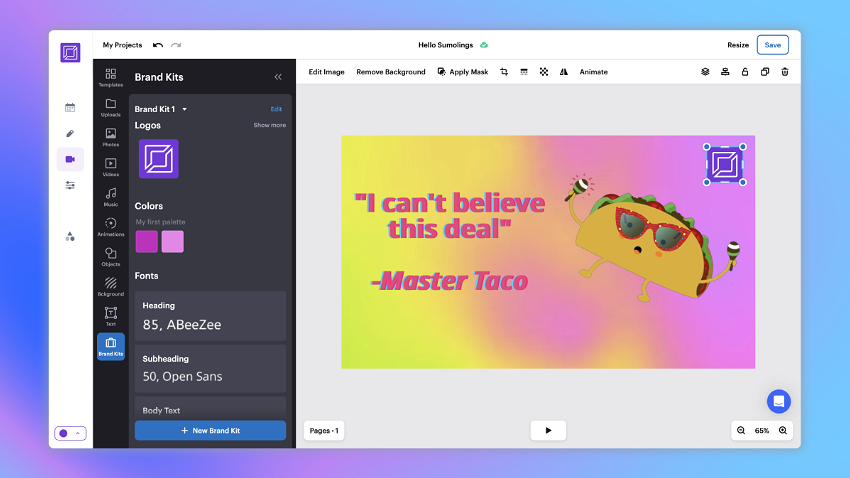 Based on GPT-3, the AI content writer generates captions, hashtags, and product descriptions in over 20 languages.
With different combinations of use cases and tones, the algorithm can create content catered to your target audience.
Use the AI writer templates to whip up TikTok video scripts, LinkedIn posts, and Google Ads optimized for search engines.
All your generated content is automatically saved on Creasquare, so you can organize, edit, and repurpose it for later.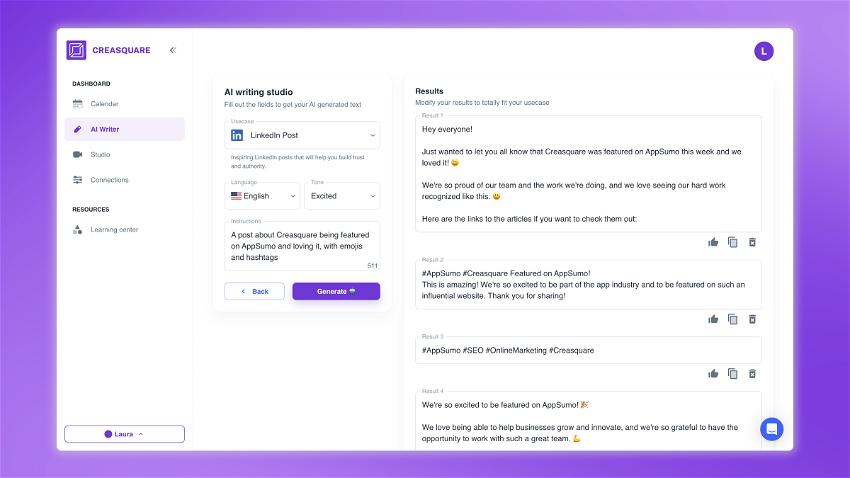 With Creasquare's social media scheduler, you'll be able to schedule posts to share automatically on any platform.
That's because this tool supports third-party integrations with popular platforms, like Instagram, LinkedIn, YouTube, TikTok, and Facebook.
You can also optimize your content with first-comment scheduling, thumbnails, mobile previews, and more!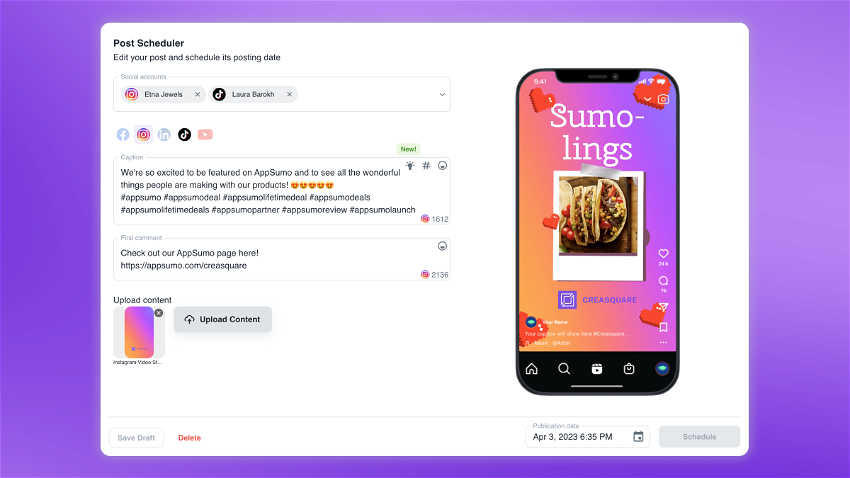 With the calendar feature, you'll get a bird's eye view of all your upcoming posts.
Now you can reschedule, delete, and organize content in multiple workspaces on a simple, color-coded calendar.
Best of all, Creasquare factors in different time zones, so your posts go live at the perfect time for your target audience.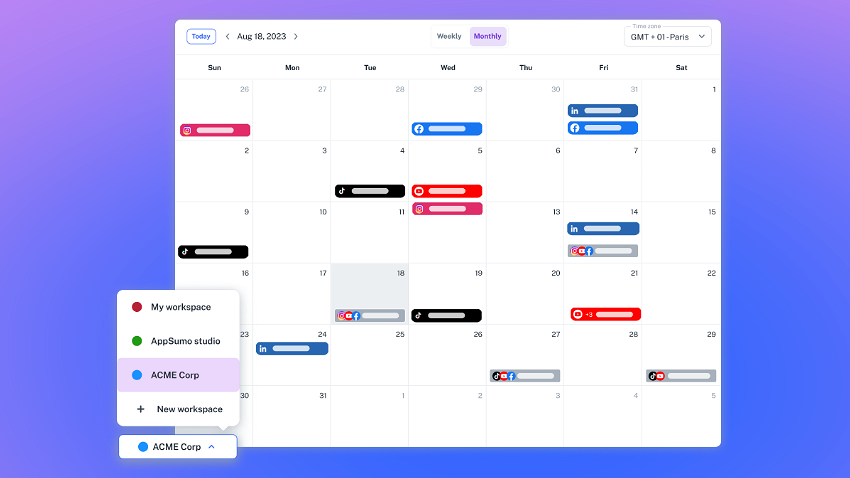 You shouldn't have to be online 24/7 just to post on social media at the perfect time. ("No, see my bedtime is someone else's mid-morning scroll.")
Thankfully, Creasquare has everything you need to create, schedule, and scale your social media posts across multiple platforms.
Create winning content every time.