Use this AI-powered support platform to improve your customer experience across channels.
Customers can tell if your support team is stretched thin. ("Just between us, your vibes were off in the live chat.")
From response times to knowledge management, it takes a ton of tech and manpower to keep up high-quality customer support as you scale.
That's why you need a platform that combines AI technology to enhance your support team's performance and drive conversions 24/7.
Say hello to ClickConnector.
TL;DR
Manage queries across communication channels from one organized inbox with built-in collaboration tools
Train an AI customer support assistant on every aspect of your business and maintain CRM records automatically
Overview
ClickConnector is an AI-powered customer support platform that empowers your team with knowledge bases, chatbots, and omnichannel chats.
ClickConnector lets you manage all your inboxes in one place, accessing messages from Facebook, Instagram, WhatsApp, chat widgets, and emails.
From automations to notifications, there are tons of advanced features that help you collaborate while offering top-notch support.
You'll get message scheduling and presets, follow-up and reply flagging, automatic translations, and writing assistance to speed through customer interactions.
Too busy to handle something yourself? You can transfer chats between team members to provide the support your customers need.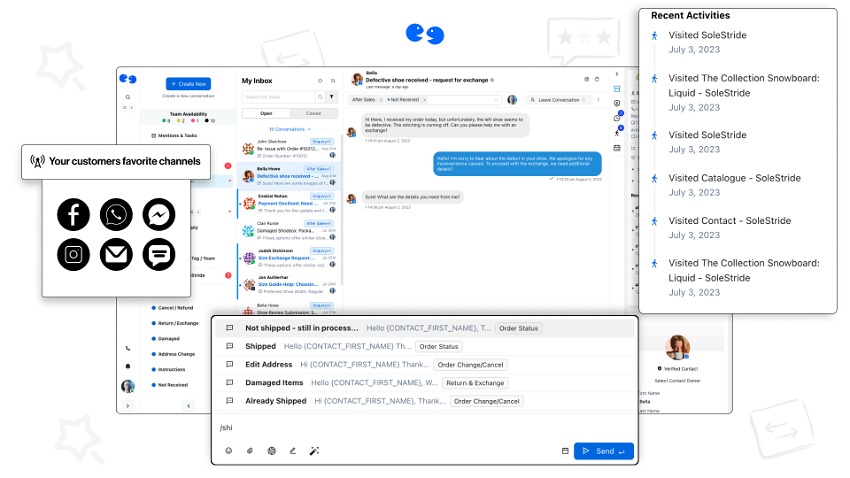 Deliver awesome customer experiences by teaching an AI assistant everything there is to know about your business.
You can train the AI on your website, knowledge base, and brand, so it can instantly send relevant replies to any queries.
The AI assistant can even reference API docs and include images in its magic replies, which helps customers feel like they're in expert hands.
And thanks to the no-code chat builder, it's a cinch to create any conversation flow that fits the needs of your organization and your customers.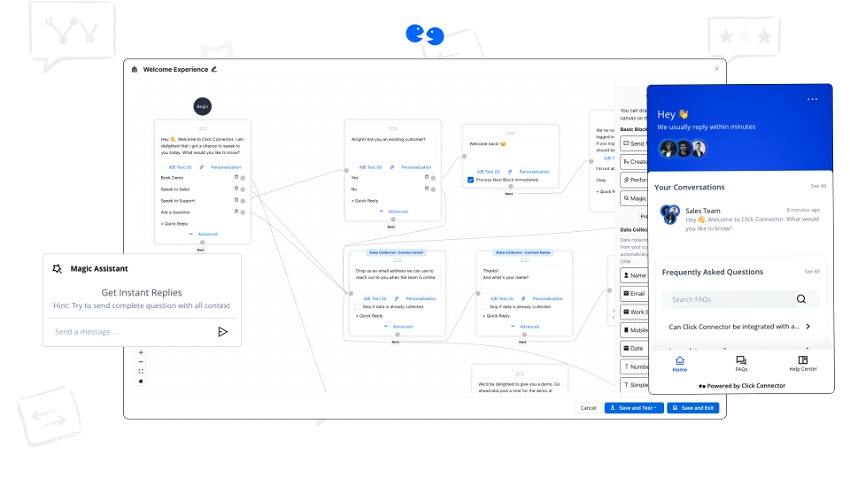 With ClickConnector, you can create self-service portals in one click—or just a few clicks if you want to customize the colors, text, and SEO.
You can host help centers on your own domain and even embed your self-service portal in a live chat widget.
Plus, you'll be able to organize your support articles in collections to make them easy for customers to navigate, search, and access.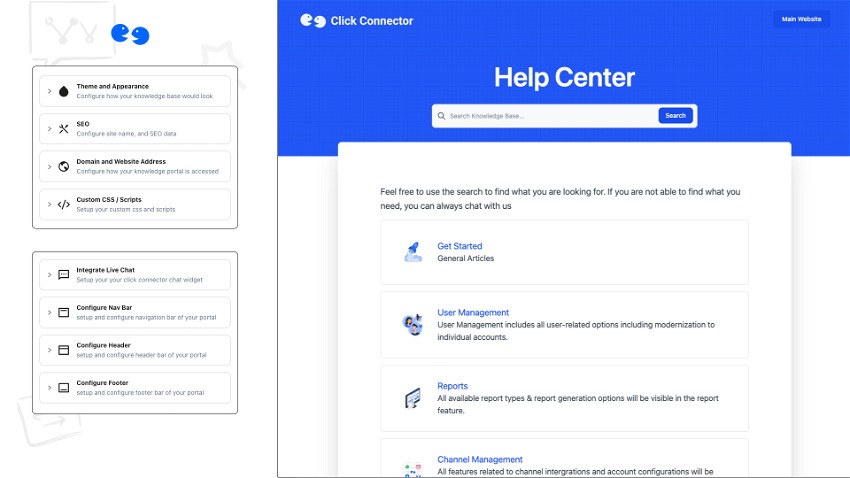 For the cherry on top, ClickConnector gives you real-time insights into site visitors, including their origin, current page, device, and visit duration.
Send visitors personalized messages to invite them to chat and lead them through your sales funnel.
You'll even be able to update customer profiles automatically as you capture form submissions and browsing activity.
This platform integrates with Shopify, Zapier, WordPress, and more to access all your customer details in one place.
When you're using smart technology, giving your customers the right answers is a piece of cake. ("Mmm, the sweet taste of success—I mean, support.")
That's why ClickConnector is packed with powerful AI tools that help you deliver five-star customer experiences with just one platform.
Keep your support top-tier.