CartFlows is a sales funnel builder for WordPress. It allows you to quickly and easily build sales funnels using your page builder of choice.
If you've been selling stuff online using WordPress and WooCommerce, then you'll agree when I say this: the checkout process with WooCommerce sucks.
There's no way to customize how the checkout page looks like and no way to offer complementary products. Without an optimized sales funnel, your business is losing money every day.
CartFlows offers a lot of amazing features that will help anyone with any skill level create any kind of funnels in a matter of minutes.
It's now being used in 10,000+ websites, and users love it because it's so easy to use and it makes the checkout process way better – ultimately making website owners more money, which really is the end goal here.
Features:
Professionally Designed Templates
A/B Split Testing
Offer Order Bumps & One Click Upsells
Use Your Prefered Page Builder
Extendable Unlike Click Funnels
Consistent Monthly Feature Enhancements
Ready to Use Templates (Free and Pro)
CartFlows provides 4 free templates and 6 premium templates to help you create your first flow/funnel as soon as possible. These templates work for most page builders including Elementor, Beaver Builder, Divi Builder, Thrive Architect, and Gutenberg as well.
And yes, these templates will work even for the free versions, so if you're not currently using a premium version of a page builder, there should be no problem.
Here's how easy it is to create a flow with CartFlows' templates: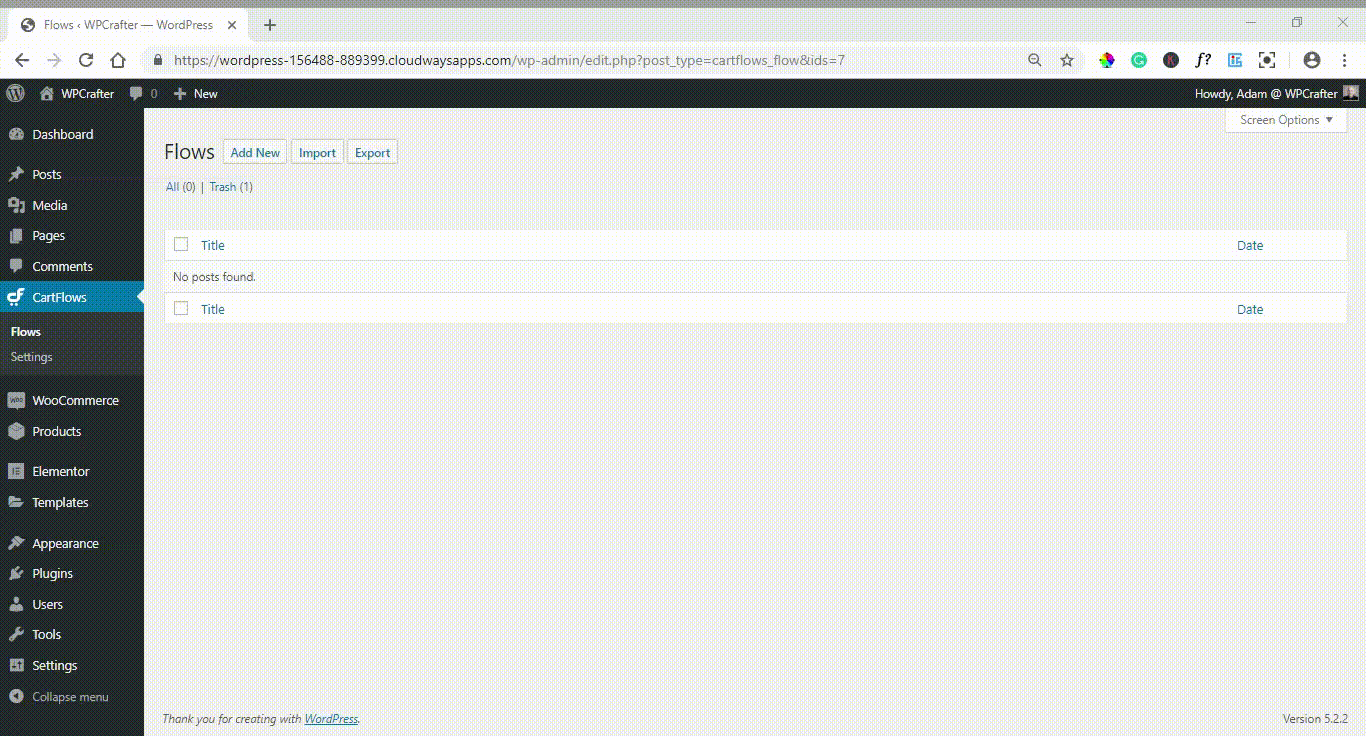 Once the templates are imported, you can easily drag and drop to rearrange them. You can also delete or duplicate a step.
One thing you have to do is link a product with your checkout page. To do this, click Edit, scroll down, and under Checkout Layout, you should see this:

Click Search for a product, type the name of your product, and select it.
With the Pro version, there are additional options here like applying a coupon, and enabling product variations, and enabling product quantity options.
Once you're okay with what you have, click Update.
Works with WordPress Page Builders (Free and Pro)
Each template can be edited with most page builders, so if you're already using one, you can go ahead and edit each page of your funnel with your page builder.
For example, for the checkout page, you can add a product image, edit texts, and play around with the layout with a page builder.
Here's an example of editing a CartFlow checkout page template with Elementor: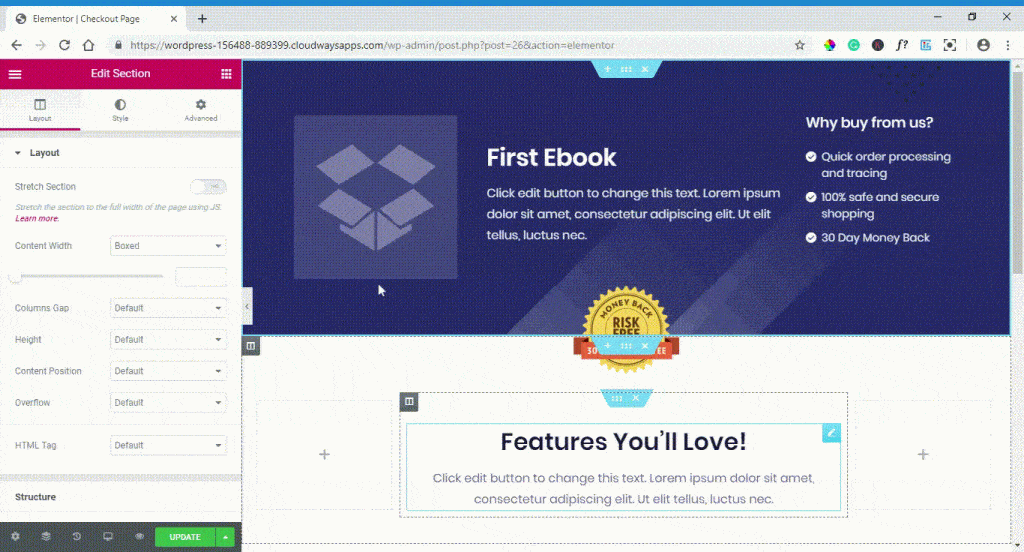 Checkout Custom Fields (Pro Only)
More often than not, store owners want to be able to add additional checkout form fields like the option to subscribe to their newsletter, age, gender, and more.
CartFlows Pro lets you do this in just a few clicks. In the checkout page editor, scroll down and click Checkout Fields. Check the box beside Enable Custom Field Editor, and you should see additional options to edit the Billing and Shipping Checkout Fields.
With these options, you can rearrange the position of each field, change the label, change the width, and require any field of your choice. You can also add a custom field in just a few clicks.
Here's an example of how you can edit and rearrange fields and add a custom field: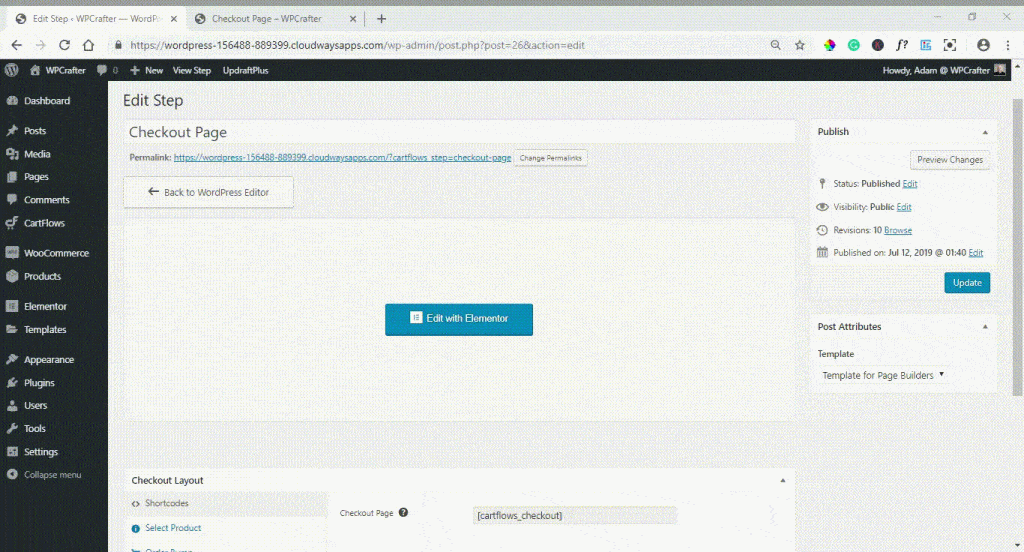 Global Checkout (Free and Pro)
There's also an option to replace the traditional WooCommerce checkout page with a checkout page that you made with CartFlows. So every time someone buys your products, they will be directed to your custom-made CartFlows checkout page instead of the usual WooCommerce checkout page.
To do this, you just have to create a new flow with CartFlows. The first step in this flow should be your checkout page but DON'T assign a product to it. This should be left blank. Give it a name that you would recognize, "Global Checkout Page" for example. In this example, I named it the "Global Checkout Page".

You can then add upsells, downsells, order bumps, etc. in the next steps.
Once you're done with your flow, go to CartFlow settings and click on the Global Checkout dropdown option. Select the checkout flow that you just created and click Save Changes.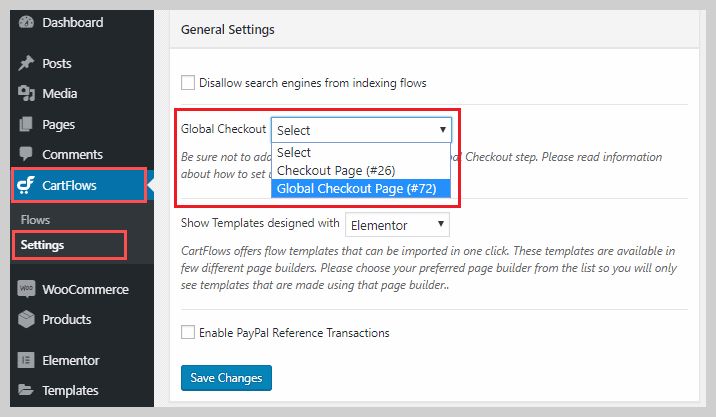 Once that's done, whenever someone tries to check out, they will see the custom checkout page that you created with CartFlows.
Easy-to-Add Order Bumps (Pro Only)
Another cool premium feature is the ability to add order bumps to your checkout pages. With an order bump, you'll be able to offer related products on a discounted price, such as training programs, related courses, extended warranties, etc. This will ultimately increase the total purchase value of a customer.
Here's how to add an order bump: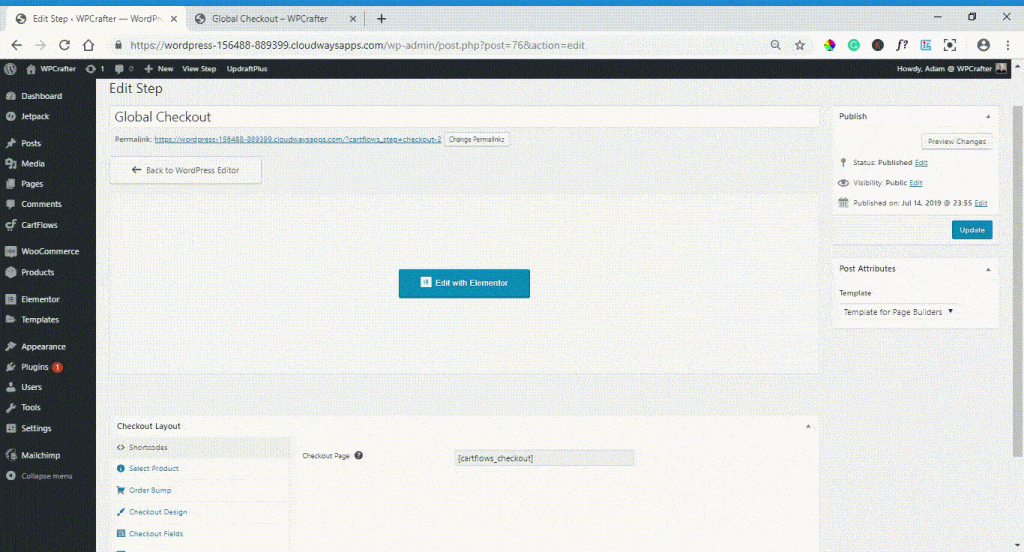 The order bump feature will let you choose from a number of options. You can add your bump before checkout, after the billing details, after order, or after checkout. You can add an image, change the texts, and change the background, border, and text color to match your brand.
It's also a great idea to add an order bump to a checkout page of a free product. For example, you can give away a free e-book as a lead magnet but possibly earn through an order bump.
One-click Upsells/Downsells (Pro Only)
Upsells and downsells are also another way to increase a customer's transaction value and are usually used for selling the following:
One-time offers
Mastermind courses
Higher pricing for software
Large quantities of products
Tripwire offers
CartFlows comes with templates for upsells and downsell pages, and you can also create or import your own.
To add an upsell or downsell page, edit the flow and click Add New Step. You will then see templates for upsell and downsell pages. To create your own page, just click Create Your Own.
Here's an example of using an upsell Elementor template: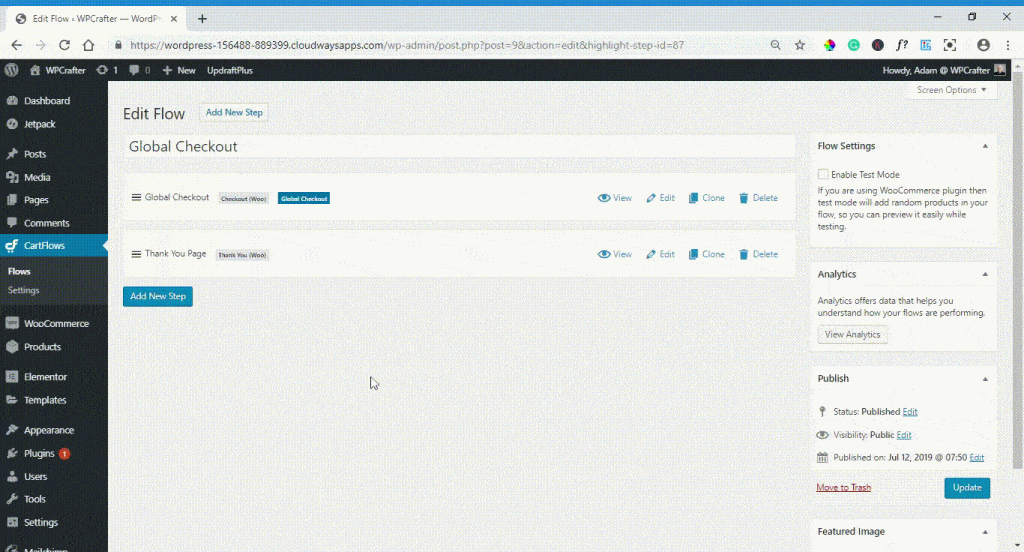 CartFlows supports PayPal and Stripe for one-click upsells.
Cart Abandonment (Free and Pro)
Cart abandonment is an extremely common occurrence, with online stores reporting a cart abandonment rate ranging from 60% to 80%. Abandoned carts are basically lost money, and you have to do everything you can to recover them.
CartFlows offers one solution by integrating with your CRM to trigger an email whenever someone provides their email address but doesn't complete the checkout.
Custom Script Support (Free and Pro)
You can also add any custom script that you'll be using to power your sales funnel, such as a live chat shortcode, custom pixels, bots, and more.
To do so, edit a step/page and scroll down the page. You'll see an option called Custom Script. Click that and paste your code on the box.

Lifetime plan for 30 sites cost $999, however, if you pay with the link from ConvertDeal, you'll get a $200 discount and pay only $799. (offer has expired)
Get lifetime access to Cartflows now!