Manage blogs, newsletters, digital products, and websites—all from one place
When it comes to managing a bunch of tools for your business, the sky isn't actually the limit. ("I'd say the limit was four subscriptions ago.")
But you've got content to manage and digital products to sell, so the monthly fees on your credit card are a bullet you have to bite.
If only you had access to every tool you need to manage websites, blogs, and digital products on a single platform.
Introducing BlogHunch.
TL;DR
Make your website stand out with different themes, customization options, and a landing page builder
Convert your readers into buyers by selling digital products like ebooks, courses, and newsletters
Overview
BlogHunch is an all-in-one, no-code solution for building websites, managing blogs, and selling digital products.
With BlogHunch, you can create websites, blogs, and digital stores without writing a single line of code.
You'll get access to over 25 different AI features to summarize content, create article outlines, adjust tone, and more.
Take advantage of third-party integrations, like Giphy and Unsplash, to add visual elements to your online content.
Plus, you'll be able to embed videos from anywhere using the built-in oEmbed integration.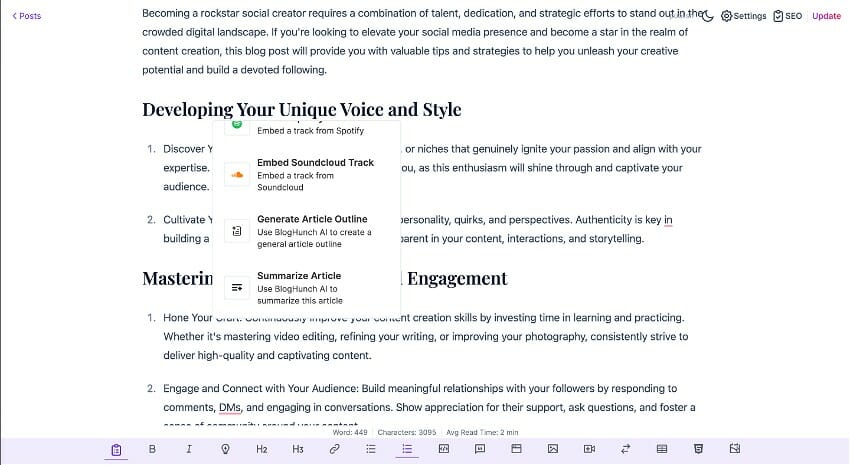 BlogHunch makes it easy to create and publish blog posts, schedule content, or push new posts to your newsletter.
To get started, simply choose from their polished blog templates. They're all designed to be user-friendly and mobile-ready!
Use tags and categories to organize content, as well as the SEO suggestion tool to optimize everything for Google.
You can add engagement features like social share buttons, related posts, newsletter subscription forms, and comments.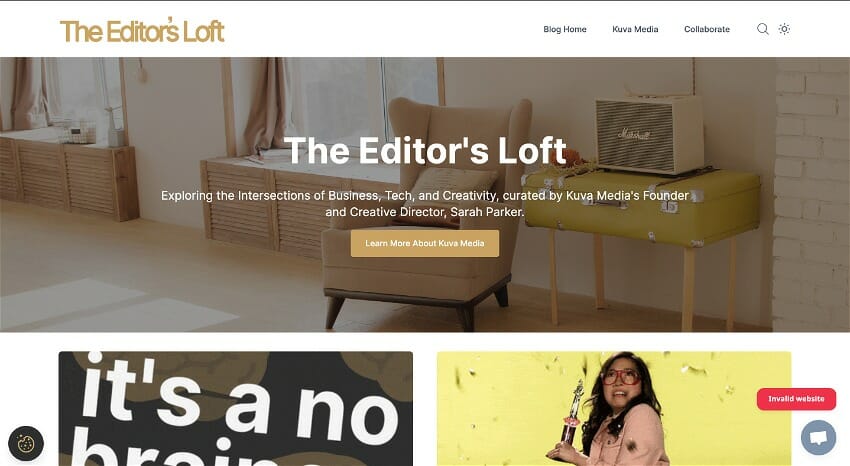 Best of all, you can also sell digital products like courses, ebooks, and newsletters using the same platform.
And it's easy to get paid! Just connect PayPal, Razorpay, or Stripe, and you're ready to accept payment in both USD and INR.
You can even use the coupon system to offer discounts and promotions to your audience to build loyalty.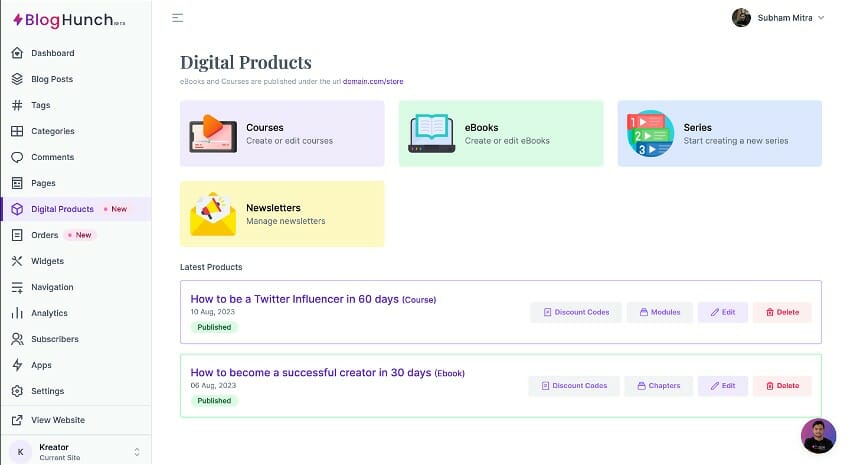 It's a breeze to add BlogHunch into your existing workflows by integrating it with the tools you already know and love.
Check out integrations for third-party tools like Google Analytics, Intercom, WhatsApp, Hotjar, Pabbly Connect, and so many more.
Or you can embed code anywhere using different tools like code injects, APIs, and the BlogHunch editor.
And if you are a developer, you'll be able to create a website with React or Vue.js using the BlogHunch API.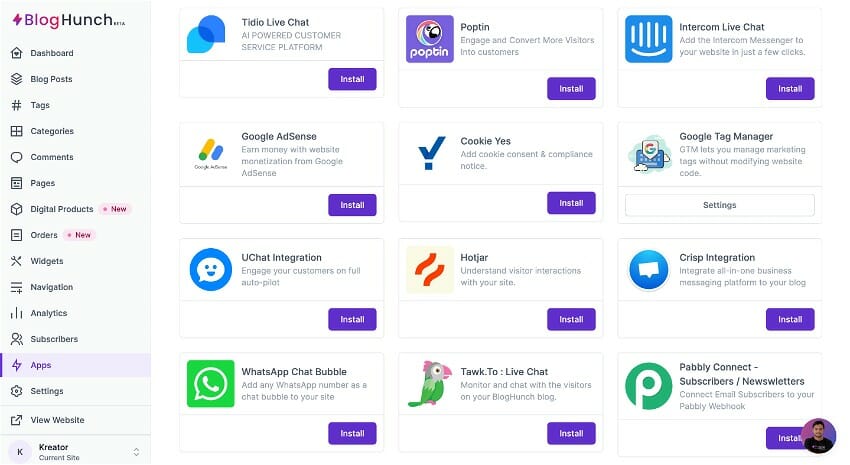 You're building a digital empire from scratch, but that doesn't mean you need to code it all. ("I thought my MySpace layout prepared me for this, but I was wrong.")
Good thing BlogHunch makes it easy to create and manage no-code websites, blogs, and digital storefronts—with the tools you already love.
Digitize your business.