Create, schedule, publish, and manage your content creation with this generative AI platform.
The thought of writing more content shouldn't leave you in a pit of emotional despair. ("Hello writer's block, my old friend.")
Unfortunately, you can't afford to wait for inspiration to strike when you have to crank out engaging copy for email, blogs, social media, and more.
If only there was a smart generative platform that could lighten the load and help you whip up tons of content without breaking a sweat.
Introducing BingBang.ai.
TL;DR
Schedule and automate your content on all your social networks using the content planner
Quickly generate thousands of SEO-friendly articles and unique images with AI and pre-generated prompts
Overview
BingBang.ai is an AI-powered content generation platform that helps you create, schedule, publish, and manage your content creation flow.
With BingBang.ai, you get access to a library of over 80 writing templates for social media, emails, blog posts, and more to jumpstart the writing process.
Creating content is as easy asentering a few details about your topic and letting the AI handle the rest—no prompt engineering required!
Input and output content in over a dozen languages, so you can generate text for audiences around the globe.
And thanks to the built-in document editor, you'll be able toedit and refine your content without opening Google Docs.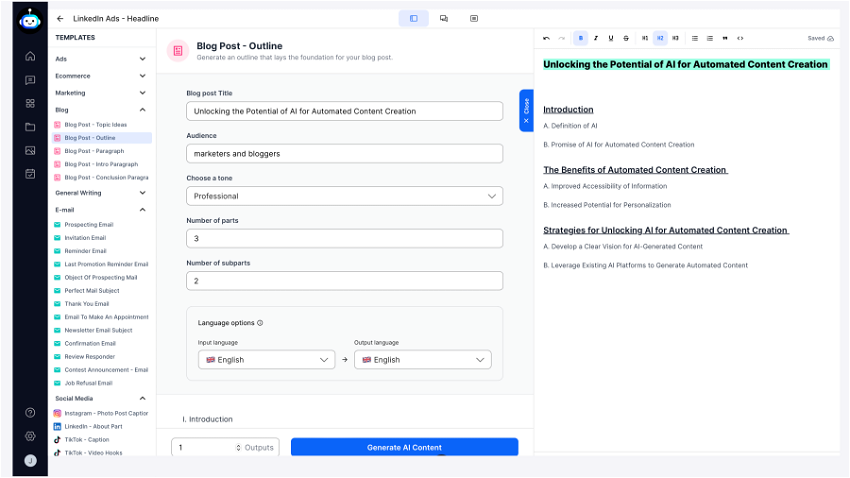 With BingBang.ai's document management feature, you can store all your documents right on the platform.
Sort your documents into folders to keep things organized, so you're not sifting through an ocean of files to find what you need.
Plus, you canmark the status of any document as a draft, waiting for review, scheduled, or published post to help keep track.
You'll even be able to schedule and automate content for all your social media accounts, saving you tons of time.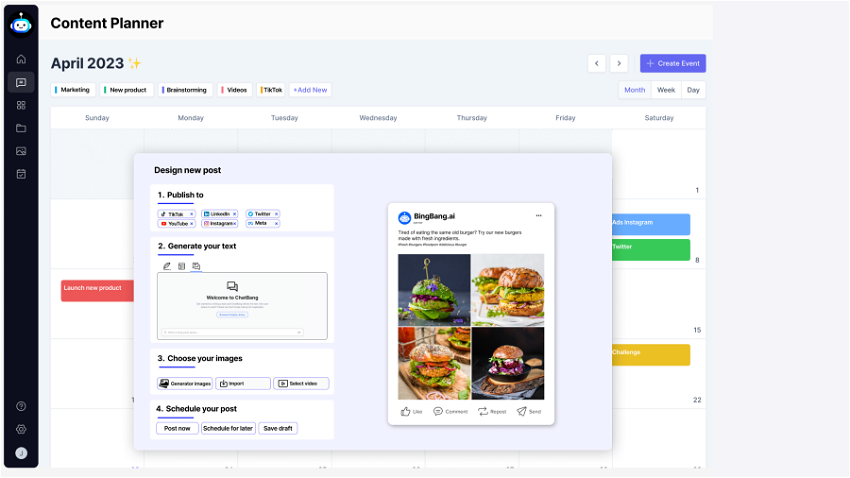 BingBang.ai also has a powerful AI image generator that lets you create high-quality, royalty-free images to liven up your posts.
Since the platform stores all generated images in your history, it's easy to reuse them in future campaigns.
Plus, you'll be able to share your images with your team via public URL or download them for offline use with no limitations.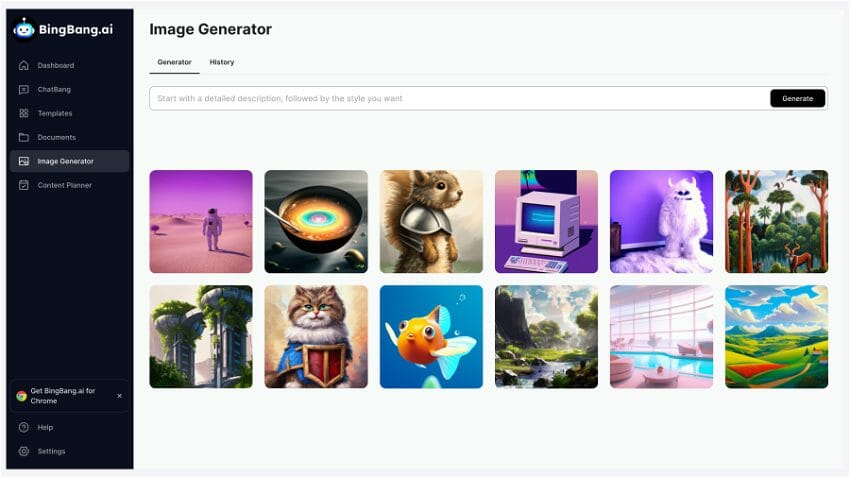 Best of all, BingBang.ai lets you chat with AI for a ChatGPT-like experience. That means you can provide detailed instructions to get the exact content you want!
Don't know where to start? Access the library of prompts to help you get the ball rolling, so you don't waste time figuring out which prompt will work.
You can also search through community-generated prompts for different scenarios and save your favorites for future use.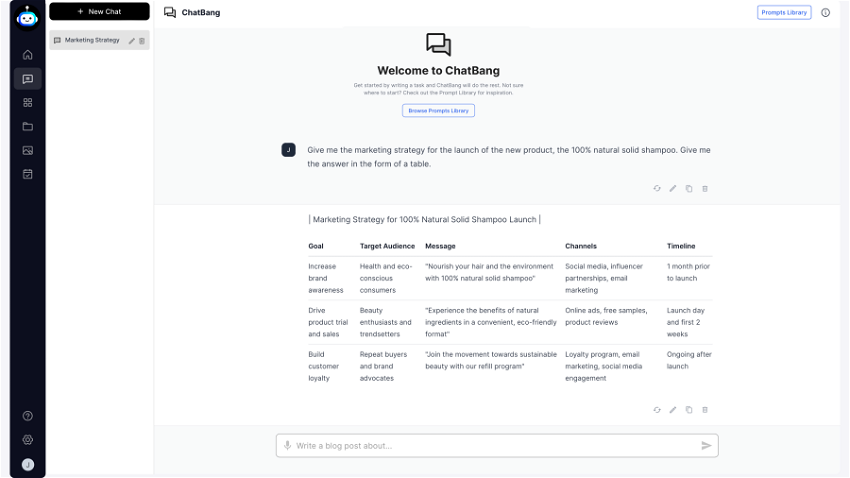 With AI on your side, you'll feel like your content can take over the internet. ("Move over, BuzzFeed, there's a new viral post hub in town.")
BingBang is packed with writing templates, document organization, AI image generation, and a ChatGPT-like interface, so you can create awesome content in a snap.
Scale your content output.