Build animated ads for marketing campaigns and social media in minutes—without coding
We all know a picture is worth 1,000 words. (TBT to that photo of "the dress"—that was worth at least 2,000. #whiteandgold)
So it's no surprise that you're spending tons of time and energy perfecting the designs on your ad campaigns.
If only there was a magical tool that let you create stunning animated ads in minutes, code-free.
Meet BannerBoo.
TL;DR
Create, manage, and publish your HTML5, AMP HTML, GIF, and MP4 ads on any network or social media platform
Use Branded Share URL (CNAME) to showcase your ads to clients and create your own branding
Overview
BannerBoo is the simplest way to create, manage, and publish animated ads for social media and ad platforms, all without any coding.
With BannerBoo, you get an awesome tool for creating, managing, optimizing and publishing animated HTML5 and AMP HTML ads in minutes.
You'll also be able to export your ads as animated GIFs and MP4 videos, so you cananimate your ads like a pro.
Just drag and drop your objects to the stage, create your design, and press the "Smart Animation" button—BannerBoo will automatically align your layers and animate them.
Plus, you can use the timeline to control your animation to add transition effects or try pulsation to highlight within your graphic.
BannerBoo lets you easily remove picture backgrounds with literally the click of a button!
That way, you don't have to spend hours struggling to follow a "simple" Photoshop tutorial.
And instead of you and your clients playing email tag, you can use Branded Share URL (СNAME) to showcase your ad.
Just share your branded preview, get comments and suggestions, and apply them in seconds. It's that easy.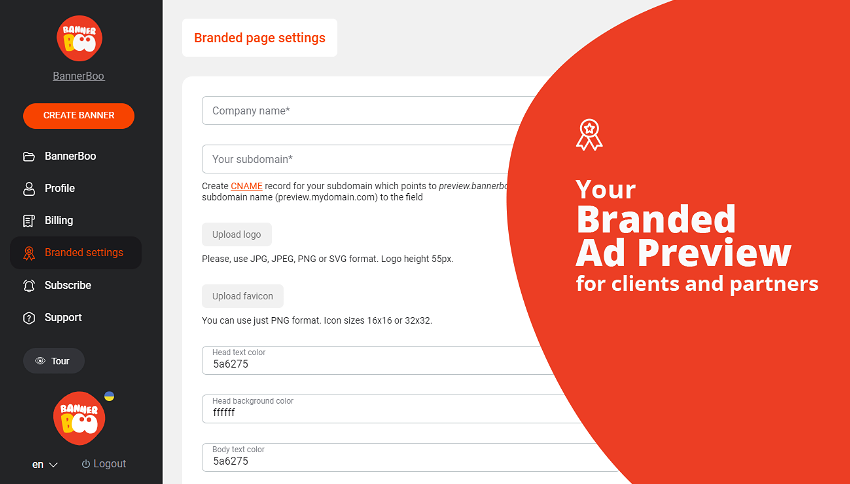 For projects that require multiple banners, choose from over 7,000 templates or create your own campaign from scratch.
Just make one master banner and BannerBoo will resize it half-automatically to the selected size.
Thanks to integrated Unsplash, Pexels, and Pixabay libraries, you'll get access to millions of photos, videos, vector clip-arts, animated SVGs, and vector icons.
With BannerBoo under your belt, you can generate ads that stand out from the crowd.
Unlike most graphic editors, this tool lets you create and publish animated ads on any ad network and social media platform in the world.
So whether you're trying to grow your business's Instagram account or you haven't gotten the memo that Google+ is out, BannerBoo has your back.
Whether you're an agency or an in-house marketing team, you can use BannerBoo's features to optimize your creative processes.
Say goodbye to wasting hours looking for that file. BannerBoo lets you set up workspaces specific to individual brands.
And if that wasn't streamlined enough, you can also create your own branded custom templates to speed up future banner creation.
Pros and Cons
Pros:
Use a powerful timeline with transition effects and pulsation to take your animation to the next level.
Thanks to Branded Share URL (CNAME), you can easily showcase ads using your own branding.
Access to more than 7,000 professional animated templates in different sizes for various industries.
BannerBoo's publish settings allow you to upload your ads on any ad network in the world.
Create folders and individual brand workspaces to optimize ad management.
Cons:
LTD plan does not include access to the API
Only one domain allowed in the top tier
Conclusion
Just because you aren't an artistic genius doesn't mean your ads have to look…like that.
BannerBoo does all the heavy creative lifting for you, so you can build, manage, and publish the ads of your dreams without breaking a sweat.
Create awesome ads in a snap.