Boost Your Website Performance With Rapid Testing, Reporting & MoreEmail Me Before Deal EndsShare
Online Businesses Lose Up to 7.4% of Revenue Due to Poor Website Performance.
Experience the Power of Professional Website Performance Management!
The success of your online business is highly dependent on the performance of your website. Poor loading speeds and slow performance can lead to website abandonment, reduced conversions, and lost revenue.
On the other hand, an optimized website that delivers a better user experience can lead to greater customer loyalty, improved conversions, and increased sales.
But keeping your website running fast and efficiently with constantly evolving web performance standards can be hard.
ConvertDeal Presents; Auditzy
Auditzy offers automated website speed monitoring with rapid testing, reporting, alerting, and competitor analysis across 5000+ personas, making it the preferred choice for professionals.
With Auditzy, you can experience the power of professional website performance management. Its easy-to-use interface, spectrum of features, and automation make it simple to keep your website running smoothly and efficiently.
You'll be able to monitor and analyze each page for performance, track user engagement, and optimize your website for mobile, all in one platform. Auditzy will help you go beyond the basics and take your website performance to the next level.
Say goodbye to slow page load times and website abandonment with Auditzy. Monitor your performance, track your competitors, and maximize your website's potential. Get the insight you need to optimize your website and drive more traffic, conversions, and sales.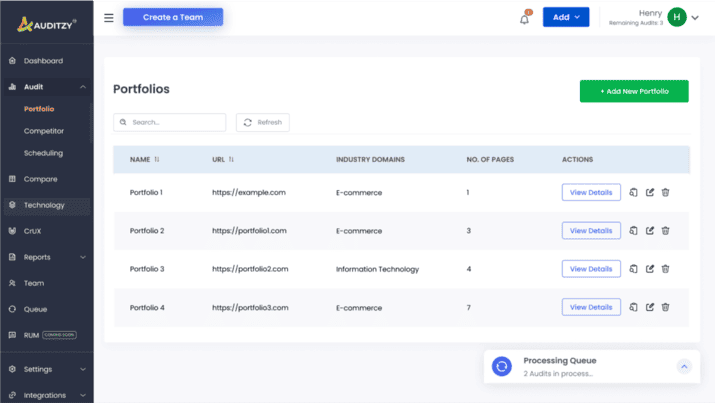 TL;DR:
Auditzy is an automated website performance monitoring tool with rapid testing, reporting, alerting, and competitor analysis for 5000+ visitor personas so you can ensure your website is running optimally. Easy-to-use interface, powerful features, and automation make it easy to manage your website performance.
Similar to: GT Metrix, Calibreapp, Speedcurve
Intuitive UI and UX, easy-to-use platform, very stable.
Best for Solopreneurs, Freelancers, SMEs, Agencies, Digital Marketers, IT Professionals, and those looking for the best website performance management solution.
Critical Stats:
87% of online consumers say that website page loading is important in determining their loyalty to a website. (Source: akamai.com)
According to studies, pages loading in 2.4 seconds generate up to 50% more conversions than slower ones. (Source: Think With Google)
40% of people abandon a website that takes more than 3 seconds to load. (Source: Radware)
Search engines penalize sites for slow loading times which can affect ranking. (Source: Moz.com)
According to a study, a 1-second delay in page load time leads to a 7% loss in conversion rate. (Source: kissmetrics.com)
78% of online users claim they are more likely to revisit a website if it has fast loading times. (Source: radware.com)
Features:
Synthetic Monitoring:
Perform Synthetic Monitoring across 5000+ website visitor personas in both development and production environment to understand the User Experience as per the Lighthouse Metrics.
Auditzy provides web-page performance for both Mobile & Desktop modes for 40+ devices, 10+ networks, and 12+ Global locations for any web page to audit & monitor website performance.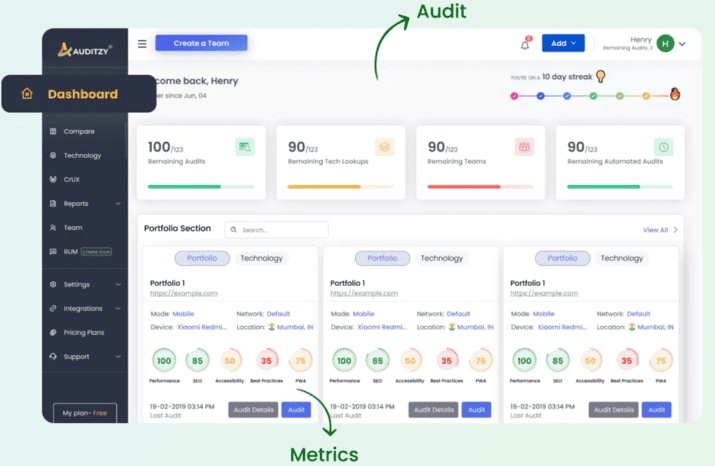 Automation & Bulk Testing:
URL detection using Sitemap for any domain to save the manual URL addition process. You can also schedule audits to monitor web pages hourly, daily, and weekly.
Technology Lookup:
With Auditzy's powerful technology lookup feature, you can access all website technology insights. You can also tap into the tech stack of your immediate competitors and other popular websites to identify the latest technologies they use and how they leverage the technology.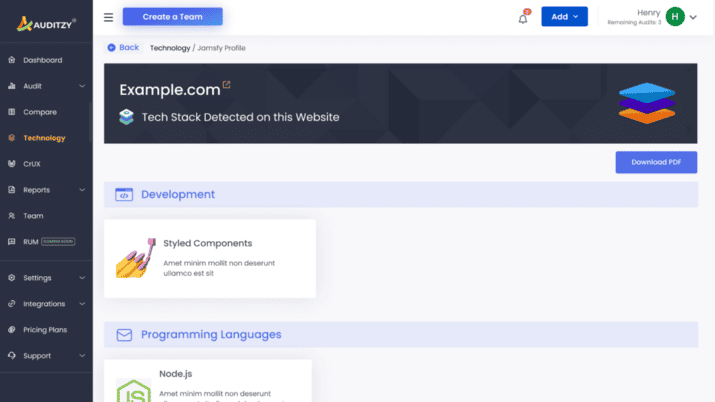 CI/CD Pipeline Integration And Scheduling:
Auditzy can be integrated with Github as Version Control and Vercel/Netify as a Front-end atomic deployment platform. It will also launch its CLI down the lane to capture a wider range of CI/CD pipelines.
It also offers a Scheduling feature that allows businesses to continually monitor website performance hourly, daily, and weekly without any manual process.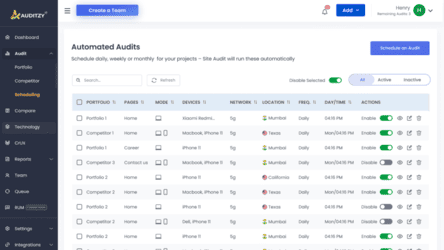 Core Web Vitals Monitoring:
Generate Core Web Vitals instantly per the CrUX (Chrome User Experience) data set. Passing Core Web Vitals also helps in the SEO ranking of web pages.
Competitor Analysis:
Auditzy provides competitor analysis at an atomic Level for both Lab Data and Historical CrUX (Chrome User Experience).
Competitor analysis helps businesses understand how their competitors are doing in the market to perform apple-to-apple comparisons and look into data-driven insights.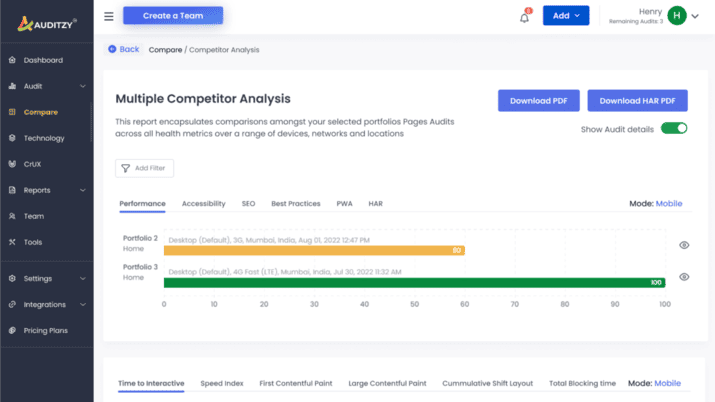 Teams Feature:
The team's feature allows businesses to invite multiple team members to one team so that they can work together seamlessly. It is one of the best use cases for software agencies where they can create multiple teams for different clients and invite different stakeholders in different teams to keep track of website performance monitoring.
White Label Report:
Auditzy provides a white-label reporting feature to its customers so that they can put their logo in our report and send it to the clients or for internal communication within the organization.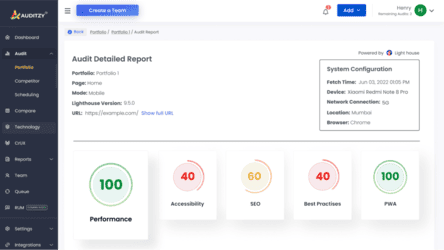 Some Interesting Use Cases:
1. SEO Professionals:
Auditzy offers a host of benefits to SEO Professionals to achieve better search engine rankings:
Higher Search Ranking, Automated Audits, Better Core Web Vitals Score, Historical Report Monitoring, Data-driven Insights, Regular Monitoring, Actionable Speed Guidance, Competitor Analysis, and Speed Optimization.
2. Agencies:
Auditzy is conceived to deliver superior benefits to clients and help them build perfect websites for enhanced user experience.
All projects in one place, Team collaboration, Shareable Reports, Top quality reports, Reliable monitoring, Optimization Suggestions, Competitor analysis, Lead generation, Network (HAR) reports
3. Project Teams:
Collaborate with your team through a platform that allows you to monitor the web performance of multiple websites based on use cases for added benefits:
Performance Monitoring, Monitoring and meeting targets, App Integration, Technology Lookup, Team collaboration, Optimum Web Performance, Network (HAR) reports
Why are businesses choosing Auditzy over the rest:
Continual performance monitoring to identify issues on multiple web pages across VPF (Visitor First Personas).
All-in-one tool to look at both Lab Data and Field Data and Technology.
Competitor Analysis.
A cloud-first platform that does not require browser dependency.
Historical data-driven analytics
Simple setup and ease of use.
Available on a lifetime deal for a limited period.
Monitor your website pages with real-time data for performance optimization and alerting. Get comprehensive and accurate website performance data quickly using Auditzy.
The best part? You will pay just once and can use Auditzy for a lifetime; grab your lifetime deal today.