Organize your work and streamline team collaboration with this project management tool
Getting your team on the same page shouldn't take tons of different tools. ("Reminder to reply to this email to set up a Zoom call to go over next week's agenda!")
Truth is, clunky project management apps aren't just annoying—they slow down your team's productivity.
If only there was a simple task management platform that worked on any device and let you do it all, from organizing tasks and managing workflows to collaborating with your team.
Say hello to Any.do.
TL;DR
Keep track of your teams, projects, and clients in one workspace that works seamlessly with the apps you already use
Create custom views to oversee all your tasks and business operations, ensuring that nothing slips through the cracks
Overview
Any.do is a simple project management tool that helps you manage tasks, organize projects, and collaborate with your team.
Any.do lets you create unlimited boards and customize them to capture your workflows, making it super easy to manage a team, project, and client from one place.
This includes kanban boards, calendar views, and table views. You can create a custom view to get a bird's-eye view of all your team's work.
Choose from pre-made templates with progress steps and starter tasks for newsletter pipelines, marketing campaigns, or creative plans.
Then, you can create detailed tasks with short descriptions, due dates, checklists, built-in task chat, and clear action items—and assign them to the right colleague in just a few clicks!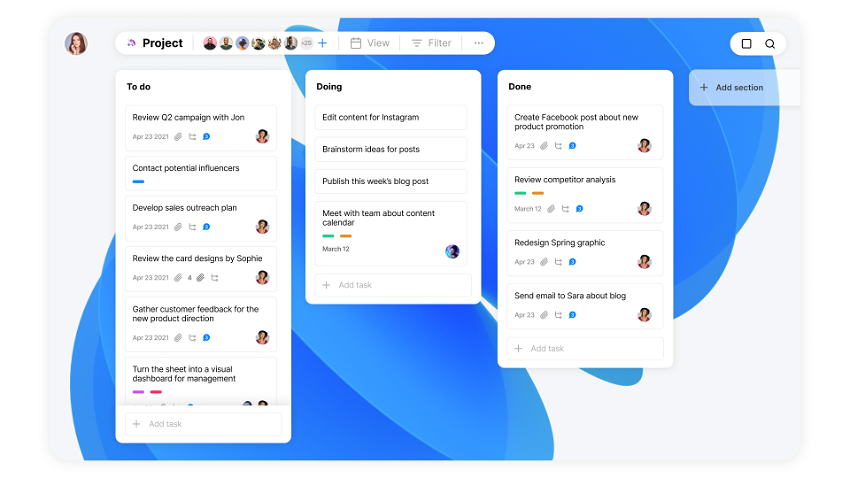 Any.do also integrates with WhatsApp, so you can send a direct message to create tasks, assign them or get reminders on the go.
You can even forward files and attachments in WhatsApp to create new tasks or add them to existing ones.
Want to plan your day, week, or month? Connect your Google calendar or Outlook account and drag-and-drop tasks to stay on top of everything.
You can also create tasks by importing your boards from Trello, monday.com, ClickUp, Todoist, and Asana.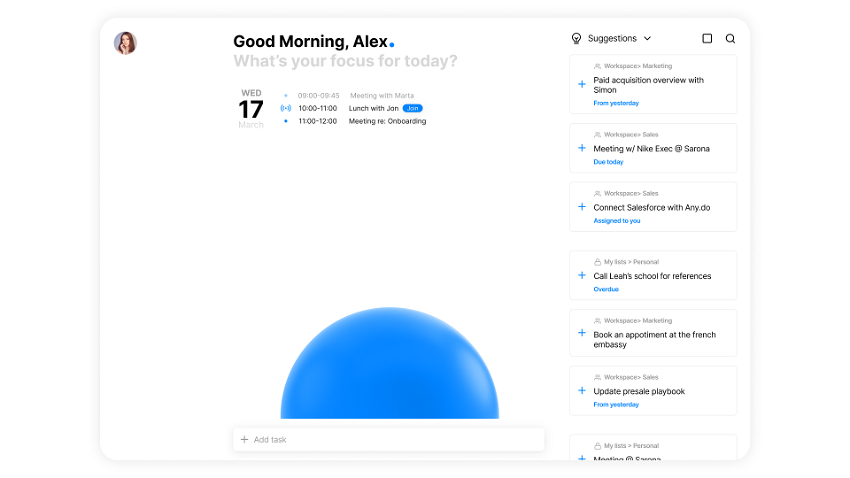 Create custom views like People view, which lets you see all the tasks organized by assignees and sorted by the due date.
Even better, you'll be able to connect this app with Gmail to turn your emails into actionable tasks.
Using the Zapier integrations, you can even create custom automations for more than 6,000 apps, making your workflow a total breeze.
Any.do works seamlessly across multiple platforms, including iOS, Android, Apple Watch, Windows, and every web browser.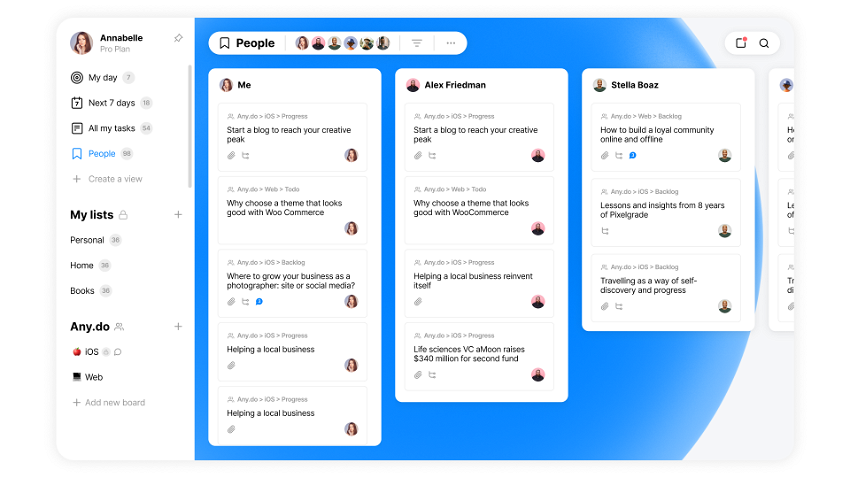 Best of all, Any.do organizes meetings and daily tasks in My Day, so you can focus only on what matters.
And because this tool connects with Google Calendar, and Outlook, you can keep tabs on important dates and timelines.
Plus, you and your team can get location-based and recurring task reminders to keep you from falling behind on your workload.
The more your business grows, the more packed your schedule is gonna be. ("So much to do and *checks calendar* so very little time.")
Lucky for you, Any.do gives you everything you need to manage tasks, zip through projects, and work with your team to crush your goals every day.
Simplify your to-do list.